We use affiliate links. If you buy something through the links on this page, we may earn a commission at no cost to you. Learn more.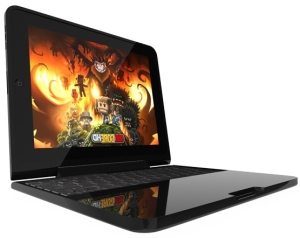 When I first got my iPad, I was talking with my husband about my ideal tablet-type device.  Basically, I wanted the iPad to have the docking connector on one of the long sides so I could plug it into what was essentially the bottom of a laptop computer so the iPad would be the screen.  The iPad dock unit would have a hard drive in it for backup/extra storage and a keyboard.  You could use it this way for heavy-duty work, and you could just pop the iPad off and take it with you when you want to travel light.  While I'm waiting for Apple to develop my dream unit (hey Jobs – all I ask is that I get a couple of free units for my idea!), Clamcase has introduced something that may tide me over.
Clamcase say they'll be offering the "all-in-one Bluetooth Keyboard Case and Stand" for iPad.  It doesn't use the docking connector, so it is free for charging or other uses.  The iPad fits into a hinge that is adjustable through a variety of angles, and you can even rotate it around and lay it flat to use it in tablet mode.  The Bluetooth keyboard will connect with other HID compliant devices such as Sony Playstation 3, Tivo, and HTPC devices.  There's no mention of price yet, and Clamcase are saying shipping will begin in Fall 2010.