We use affiliate links. If you buy something through the links on this page, we may earn a commission at no cost to you. Learn more.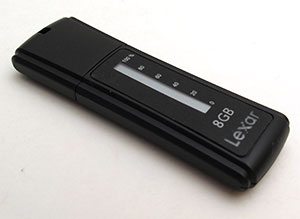 What do you look for in a USB flash drive? A snazzy plastic shell? Keychain attachment? Built in security software? How about a built in storage capacity meter? If you raised your hand on that last one, you'll want to read this review of the Lexar JumpDrive Secure II Plus USB Flash Drive.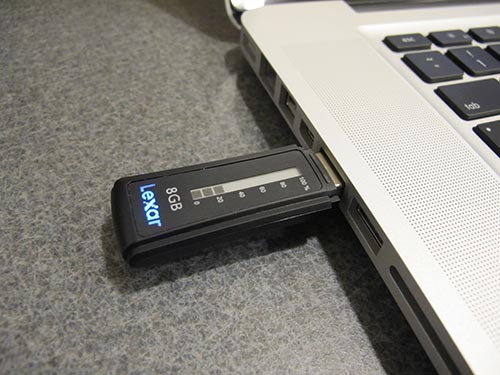 At first glance this jumpdrive doesn't look much different than a bazillion other jumpdrives on the market. It has a removable cap with a lanyard attachment and the Lexar logo blinks in Blue during data transfers. However, its differentiating feature is only apparent after you start copying files to the drive.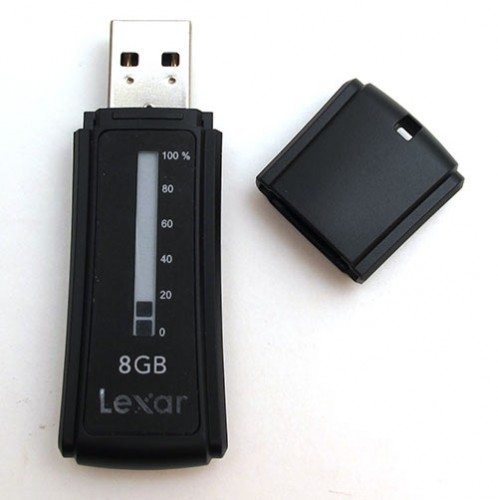 It's the easy-to-read e-ink style 10-bar capacity meter which is built into the front of the drive. It gives you a quick percentage indicator of the drive's available storage space at a glance, even when the drive is disconnected from a computer. Too bad it doesn't give you an actual megabytes free display instead of just blocks… Yes, I know I'm never satisfied. 🙂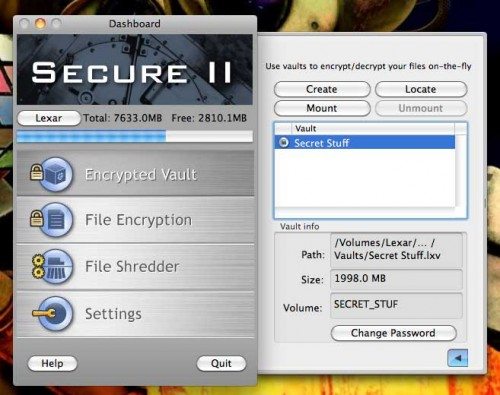 Included on the drive is a Windows and a Mac OS X application called Secure. This app will allow you to create multiple password protected areas called Encrypted Vaults that automatically encrypt your data with on-the-fly 256-bit AES encryption. There is also a File Shredder feature lets you securely delete files so they can't be recovered.
One thing to keep in mind is that when a secure vault is created, the space that is allocated will show on the capacity meter as used space even if the vault is empty and does not contain any files.
I had no problems creating vaults on the jumpdrive using the Mac version of the Secure application and then accessing those vaults with the jumpdrive plugged into a Windows computer. The only prerequisite is that you have to install the Secure app on the computer you are using the jumpdrive with. It's too bad that it's not possible to run the software directly from the jumpdrive…
It's handy to know how much space you have left on a flashdrive before you plug it into your computer to copy files. There is one gotcha with the Lexar JumpDrive Secure II Plus USB Flash Drive though – the price. At $50, it's about $30-35 more than the least expensive flashdrives that I found on NewEgg. Of course those drives don't have the nifty gauge on the front… I'm not sure it's a feature that I would personally pay that much of a premium for. What about you?
Product Information
Price:
$49.99
Manufacturer:
Lexar
Pros:

Storage capacity 'fuel' gauge
Shows available space even when not plugged in

Cons: