We use affiliate links. If you buy something through the links on this page, we may earn a commission at no cost to you. Learn more.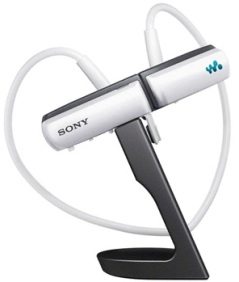 Sony has recently revealed a brand new style of Walkman music player.  Worn like a neckband, it's been specially designed for the fitness fans amongst us, so that when you're working out, there are no cables for you to get wrapped up in!   The player, which looks like a Bluetooth headset, is worn around the neck and weighs in at only 43g.
A fast charge feature will allow owners to give a three-minute (yep, 3 minutes!) of power which will allow a rather stunning 90 minutes of playback.  If you've got more time on your hands though, Sony say that a full charge will give you around 11 hours worth of playback. More info after the jump.
The Sony W250 will be available in four colours, green, black, white and pink.  They will also come in two flavours, the W252 model which will have a 2GB capacity, whilst the W254 version will offer 4GB of storage.   They'll be able to play non DRM-protected tracks (from an iTunes library) as well other common formats (MP3 etc).  Tracks, albums, playlists can be simply dragged to the player's storage disk when you plug it into your Mac or PC.
The W250 will also include 'ZAPPIN' technology that scans through your stored tracks, playing a short sample from each song to help you find the right music for that moment.
Sony have also designed the players to be completely waterproof, so if you accidentally drop it in a puddle during a run, or get them covered in sweat with your ruthless workout, it won't matter!  You even rinse them under a running tap to get rid of sweat and grime and it wont suffer any damage.
Both versions of the Sony W250 player will be available in the UK from the end of May.  Each one will come with its own charging stand and a pair of in-ear headphones.  Optional accessories will also be available for it.