We use affiliate links. If you buy something through the links on this page, we may earn a commission at no cost to you. Learn more.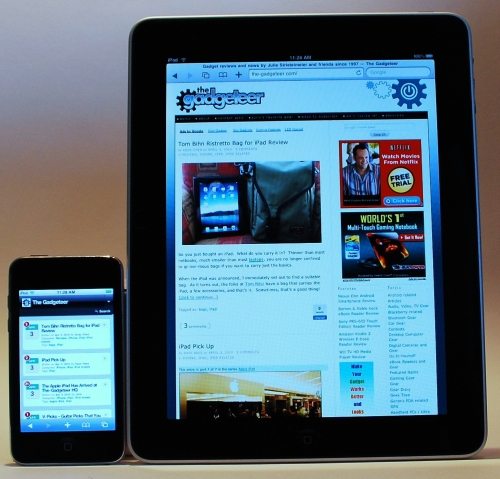 Like a lot of people hearing about Apple's iPad announcement, I thought "it's just a big iPod touch." Since I already had an iPod touch, I certainly didn't need the iPad. But I kept thinking about it, and I finally realized that "just a big iPod touch" was just what I needed. I almost never use my touch for listening to music; I use it to surf the web, to check email for some of my accounts, and to play games. I literally spend a couple of hours a day surfing on my touch, and it's frustrating because it's so slow to connect to a web page. And I spend a lot of time zooming, panning, and scanning on the touch so I can see to read on that small screen. The iPad's bigger screen and faster processor should greatly improve my surfing/email/gaming experience.  I could hardly wait for my gift from Julie to arrive Saturday so I could test out my theory.

Turns out the iPad is more than I hoped for. The iPad is fast! Web pages connect in a fraction of the time. The screen is big enough that I don't have to zoom to see the contents of the web pages. I really like that web sites display normally – not as the mobile version. And the display is gorgeous – clear and sharp and big enough that my aging eyes don't have a problem reading even the normal-sized font.
I was worried about the size and weight – 1.5 pounds sounds so heavy when you're used to holding a 4 oz touch or a 10 oz Sony reader. The iPad feels nice and balanced in the hand, and I don't notice the weight so much because I find I tend to prop it against my leg or part of the sofa while I'm using it.
I'm enjoying playing with apps, too. The apps that have been modified to work with the iPad or designed just for it look great on the big screen. (Best of all, I got free updates for most apps I owned that had already been modified for the iPad.) The iPhone/iPod touch apps I have still work on the iPad. They look good when displayed their normal size, but they're fuzzy if you enlarge them to fill the screen. I even like the virtual keyboard, so I'm planning to actually use my contacts and calendar apps now that I don't have to use that microscopic keyboard on the touch.
I know there's not a lot of detail here – you'll get details when Julie and David Rees post their joint review. What I wanted to do here is just answer the people who complain "it's just a big iPod touch." Yes, it is, and that's a good thing, but it's more than a touch, too.