We use affiliate links. If you buy something through the links on this page, we may earn a commission at no cost to you. Learn more.
While real estate investments around the country are tanking, take heart that in the technical world, it's never been a better time to buy.   Remember the old days before multi-line telephones?  The Big Boss had to have eight black rotary dial phones on his just to take multiple calls.   And you used to have to rock several computers just to access different screens to do different work or toggle back and forth.
While visiting a professional radio talk show host broadcasting from his booth, I noticed he was surfing internet news outlets on at least three screens.  His producer and his call screener each had two to three screens doing whatever it is they do to produce a news radio talk show.   And I've plugged in both of my laptops while writing so I can fact check on one and write on the other.  Using my VGA port on my laptop, using an extra monitor is simple.  So what if I want more?   What if I want to chat with my Amazing Race chat group on one screen, do some fact checking on the other and try to write on yet another?
Plugable Technologies USB 2.0 UGA Multi Display Adapter allows me an extra monitor in addition to the two screens I'm using. The screen real estate possibilities are pretty much endless with this nifty little gadget.  You can multitask like never before.  From my laptop,  I can have my writing documents on one screen and whatever research and fact checking on another.  By using Plugable's Multi Display Adapter, I can rock a third monitor to do everything from checking my bank account balance, (Important) read up on the latest  news (somewhat important) or check the forums gabbing about American Idol (OMG! TOTALLY IMPORTANT!)  (just kidding).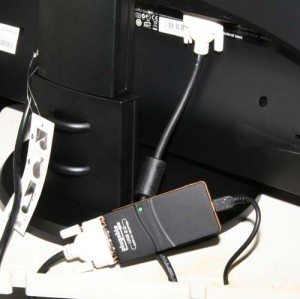 It's very easy to get spoiled using this adapter.  Plugable lives up to its name.  I'm an admitted "Compu-Stupe".  So if I can hook this up, anyone can do it.  In one box you get :  a USB 2.0 Display Adapter, the Start Guide, the Driver CD, USB Cable, a DVI to VGA adapter and a DVI to HDMI Adapter. So… this means if you want some SERIOUS screen real estate and you have a 42" LCD television ( and I do), you can hook up your laptop to have the ultimate monitor.  And I did.  I hooked it up myself.
You do have to have some power of your own; you will need a CPU with 1.2 GHz or higher processor, 256 of RAM, at least 30 Mb of disk space, high res monitor and you need to be rocking something newer than Windows 98 ( and I know of individuals who, sadly, are still on Windows 98) such as Windows 2K or Vista and for the Mac Attacks, you should be using Mac OS X.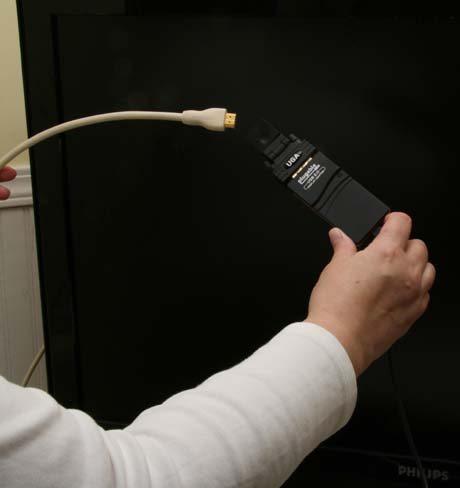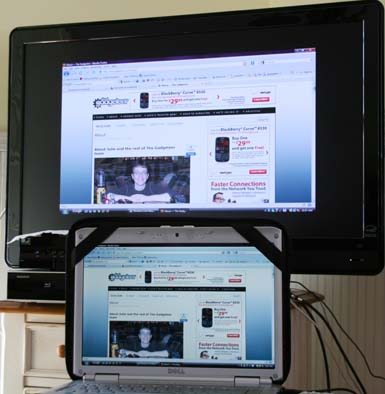 The box that the Multi Display Adapter comes in features eight photos of ways you can use this device  but honestly, the possibilities are endless.  Home office, home business, whatever you use your computers for, you can do so much more and accomplish so much more with this adapter. I found that the device was easy to install, the instructions were easy to follow, and I had everything I needed.  In addition, the Plugable Technologies website boasts a question and answer forum if you happen to run into a problem. At $72.99, it's affordable too.  For what I use this adapter for, I really do not have any complaints about it.  It does exactly what it claims it's going to do.  If I had to register any kind of complaint, I'd say that this could be considered a "gateway drug"…because if I can rock three monitors, what's to stop me from six or eight?
Product Information
Price:
$72.99
Manufacturer:
Plugable Technologies
Pros:

Easy to install drivers
Easy instructions
Simple to hook up
Performs well

Cons: