We use affiliate links. If you buy something through the links on this page, we may earn a commission at no cost to you. Learn more.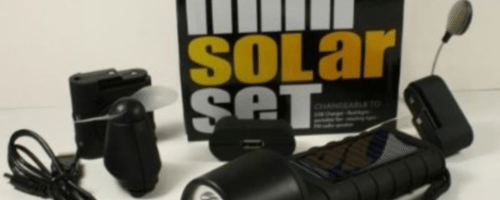 This is a cool idea- a solar panel charging 'handle' with interchangeable heads. The 'mini kit' includes a flashlight, book light, fan, radio/speaker, and a USB charger head. Let's take a closer look…
The P23000 Mini-Solar Set, Summer Series is not packaged with anything that helps identify the maker. The manual is listed at Sunsei's site, and their logo and website appears on a .PDF of the instructions that are otherwise identical to those in the package, but the actual item is not listed there, although it is available at Amazon and other sites.
This is an interesting little package of gadgets!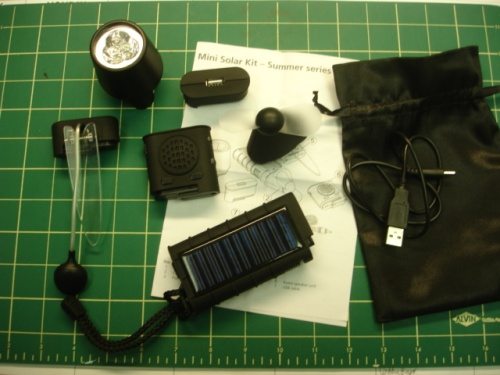 Main Handle Unit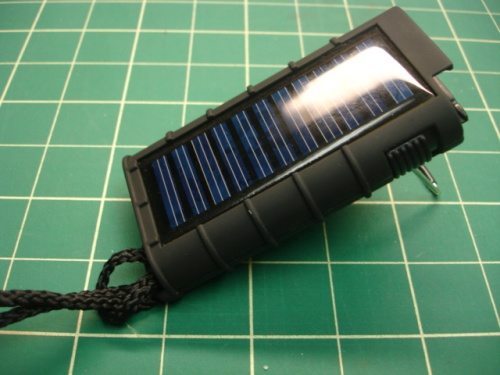 The handle is a lightweight but sturdy black plastic 'box' with heavy ridges and a slightly rubbery feeling. One front side is a solar cell, the 'head' is a slide-on coupling. One side has a sliding on/off switch, the back has a fold-out wire stand (that pops off easily), and the 'tail' has a lanyard loop, charging port, and a charge indicating LED.  One bit of clever design is that when the unit is on, the attachments cannot be slid on or off.
It offers 5VDC at 40 milli-amps, which is between three and four AA or AAA batteries, but it is much lighter than that (I suspect that it runs on watch-type batteries.) It claims that it will power the flashlight unit for up to 10 hours.
It comes with a USB cable to charge the handle from any powered USB port in addition to charging from the sun. It takes 4-6 hours from USB or 10-15 hours from the sun.
Never miss one of our posts again. Sent MON, WED, and FRI with the latest gadget reviews and news!
Flashlight Head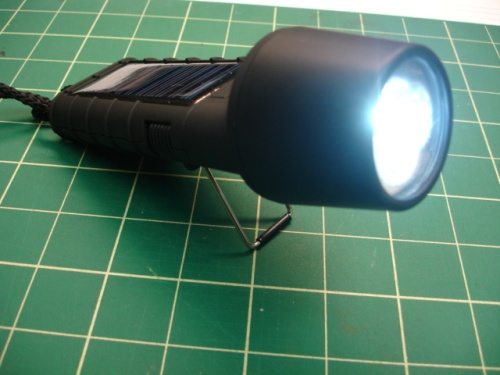 A rather simple 3 LED head makes a very round, moderately focused beam that is very workmanlike, but not very noteworthy.  Its main strength is that it is rather light for its strength. The biggest weakness is that it makes the unit thicker- I really wish the LEDs were arranged in a line rather than a circle.
Book Light Head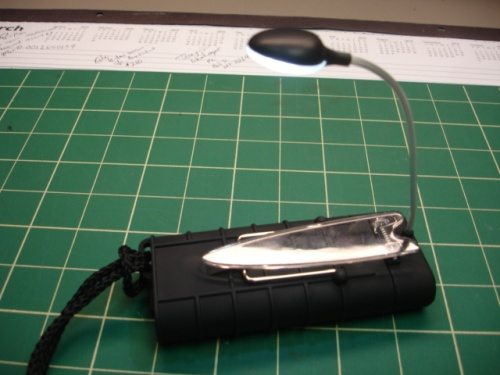 The handle and this head makes a rather bulky unit, but the three flat LEDs make a nice reading light. It is almost bright enough to act as a 'lantern' in a tent- not bright enough to read by, but brighter than a night light.
Fan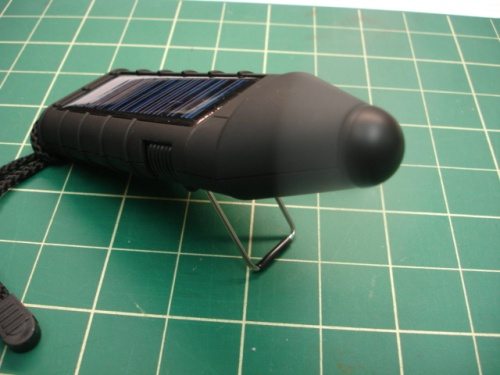 The motor in this head makes it the heaviest single part of this kit. Two thin plastic blades make a nice breeze, and 'click' back to lie flat against the head for transport. This sucks the most juice and makes the best use of the wire stand. It also hangs well so would be great to hang in a tent on a hot night.
FM Radio/Speaker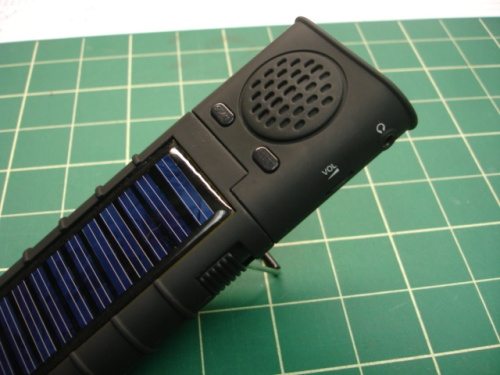 This may be the weakest part of the system. The internal antenna seems week- it is tough to pick up even some of the strong local stations in my city- a task made tougher by the fact that the only tuning controls are a scan and reset button. It also has a volume control and jacks for any input and headphones (both are standard mini- or 3.5mm jacks.)
Speaker quality is frankly mediocre to poor- music on my Blackberry is louder and clearer with its own speaker than through this. On the other hand, this unit does not add a lot of weight and may be helpful in an emergency- although a weather band would be useful.
USB Charger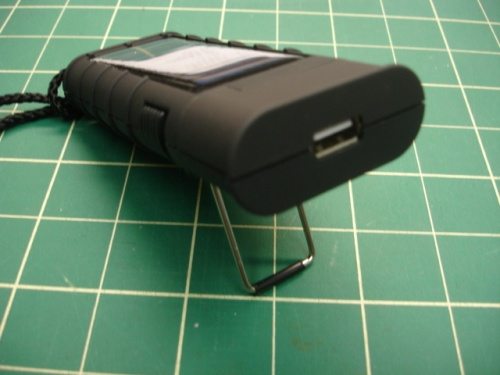 This handy accessory lets you charge a PDA, cell phone, or MP3 with a proper USB cable- not included. At 40 milliamps, it can take a while- my Blackberry wall charger puts out 5vdc at 700 milliamps. I would not count on it to do a full charge, but it would sure help in a pinch!
Other
The set also includes a rather cheap satin-like pouch, a page of simple but helpful instructions, and the earlier mentioned charging USB charging cable.
Overall, this is a nice set of tools. I could wish that there were a few tweaks (weather band on the radio, some sort of lantern mode, a flatter flashlight, and better packaging (the included pouch just makes a lumpy package.) I think the handle is empty enough to have some of these elements built in- the USB port, LEDs, and charger cable seem like they could fit in there.
There is also a certain sense of cheapness overall. It is most noticeable in the radio, but is visible in every part.
This will become a part of my 'car gear kit'- the charger will be the most helpful item, but I'll keep the other parts with it for those odd situations that always crop up, and I am sure it will come in handy occasionally on a camp out.
Product Information
Price:
$49.95
Manufacturer:
Sunsei.com
Retailer:
Amazon.com
Pros:

Main handle is light-weight
Solar panel makes it versatile

Cons:

Radio tuner and speaker are weak
Has a certain cheap feel