We use affiliate links. If you buy something through the links on this page, we may earn a commission at no cost to you. Learn more.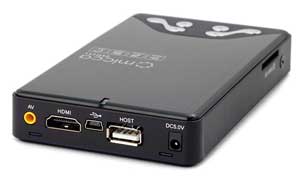 In today's plug-and-play, wireless, streaming, hi-definition world, it's not uncommon to find products geared towards the fusion of technology and media.  TVs are now equipped with integrated wireless services, and, as Jay mentioned earlier this week, even the home telephone is receiving the tech-treatment.  Micca has decided to enter the digital media fray with their introduction of the Slim Portable HDD Digital Media Player.  In true Gadgeteer spirit, I was fortunate enough to give Micca's media player the old college try.
Hardware Specs
Video Formats:
– RMVB: RealVideo 8/9/10/11, Max 1024 x 576 @ 2.8Mbps
– AVI: MPEG2/4, DivX 3/4/5/6, Xvid, Max 720 x 576 @ 4.5Mbps
– MOV, MP4: MPEG4, Max 720 x 576
– VOB (DVD): MPEG2, Max 720 x 576 @ 10Mbps
– MPG, DAT (VCD): MPEG1/2
– 3GP: 640 X 480
– Subtitle: .SRT for DivX/Xvid/AVI
– Not Supported: H.264/MPEG-4 AVC, WMV, MKV
Audio Formats:
– Codecs: MP3, WMA, AAC, AC3, PCM, DMPCM, OGG
– Bit Rate: 32Kbps ~ 384Kbps
– ID3 Tag display for MP3 and WMA
Image Formats:
– JPG, GIF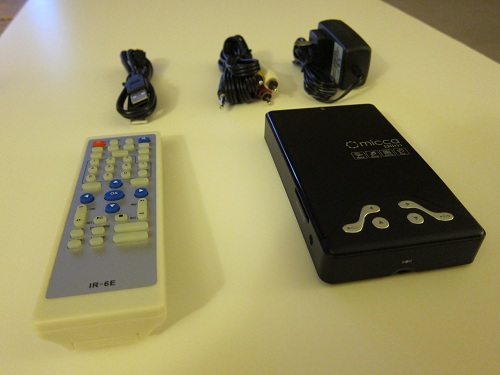 Package Contents
– Micca Slim HDD Media Player
– IR Remote Control
– 3.5mm to 3 RCA AV Out Cable
– 110-240V AC Adapter
– Hard Drive Screws and Tool – Micca Slim can be ordered with or without hard drive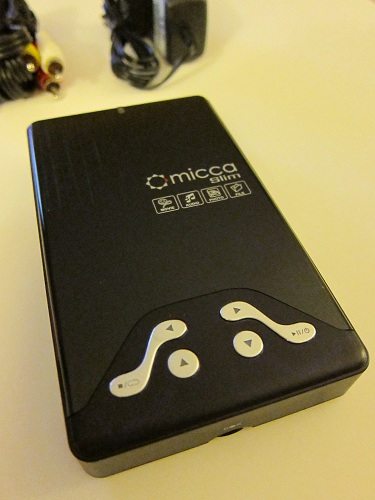 The Micca Slim HDD Media Player is fairly small.  Size-wise, it matched up fairly well with my Western Digital Portable HD.  The casing for the unit seems a bit slight; however, it should be noted that the version I received did not come with a pre-installed hard drive.  The Micca does come with hard drive screws and a tool for those wishing to do the handy work on their own.  You can order the Micca with one of three possible pre-installed hard drives: 160GB, 320GB, or 500GB.  Price increases will incur.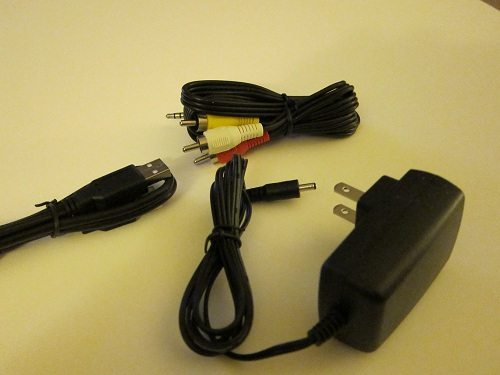 Micca provides an AC adapter, RCA AV out, and USB cable.  While there is an HDMI port, you'll have to provide your own cable.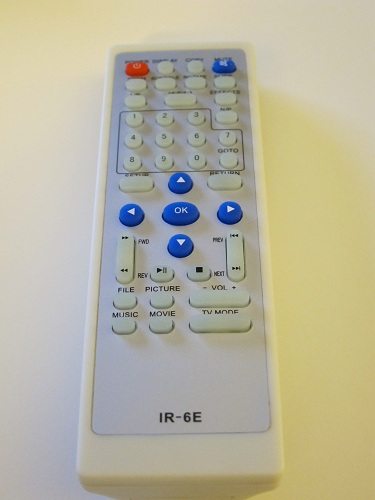 The included remote – while a bit nondescript – does provide convenience when operating the device.  Responsiveness was solid.  Batteries for the remote are not included.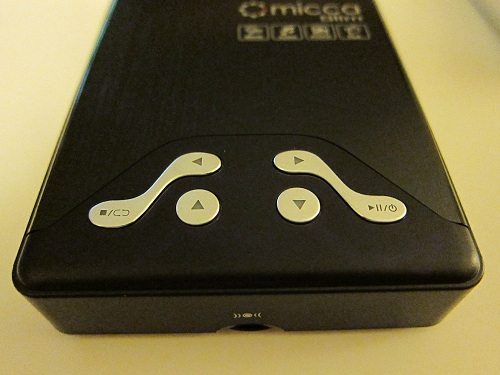 The unit itself is dressed up in a polished black metal and contains exterior control buttons – from here, the unit can be powered on/off, navigate through the on-screen menu, and play/stop the selected media.  The buttons are tactile and responsive.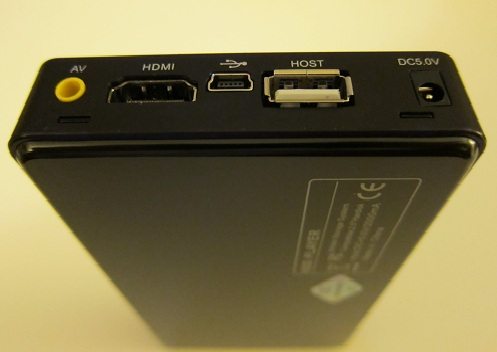 The rear of the unit displays its connectivity options.  Because the unit I received did not come with a pre-installed hard drive, I hooked up an external hard drive to the unit via mini-USB port.  In addition to USB-powered hard drives, the unit can access media from thumb drives and SD/SDHC flash cards.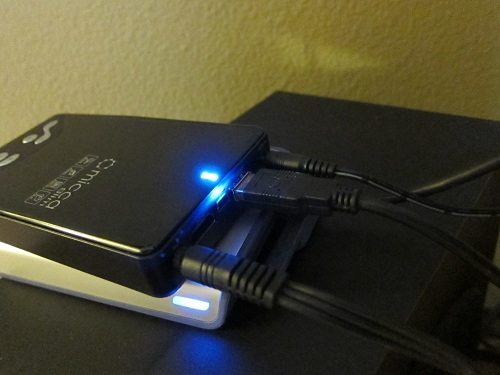 Performance
Setting up the Micca Slim was a breeze.  Upon plugging the device into your TV and powering it up, you are prompted with the option for a basic set-up, or, in my case, simply access the hard drive plugged into the device.  One thing I really liked is that the Micca Slim recognized all of the accessible media from my external hard drive and sorted the media into its respective category (movie, music, picture, etc).  From here on, operation is as simple as selecting your preferred media and pressing play!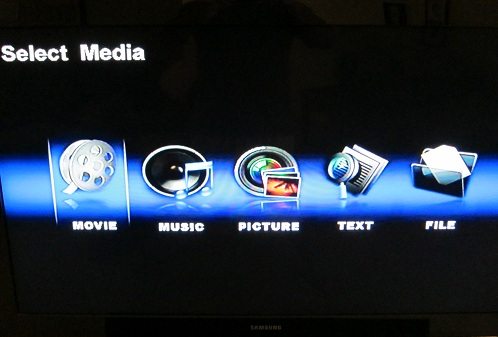 Media playback was quick – there was no lag time between selecting and playing a video file.  While you are browsing your files, a small video preview is displayed on the right hand side of the screen.  File information is displayed on the left.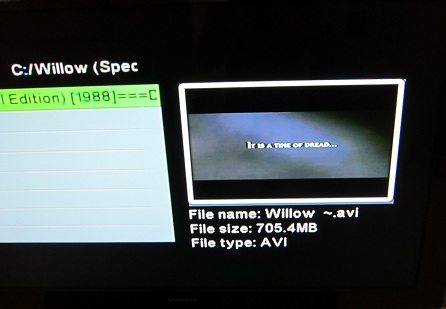 Video quality was good (as good as the original source was, anyhow).  It should be noted that the included images represent video from the standard RCA AV out cable – not the HDMI cable.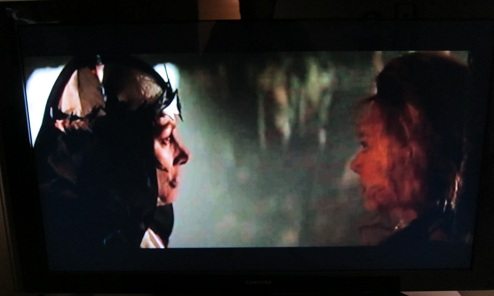 Final Thoughts
I'm all about digital media.  As it stands, most of the movies or television I watch are streamed over a wireless network bridging my computer, gaming device, and television together.  Convenience-wise, it's tough to top.  Because of this, I had reservations about the Micca Slim Portable HDD Digital Media Player and its usefulness in my life.  But what if your wireless network is down?  What if there isn't a wireless network to be found?  (Hey, it still happens from time to time!)  In this case, simply plugging your media-loaded Micca Slim into a television (old or new, thanks to it's connectivity options) will provide you with your digital media fix.  Want a nice gift idea for the less tech-savvy folks in your life?  Load up one of these bad boys with an array of movies, pictures, and music and simply tell them to plug it in and click away!  Take your media on the road with you and snazz up the old 19″ RCA tube in the EconoLodge with some of your favorite movies or music.  Or, think of it this way – for the price of a low-end DVD player, you can consolidate space and time with a unit much smaller than even the most compact video players.  The more I think about it, the more I appreciate what the Micca Slim Portable Media Player has to offer!
Product Information
Price:
Ranges from $59.99 (No hard drive) - $149.95 (500GB hard drive)
Manufacturer:
Micca
Pros:

Small & lightweight
Very user-friendly
Quick set-up
Fast/responsive

Cons:

Casing feels weak
Pre-installed hard drive will cost extra
HDMI cable not included