We use affiliate links. If you buy something through the links on this page, we may earn a commission at no cost to you. Learn more.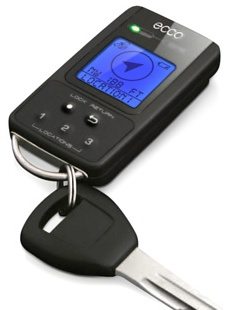 If you do what I do everytime you go out and forget where you've parked your car, or have major trouble in finding your way back to your hotel, then worry no longer.   The ECCO GPS Keychain will help to show you the way.
This staggeringly small GPS system is set to revolutionise the way you find your way back to…well, wherever it is you started.
All you need to do is 'lock in' your starting location, then when you come back, simply follow the ECCO's LCD display back to your car, or hotel.
The ECCO's internal battery recharges via USB, but don't worry about carrying your laptop around at the same time, as the charge lasts for a month on standby and almost two weeks if you use it for ten minutes every day.  Not bad!
The ECCO GPS keychain costs £69.99 and is available from Firebox