We use affiliate links. If you buy something through the links on this page, we may earn a commission at no cost to you. Learn more.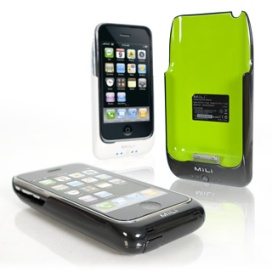 The iPhone is definitely one device to own at the moment.  Unfortunately though, all these wonderful apps you can download and use have a nasty habit of draining the battery, fairly rapidly too!
What you Apple nerds need is an ultra thin protective case with a built-in battery – and here it is, the MiLi iPhone Power Pack.
The MiLi is a rechargeable (via USB) external battery concealed inside a svelte protective hard-shell case.  It's made from very tough plastic and it offers twice the battery life of the iPhone alone (up to 390 hours standby time!)
It's also capable of charging other USB-friendly devices.  Simply plug your gadgets into the MiLi's 'out' socket and let its 2000mAh/1200mAh lithium polymer battery do the rest.
Clever technology instructs the iPhone to always drain the MiLi's battery first, so if you do remove your iPhone from the MiLi, its battery won't be drained.
The MiLi Power Pack is priced at £49.99, in either Black, Green, Grey or White from Firebox. Also available in the US for $79.95 at Photosuit.com