We use affiliate links. If you buy something through the links on this page, we may earn a commission at no cost to you. Learn more.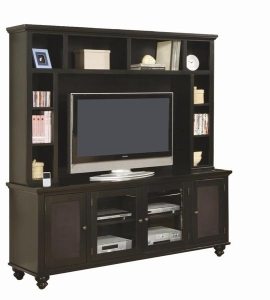 Ah tax-refund time, when a geek girl's fancy turns to thoughts of LCD HDTVs…
Seriously, my husband and I are looking to replace our ancient (in electronics years) floor-model rear-projection TV with an LCD TV.  We have to also have a new TV stand, so I've been looking at a lot of web sites to find something nice, affordable, and not glass and metal.  I was interested to find several TV consoles that contain built-in iPod docks, like this Medford console from the FurnitureFromHome web site.  The Medford is about $1000, and you can find other styles and types online at various sellers.  It's hard to see in the small picture, but there is an iPod visible on the left side of the attached picture.