We use affiliate links. If you buy something through the links on this page, we may earn a commission at no cost to you. Learn more.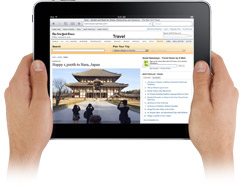 It has now been several weeks since Apple officially announced the iPad, and everybody and their dog has taken the opportunity to voice their opinion on it.  Some people think that it's undeniably the future of computing.  Some people think that it's a flash-in-the-pan fad that will fail miserably, taking Apple down with it.  Having spent the past few weeks digesting every bit of the iPad talk I could stand to consume, I thought I'd share with you a no-nonsense distillation of facts and opinions on Steve Jobs' new baby.
The Name, and Why It Doesn't Matter
"iPad".  Everyone has an opinion on the name.  Some (few) people love it.  Some (most) people hate it.  People point out that the name was the very punchline of a 2006 MadTV sketch that was already about three years late jumping on the iJoke bandwagon.  You know what else had a stupid name?  No, not the Zune (though, yes, that is absolutely the worst product name ever to roll out of Redmond), I'm talking about the iPod, and to a lesser extent, the iPhone.  Stupid, stupid, incredibly dumb names.  Everybody hated the iPod name when it was announced.  What does it even mean?  It's nothing.  It's four letters in camel-case that meant absolutely nothing in sequence until they were projected on a screen behind a man in a black turtleneck.  Nobody got the name, but everybody loved the product.  That ridiculously lousy name is now a household word.  It is to PMP devices what Kleenex is to tissue paper and what Xerox is to photocopiers.  And does anybody now remember how stupid the name was?  Nope.  It's become part of the vocabulary.  As for the iPhone, was there any way that Apple could have been lazier about naming this product?  It was as if they weren't even trying.  But it just so happens that both the iPod and the iPhone were fantastic devices that were well-designed, easy to use, accessible, and most of all, fun.  It didn't matter what they were called because Apple wasn't selling a name, they were selling awesome, world-changing devices.
The same applies to the iPad.  Apple doesn't really care what it's called, giving it a name is a bothersome formality.  They just want people to use it, to enjoy using it, and for it to be the first thing that people think of when they think of a portable media device in a mid-size tablet form factor.  If the iPad succeeds or fails, it's going to be on its merits as a world-changing (or not) device, and not because of its stupid, stupid name.
It's Not A Computer, and Why It's Not Supposed To Be
One of the most common criticisms leveled at the iPad has been the assertion that, with its lack of removable media or multitasking, the iPad is basically a giant iPod Touch, and not a proper computer.  These are fair points, but these "missing" features are also things that are extraneous to Apple's vision of what the iPad is supposed to be.  During his presentation, Steve made a point of positioning the iPad in that middle ground between a MacBook and an iPhone, intentionally squashing out netbooks.  Apple is effectively drawing a continuum between the MacBook and the iPhone, and insinuating that the netbook is so close to the features and functions of a laptop that it is a pointless device.  And for most people, he's right.  The advantages to carrying a netbook as opposed to a laptop are few and far-between.  The iPad, however, is closer to Apple's vision of the middle of that continuum.  Not a computer, not an iPhone, but a medium-sized device basically devoted to media consumption.  Apps.  Games.  Books.  Newspapers.  Movies.  TV.  Music.  All sold through iTunes, and all reachable through this magic little window that is the iPad.  Why would Apple want to make the iPad a full-blown computer?  You likely already have one of those, and if sales trends are any indication, your computer is probably a laptop, or your next one will be.  It's simple, really.  If you want to do heavy computing, you grab your computer.  If you just want to sit back and enjoy a book/movie/game, you grab your iPad.  I suspect that, in use, the distinction between the devices in terms of which is appropriate for a specific task will become more apparent, and will be purely intuitive within a few years.
…But I Already Have An iPhone
Certainly, there is a significant amount of overlap between the iPad and the iPhone.  However, the iPad has one major advantage over the iPhone: the size of the screen.  This seems like a minor difference until you consider what this means for applications that take advantage of multitouch.  On the iPhone, the screen is so small that multitouch gestures are pretty much limited to two-finger taps, pinches, and unpinches.  On the much larger iPad display, however, it becomes practical to utilize the full abilities of multitouch.  This will be exposed primarily in games, most likely.  A very quick (and largely unnoticed) example of this was shown during the N.O.V.A. demo at the iPad release event.  The game involved multi-finger rotates and swipes, things that are less feasible on the iPhone's little screen.  Given that games on the iPhone have been big business so far for both Apple and developers, I have little doubt that developers will be falling over themselves to provide not only iPad-specific updates of current games, but also new and different games that simply could not be realized on the iPhone due to size constraints.
Furthermore, the iPad demonstration made it clear that the iPad supports dropdown menus that currently cannot be found on the iPhone or iPod Touch.  While this seems like a minor feature, the application of this was clear in the demos of the iWork suite for iPad, and it's not a stretch to imagine that we'll see this in many, many more iPad applications — especially productivity and organization apps — that are currently somewhat difficult to use on the iPhone.
Of course, the iPad isn't going to supplant the iPhone in normal use… you clearly can't slip an iPad in your pocket or your purse, and you can't make standard phone calls with the iPad.  However, odds are that the iPad will replace your iPhone as the go-to device when you're at home and just want to check movie listings or the weather forecast or your email, but you don't want to wait for your computer to boot up.  Just as with the laptop-iPad relationship, the iPad-iPhone relationship is one that will become more apparent and more organic with use, and as the devices evolve.
It Doesn't Support Flash, Why It Doesn't Make Sense To, and Why You Shouldn't Care
While the iPad name has been the dead horse of choice for the general public to beat, tech critics seem to have agreed to target a different perceived shortcoming: the lack of Flash support in the Safari browser.  They go on and on about how so much of the world wide web is dependent on Flash, and how this is a crippling omission in the browser.  Apple has long been criticized for the lack of Flash support on the iPhone, how DARE they impose this same restriction on the iPad?  Are they insane?
Well, no.  They're not.
One point that many tech critics — especially those that do not use a Mac on a day-to-day basis — have overlooked is that Flash is and has always been the bane of web browsing on a Mac.  Flash for Macs is a notorious resource hog, and is infamously unstable.  It's to the point where people have written Safari plugins specifically to prevent Flash applets from loading (ClickToFlash and BashFlash, just to name a couple).  So, if Adobe can't deliver a fast, slim, stable version of Flash for OS X, why would anyone believe that they could deliver a better version for the iPad or iPhone, both of which are running what is effectively a stripped-down version of OS X on far less powerful hardware?
Even if Adobe was somehow able to pull off this logic-defying feat, Apple would still have reason to block it anyway.  When you think about it, there are really only four reasons that people incorporate Flash on a website, and none of them are compelling reasons for Apple to support it:
to provide giant animated and interactive menus. Every web designer and developer worth his or her salt knows that you simply do not build a website that requires a specific plugin in order to navigate, or you are going to alienate a significant portion of your audience.  This was a best practice that was established back when few browsers supported Flash or other media plugins, and has become important again now that mobile browsing is starting to comprise a larger portion of WWW traffic.  Any website that doesn't offer an alternative to Flash navigation is a website that isn't worth visiting.
to deliver media such as video and music. YouTube and Vimeo have recently started moving to HTML5 instead of Flash, and odds are that once the big boys do it, the smaller players will follow.  Why keep investing in Flash development tools when all you really need is built right into the HTML spec?  And why would Apple want to do anything extra to support a technology that is losing ground to a free alternative?
to provide dynamically updating content (maps that track an object in real time, etc). Again, this sort of thing can be provided with other technologies, such as HTML5 and AJAX.
to provide interactive content (read: games). If you look through the iTunes app store, you'll find more than a few games that are basically ports of Flash games that you can play for free on the internet.  Clearly, it's in Apple's best financial interest to keep people buying those apps from the app store, since Apple gets a cut of each of those sales.  And if the popularity and potential profits of the app store are enough to convince budding developers to skip writing Flash games and jump straight into the iPhone/iPad SDK, all the better for Apple… and all the less reason for Apple to bother with Flash.
And even ignoring all of those issues and considerations, there is one large question that has yet to be answered: how would Flash even work on an iPhone or iPad?  Interaction with Flash applets boils down to a set of "events" that register with the applet, such as a mouse click, hovering over an item with the cursor, clicking and dragging, etc.  How exactly would Flash be able to read a "hover" event, when there is no mouse pointer with which to hover?  How would Flash distinguish a user swiping to scroll the page from a user clicking and dragging in a Flash applet?  The answer is that there is no answer.  Flash applets would either have to completely take over the browser, or interaction with them on a iPad or iPhone would become so significantly different from interacting with them on a desktop browser that it would feel awkward and downright alien.  In short, Flash was designed to be used with a mouse and physical keyboard, two things that the iPhone and iPad lack; even if Flash *could* run on an iPad, it wouldn't be usable for the majority of the things that people do with it.
Few tears should be shed over the lack of Flash on the iPad.  A great many of us have gotten along just fine for the past few years without Flash on our iPhones, and besides, all signs point to Flash going the way of RealPlayer.  Don't forget that Adobe is going to get little support from Microsoft in keeping the de facto web application framework crown;  MS is doing everything they can to usurp that title with their own Silverlight product.
Why The iPad Is Critical For Apple
If there's anything that Apple doesn't get enough credit for, it's their impeccable sense of timing with respect to product releases.  The iPod.  The iTunes music store.  The iPhone.  The app store.  Every one of these products or services was released after a market or potential consumer base had been established, but before anyone else had been able to truly capitalize on it.  The iPad is no different.  The success of the Kindle has proven that there is a market for e-readers, and the success of the iTunes music, video, and app stores have proven that there is a market for media in general divorced from a full-blown computer.  The iPad is Apple's effort at not only bringing those two markets together with one product, but also heading off the tablet computing gold rush.  Bill Gates predicted back in 2001 that tablet computers would be "the most popular form of PC sold in America" within five years.  He was on the right track, but he had the timeline all wrong.  Tablet computing is going to be a big thing over the coming years, and for Apple's big bet to pay off, the market is going to have to decide that it prefers slimmed-down media-consumption devices to full-blown PCs in a tablet form factor.
This is important for Apple not just because they want to sell hardware, but also because they want to establish the iPad as the way that most people consume media outside the living room.  They want the iPad to justify the existence of the iTunes video store (because AppleTV surely hasn't), and they want the iPad to become the new conduit for print media, dispensing books, magazines, and newspapers purchased through the relevant iTunes stores.  If it isn't already apparent, Apple wants its fingers deep in the media pie, because media is all about recurring revenue.  If they can make the media consumption process on the iPad easy, affordable, and enjoyable, it will sell, and Apple will have bet and won.
If the iPad fails, however, Apple is going to have a major setback.  They'll have to reconsider how to win over the e-book market (or if that's even a possibility for them), and they risk losing the potential revenue from digital print media to a competitor that could then try to push them out of other media markets.  Not to mention that, with all of the buzz and hype surrounding the iPad, a failure here would leave a large bruise on the Apple brand.
What I Still Don't Get About the iPad
With that said, there are still a few pieces of the iPad puzzle that I can't quite make fit.  First and foremost, while it's great that Apple provides 3G as an option on the iPad models, and it's even more impressive that they've arranged to make iPad 3G data plans pay-as-you-go, I still don't quite understand why I would want to take an iPad out of the house.  I can absolutely see it as an always-on information device that I can leave on my coffee table and pick up whenever I need it, but I don't understand why I'd pick it rather than my laptop if I'm leaving the house.  I suppose I might want to take the iPad with me if I had a specific iPad game I wanted to play while I'm out, but I do own a PSP and a Nintendo DS, and a stack of unfinished games for each, and I rarely think to take those with me.  I can't imagine that things would be much different with the iPad.  I suppose someone might want to take the iPad with them instead of a laptop if they were going to need access to data, but wouldn't necessarily be near a Wi-Fi access point.  But I have an iPhone, and if AT&T ever follows through on the promise to allow tethering with an iPhone, I'm back to taking my laptop with me instead of the iPad.
The other thing that bugs me is that, by all appearances, the iPad seems to be a single-user device, like an iPhone.  It makes sense for the iPhone to be a single-user device, because it really is a personal device.  It is *my* phone.  My email is on it, my browser history is on it, my bookmarks are on it, and that's fine, because it is mine.  Computers, however, are frequently multi-user devices, and so modern operating systems provide the ability to separate one user's data from another's with separate user accounts.  John can't read Jane's email, the Jane can't see Jack's browser history, and Jack can't delete John's bookmarks, even though they are all using the same computer.  The iPad, from what we've seen, is a single-user device, which doesn't make sense for something that seems like it would be a logical fit as the family's shared, coffee-table information device.  At this point, there doesn't seem to be a way to set up two or more user email accounts on the iPad without making them both visible to all users.
Conclusion
It wouldn't be a stretch to say that Apple has a lot riding on the success of the iPad.  Since the introduction of the iTunes music store, Apple has been evolving from a company that sells computers to a company that sells user experiences.  Sure, they still sell computers, and now they also sell a number of other non-computer hardware devices, and certainly they sell just about every imaginable kind of media through iTunes.  They don't, however make their money selling media.  They make their money selling the devices that you need in order to consume the media that the iTunes store offers.  The iPad is a big step and a major change in how we think about consuming media, and it's either going to fail miserably or it's going to change the world.