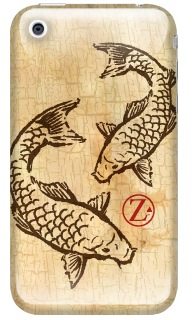 I am a fan of keeping your handheld in a case. I regularly change my cases around, depending on use or mood. When I was offered the ZAGGskin for iPhone to review, I looked at the patterns on the web site, choose one, and thought (incorrectly) that it would be a case with that pattern on the back. I was mistaken. I was sent a flat, spongey sheet printed with the chosen pattern, and backed with an adhesive. It is die-cut to fold around the iPhone and cover most everything, leaving space for the camera lens, volume controller, ringer switch, speakers, and ports. I was not happy, but, in the true spirit of The Gadgeteer, I decided I had to give it at least a week, to see if it is something I could use.
The back of the sleeve it comes in says the following:
1. Clean your device.

2. Peel the ZAGGskin from the backing.

3. Align your ZAGGskin with your device and apply.

Tip: If the alignment of your ZAGGskin is not correct after applying, simply peel it off and try again.
That's it – no pictures (other than simple line drawings, but they look more like an iPod than an iPhone), no tips for how to seal the edges – nothing. The "tip" reminds me of the recommendation on instant hot cereal or hot chocolate: "If a stronger flavor is desired, use less water." Really? That's actually something that needs to be said? Fine, lets move on…
The die-cut was not completely free of the surrounding material, so I recommend having a small sharp blade handy if you're putting one of these on. With all the angles and small narrow lengths for the sides, you'll want to move slowly and carefully. I don't think the material is necessarily fragile or prone to tearing (quite the opposite, actually), but you don't want to take the chance. Once it was free, I used the lens and the top edge to orient the ZAGGskin, and pressed out from there. There were no air bubbles or loose edges – everything "just fit", with the corners cut so that the skin lay flat everywhere.
I have showed this to many friends, most of whom are either iPhone users, or well-acquainted with the device. Some liked it, others were more of the "meh" persuasion. All universally liked the pattern I had chosen (a wood-cut print of a pair of koi over a cork-looking background). Comments ranged from "that's not going to protect it if you drop it" to "it gives you a good grip." Most meaningful to me was my Lovely Bride. She's not a fan of me changing cases and getting new stuff usually, but she really liked this pattern and the "high-touch" feel. She even approved of the open spaces. "It looks sort of like a frame around the print."
After using it a while, I found there were several other small pieces in the original stock that were designed to go across the bottom and top of the iPhone. (Again, better instructions would have helped here.) I placed them on the device, but there were still several places that were open to damage.
In the end, I give it four stars – while not quite "wall-to-wall" in fit, the materials and workmanship are all first-rate. And the artwork is beyond anything I've seen on any other case, and I see a lot of iPhone cases!