We use affiliate links. If you buy something through the links on this page, we may earn a commission at no cost to you. Learn more.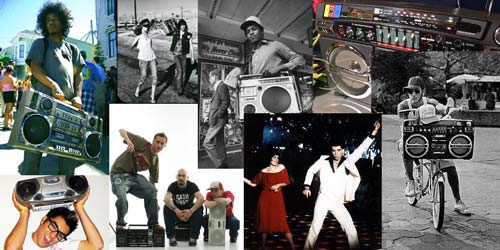 Ahhhh, the 80's….back when big hair, bell bottoms, disco, and soul-pounding boomboxes were all the rage. Thankfully most of the trends of the 1980's have fallen to the passage of time. Over the past two decades since, how we listen to and travel with our music has certainly taken huge evolutionary steps. With the advent of the iPod and other mp3 players, most portable speaker systems have shrunk in size while maintaining a reasonable quality listening experience; trading full rich sound for lightweight portability or a small footprint. Altec Lansing is bucking that small, light players are better trend with the iMT800 MIX BoomBox.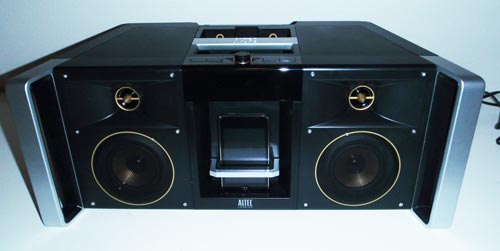 The iMT800 MIX BoomBox is big, bold, and yes I have to say it, beautiful (my wife called it ugly, but to each their own….). It's matte black plastic body, aluminum accents, and orange highlights put a modern/sleek look on an old concept. Altec Lansing has designed the MIX to be modern day version of the classic battery operated boombox of yester-year while integrating most of the latest iPod/mp3 player connectivity.
At more than a foot and a half wide and weighing in at over 10 lbs (w/o batteries) the iMT800 is far from petite. The box the MIX came in was big by today's tech-standards but the shipping box was massive. This music player would definitely have looked perfect on top of your shoulder going very well with your big fro or long mullet of a couple decades ago (I thought about getting a wig to take a picture for this article but thought better of it….).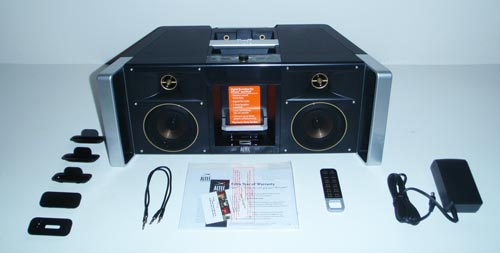 Package Contents:
Altec Lansing Mix speaker system
AC adapter
Clip-on remote
Miscellaneous adapters for iPhone and iPod
Two 3.5 mm stereo cables
User's guide and Quick connect guide
Specifications:
Powerful Class D amplification
Advanced audio Digital Signal Processing (DSP)
Highs: Dual 1" horn-loaded polypropylene tweeters
Mids: Dual 3" mid range drivers
Lows: 5.25" subwoofer and 5.25" passive radiator
Battery life: 8 x D (LR20) batteries provide up to 30 hours of continuous playing time
Infra-red (IR) remote control
Dimensions: 19.7" (W) x 9.3" (D) x 7.7" (H)
Features:
Audio Alignment
Engineered horn-loaded polypropylene tweeters
Two custom-designed drivers push mids and mid bass
XdB bass-enhanced side-firing subwoofer and tuned passive radiator
Digital FM radio
Dual AUX IN jacks
Clip-on remote
Automatically pauses music when a call is received on the iPhone
Interference Free
AC or battery-powered
High-contrast LCD
7-band graphic equalizer
Grab handles
Universal dock for iPhone and iPod
Guard for iPhone or iPod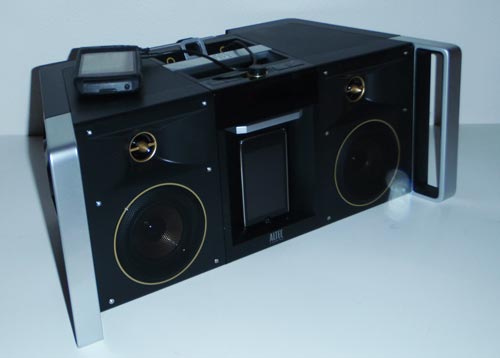 While you are not able to play your favorite mix tape on the iMT800, it has a dedicated iPod/iPhone dock, two auxiliary inputs, and ability to play FM radio. Its connectivity options and look are almost identical to other Altec systems. The speaker system automatically pauses music when a call is received on the iPhone and restarts when your call is complete. The iPod/iPhone dock has a chromed plastic bar that slides down in front of the device to hold it in place and for protection.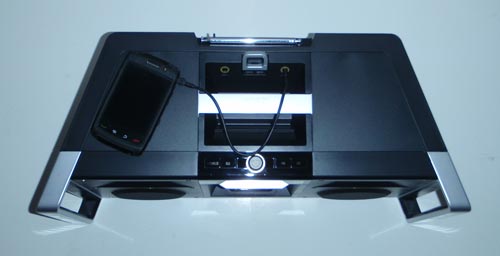 The top of the MIX is where AUX 1 and AUX 2 ports, device controls, remote control storage slot, and FM antenna are located.

In the center is a well made, sturdy aluminum handle for lugging the thing around. The front of the music player has two structurally sound aluminum handles as well.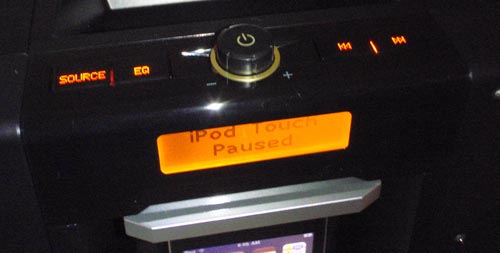 The controls are typical of Altec Lansing and other speaker systems; on/off, volume, source selection, equalizer, skip, and reverse buttons. Altec Lansing does a good job with the iPod/iPhone interfacing, allowing you to see what and who is being played. The orange LCD screen displays track information from your iPod/iPhone, as well as any track info provided by your FM radio stations.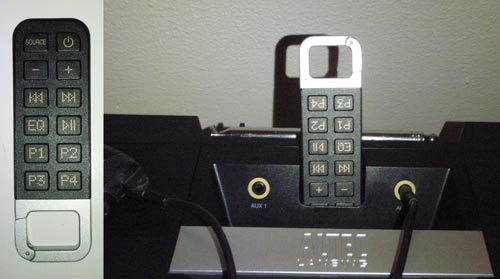 Like the inMotion MAX (iMT702), the MIX comes with a reasonably featured full remote. But the MIX's remote has an integrated, well engineered (albeit geeky) beltclip. The remote controls power, source, volume, skip, repeat, equalizer, play/pause, and four radio presets. While very nice, I doubt I will be using this added feature to sport the remote on my belt-loop anytime soon.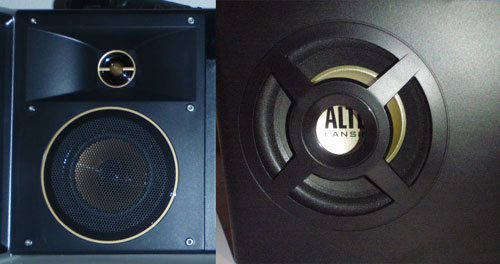 Well, I guess it is time to get to the bottom line, the iMT800 MIX BoomBox sounds as big and bold as it looks. I have reviewed other Altec Lansing speaker systems, all sounding very good. But the MIX leaves them all in the dust with its full range of great sound. The ranges are well represented and do not distort as you start shaking the popcorn material off your ceiling. The MIX's four front-facing speakers and side-firing subwoofers fill a room; sounding great no matter what device I was playing from.

To further tweak your listening experience, the MIX has a built in 7-band equalizer. This allows you to select from the 4 factory presets (Altec EQ, Rock, Pop, Hip-Hop) or adjust any or all of the band levels yourself.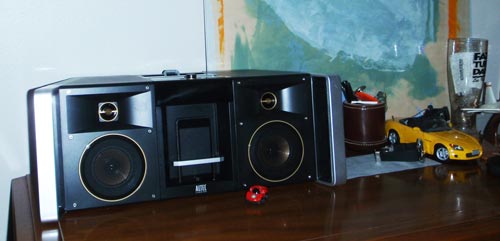 My only suggestion to Altec Lansing would be to add stereo bluetooth connectivity to its future high-end systems allowing for wireless streaming from your device. That suggestion aside, the MIX is a great sounding music player. Although, it is not inexpensive, at $300 it is not overpriced either. Many great sounding players fall in at this price point and Altec Lansing is on the mark with the MIX's bang for the buck. That said, there are other non-portable systems that, to some, might sound better, but are not designed to be dragged around from the backyard to the beach to the basketball court. Where as, the MIX can be run off of 8 D sized (yep, if that does not sound like the 80's I don't know what does) batteries giving you up to 30 hours of portable tunes.
Product Information
Price:
$299.95
Manufacturer:
Altec Lansing
Pros:

Well made, quality construction
Excellent sound experience
Many input options
Built-in iPod/iPhone dock
Solid aluminum carrying handles
7-band equalizer
Two year warranty (w/registration)

Cons:

No stereo bluetooth wireless streaming