We use affiliate links. If you buy something through the links on this page, we may earn a commission at no cost to you. Learn more.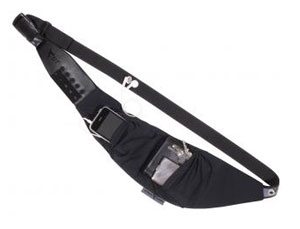 It's been mentioned before on this website many times: one of the curses of technology is the problem of always having to carry it around in order to use it. In a rather unique take on the fanny/bum pack, UrbanTool has designed the icaseBelt. It's a wide belt that contains an iPod controller, as well as pockets for your wallet, keys, and other items. I was challenged to put it to the test, and it was a challenge I was looking forward to. Here are the results.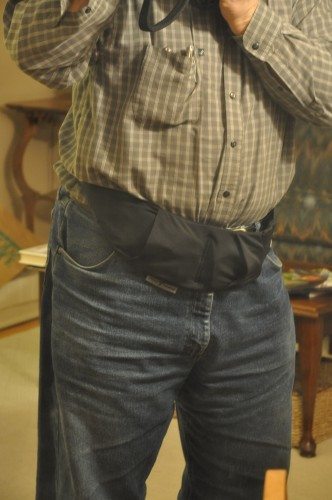 First, I'm not a skinny, young, hip guy like the folks on the UrbanTool website. They may not think of me as being in their demographic, but if they cast that net in terms of gadget usage and needing the touted benefits of their product, they might think again. The icaseBelt is a wide, nylon and leather adjustable belt. The pockets and iPod controller area takes up about 24″. There is about 30″ of webbing attached to the end of this area, ending in a 2″ heavy plastic clip. You can wear it as a belt or a bandolier, and quickly switch between the two. The sliding adjustment ring holds the chosen length tightly, yet slides easily if turned against the pull of normal wear.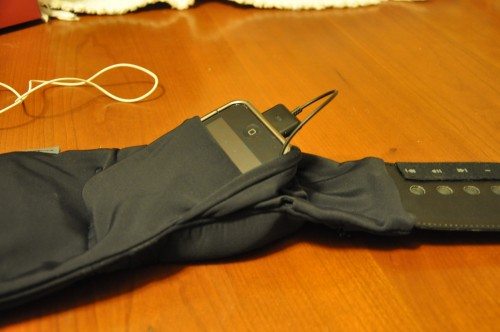 Looking from the front, the left side (the wearer's right side) has a controller for iPod with fast forward, play/pause, previous/review, and volume up/down buttons. These controls are connected to a standard iPod cable that is sewn into the pocket next to the controller. My iPhone 3G fit into the pocket easily without being attached to the controller connector. With that connector, it could be placed in the pocket, but it was a little more of a challenge. But it would fit, and the controller worked as expected. The problem came when I tried to attach earbuds to the iPhone. There is not enough room to place the controller and a standard earbud plug on the iPhone and insert it into the case. I even tried finessing it into the case and plugging in the cables afterward by working through the fabric, but the dimensions of the case are just too small. I really wanted this to work. There's even a small zippered pocket on the back just behind the iPod pocket, perfectly sized for a set of earbuds.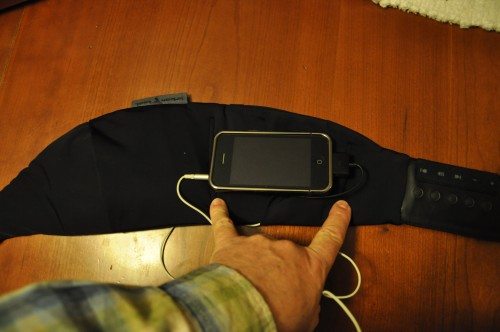 The next pocket over is meant for a wallet or datebook. I carry a Levenger card file that's 6″ x 3.5″ and about .75″ thick, and it fit easily. In the far reaches of this pocket, there is a retractable keyring.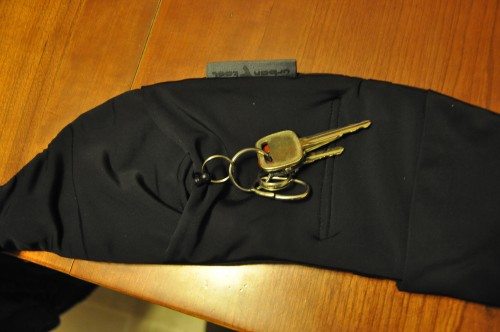 I'm not really sure how you're supposed to get your keys past the wallet that takes up the rest of the pocket, but the mechanism is attached well, and retracts reliably. On the back side of this pocket is another zippered pocket, which could be used for hidden cash, a Metro card, or even a passport. It's very flat, but has an opening almost 5″ long. It will hold a small stack of 3×5″ index cards, but you'll have to put them in one side at a time.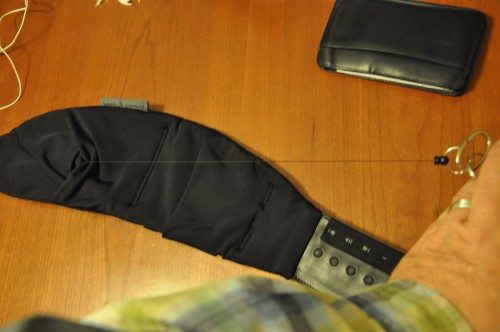 The materials are of really good quality. The leather over the iPod controls is smooth, with the functions subtly hot-stamped onto a nylon patch below them. The pockets are made of a stretchy, jersey knit nylon that feels like silk, but easly stretches over whatever is being inserted, yet snaps back into place. The seams are all tight and heavily reinforced.  I don't think anything on this belt pack would wear out or fray with normal use.
That being said, normal use is tough to do, since the placement of the pockets' features are so irritating, as mentioned above. I wanted to test this with my iPhone, but can't have music playing from my waist without earbuds – it's not a good listening experience, and irritates those around you. And the keys aren't accessable stuffed back on the other side of my card file.
So, for materials and workmanship, I give it five stars. For design and useability, however, I give it one star. Over all, that's three stars, but if you've got an iPod Nano and a phone to put in the other pocket, it may work better for you.
Product Information
Price:
$119.90
Manufacturer:
UrbanTool
Pros:

Well made of quality materials
Cool concept/design - not your ordinary fanny pack!
Good feature set and sizes of pockets

Cons:

iPod pocket will not hold an iPhone while wired for use
Key ring is far inside one of the pockets, hard to access
Key ring is behind your wallet, blocking it from use