We use affiliate links. If you buy something through the links on this page, we may earn a commission at no cost to you. Learn more.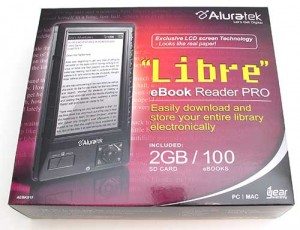 Those of you considering the purchase of a dedicated eBook Reader may be under the impression that your only choices are from Sony, Amazon and Barnes & Noble. I'd like to show you one affordable alternative. It's the Aluratek Libre eBook Reader Pro.
Hardware Specs
RAM: 117MB free
Display: 5″ (12.7cm) ePaper display
Supported formats: PDF, TXT, FB2, EPUB, MOBI, PRC, RTF, BMP, JPG, GIF, and animated GIF picture, MP3
Expansion slot: SD up to 32GB
Dimensions: 6.0 x 4.25 x o.5 in
Weight: 8 oz.
Battery Life: 24 hours (2 weeks standby time)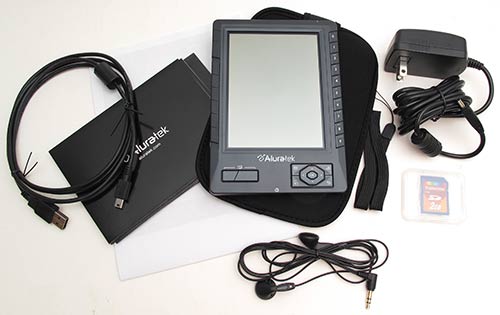 Package Contents
eBook Reader PRO
2GB SD card filled with 100 books
USB Cable
Power Charger
Hand Strap
Earphones
Carrying Pouch
Quick Start Guide
Warranty & Registration Card
Let me start out right away by telling you that the Libre Pro does not offer a wireless feature like the Kindle and Nook. You will be required to load your books manually instead of buying them through the device. Aluratek helps you out by providing an SD card with the reader that has 100 books preloaded. They are classics such as Tom Sawyer, Huck Finn, War and Piece, Wuthering Heights, etc.
Books can also be purchased through ebooks.com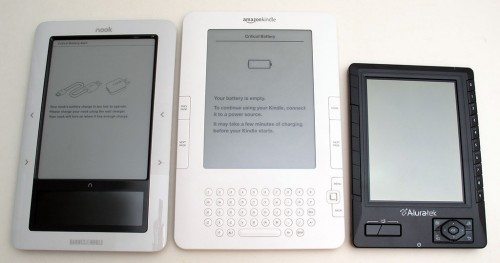 Having owned both the Kindle and Nook, the small size of the Libre was immediately noticeable when I first took it out of the box. The display is only 1 inch smaller though. Click the image above for a larger view.
The Libre's case is made of charcoal colored plastic that doesn't show fingerprints or smudges. In hand the reader feels solid and does not flex when squeezed.
The slightly recessed display takes up most of the front of the device, with buttons on both sides and below. The back of the reader has a slight 'hump' that holds the non-user replaceable battery.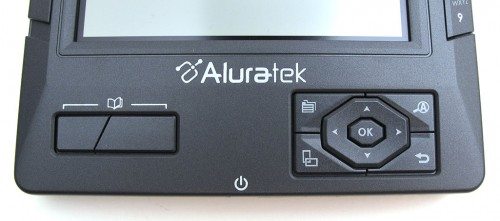 The main controls are located below the display. On the Left is a combination page next/page prev button and next to that is a grouping of buttons that offer font resizing, screen rotation, menu, and also another set of page next/page prev buttons (left arrow and right arrow).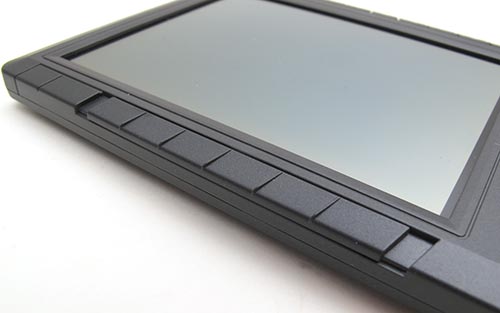 The Left edge of the Libre offers a third page turning method with a spring loaded sliding bar. Slide it down to turn to the next page, slide it up to go back a page. Raised ridges allow your thumb to keep a grip on this bar. I don't like this method and find myself using the dedicate paging buttons below the screen.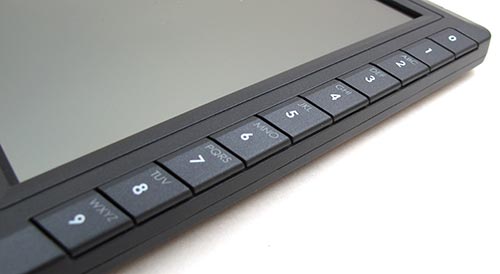 On the opposite side, there are ten numbered buttons that are used to select books from the list view. These buttons are also used to enter text for search terms.

The top edge has a power status LED and an attached cover…

…which protects a mini USB port and SD card slot. The USB port is used to charge the device and for data transfer of the device itself and the inserted SD card. The Libre mounts as removable drives automatically on Windows and Mac computers.

The bottom edge has the power button and 3.5mm headphone jack.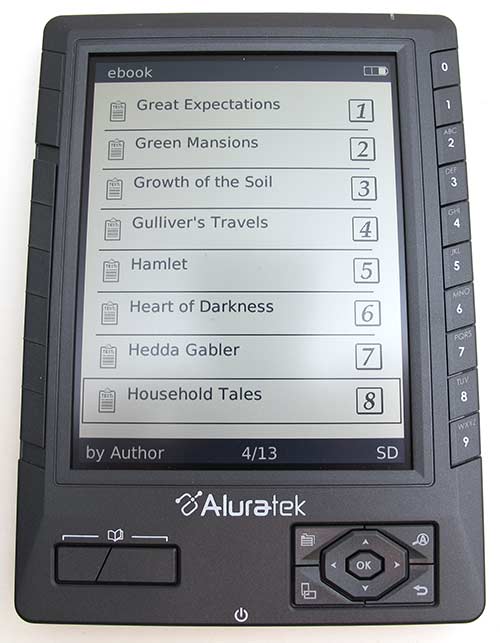 The interface is pretty simple. Turn on the device for the first time and you're greeted with a list of installed books. To read a book, you can either press the corresponding numbered button next to it or scroll to the desired title with the Dpad and press the OK button to select it.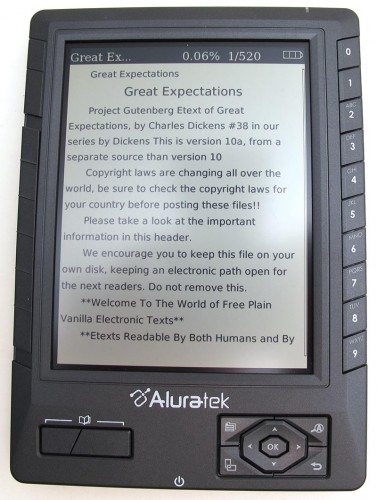 The Libre does not use an E-ink display like the Kindle, Nook and Sony Readers. Aluratek calls their display ePaper. It reminds me exactly of the old days of PDAs. Specifically the Palm V. Back in the day, the Palm V/Vx was my favorite PDA because the screen was so easy to read. The Libre is just as easy… as long as you're in a well lit room. This reader does not have a backlight. For those of you that don't like the E-ink flashing that occurs when turning pages, this reader does not suffer from that affliction.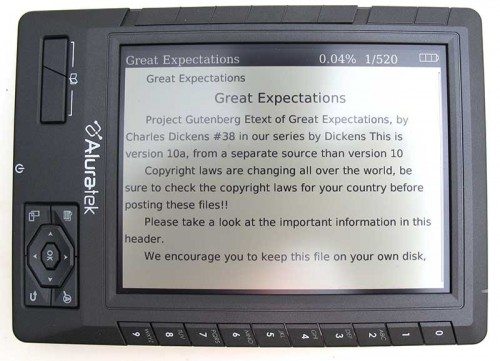 The display can be rotated and …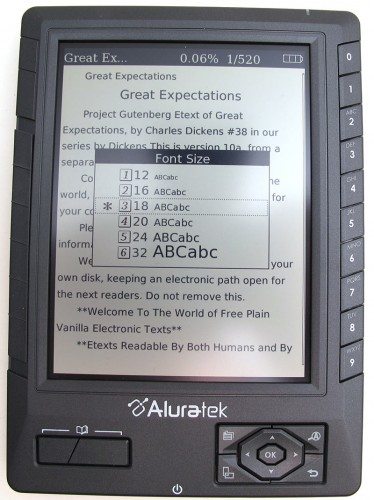 you can choose from 6 different font sizes.
The initial load time of books can take several seconds depending on the size of the book. But once loaded, there is no lag in page turning. I tested the reader with plain old text files, ePub files, PDF files and JPG images. I didn't have any problems viewing TXT or ePUB files, but some PDF files would not display and the reader would sometimes freeze when trying to load or display some JPG images. I also encountered issues with the reader freezing when using the Find feature.
The Libre is able to bookmark pages, but it does not offer any type of annotation features. It does offer a couple of interesting features that other readers don't offer though. It has the ability to play MP3s in the background while you read, and it also has an auto page turning feature.
I've been really impressed with the battery life. I've been reading on and off with the Libre since receiving it the 2nd week of January and it's still going strong on its initial charge.
Conclusion
I like the size and price of the Aluratek Libre Pro eBook reader (you can find it for less than $150 at various online retailers) and I think it's a good device for someone that doesn't need higher end features like annotations, dictionary and wireless. I do think that the software is a bit glitchy and hope that a firmware update takes care of JPG and PDF freezing issues. Even with those occasional issues, I still recommend this little ebook reader as a good alternative to the big boys.

Product Information
Price:
$179.00
Manufacturer:
Aluratek
Pros:

Comes with 100 books
Easy to use
Small
Good display

Cons:

Reader sometimes freezes on JPG and PDF files
No word lookup (dictionary) feature