We use affiliate links. If you buy something through the links on this page, we may earn a commission at no cost to you. Learn more.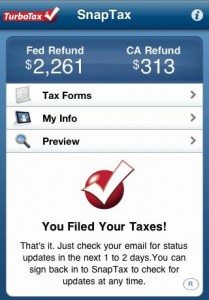 Stocks, streaming radio, social networking…taxes?  For many iPhone users, the world is at their fingertips.  And now, thanks to the folks over at Intuit (of TurboTax fame), filing your taxes is part of that world.  The setup is simple – snap a photo of your W-2, answer a few questions, review, and e-file!  The catch?  As it stands, this app is exclusively for residents of California during its initial release.  The price of the application is $9.99 – which covers federal and state preparation costs, as well as the filing cost – and will be available at the end of January.
Live outside of California?  Intuit also offers TaxCaster – an application that gives users an idea as to how much their refund will be (or how much they may owe).  TaxCaster may not file your taxes, but it is still informative…and better yet, it's free.
[Via WalletPop]