We use affiliate links. If you buy something through the links on this page, we may earn a commission at no cost to you. Learn more.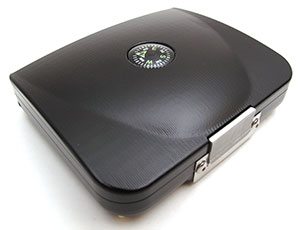 Today I want to show you the Swiss Army knife of wallets. It's the TMT Tactical Wallet from Toner Machining Technologies of North Carolina. The TMT is no ordinary wallet my bulging back pocket friends. This bad boy has been designed for extreme conditions on land, sea and air.
Note: Most of the images in this review can be clicked to see larger full-sized versions.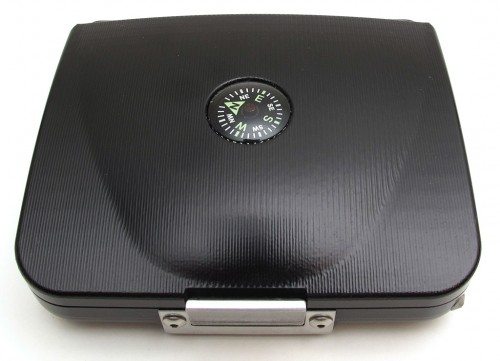 There are two versions of the TMT wallet. The H20 Sport Wallet is made of CNC machined Delrin plastic, while the TMT Tactical wallet (which was sent to me) is made of CNC machined solid billet 6061-T6 hard coat anodized Aluminum. If you don't know what 6061-T6 aluminum is, I didn't either. A quick wikipedia search tells me that it means it has been tempered (hardened with heat) and is very strong.
It weighs in at 7.4 oz (empty) and has a footprint of 4.0 x 3.57 x 1.150 inches.
This wallet definitely feels rugged and I bet I could run over with my car and it wouldn't be any worse for wear (except for the built-in compass). No, I'm not going to try that test. It's too nice to scuff up.
The exterior of the wallet has a smooth feel even with the fine ridges in the surface. The sides are rounded to make holding this case a comfortable experience.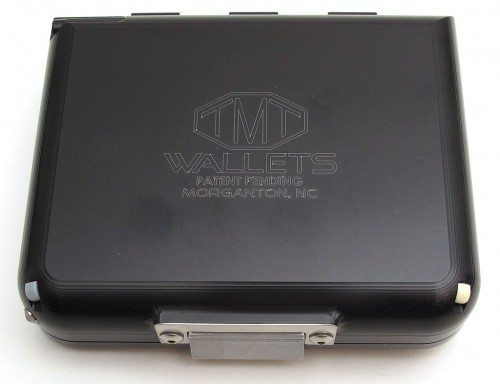 The company name has been engraved on the bottom.
I mentioned at the beginning of this review that this is the Swiss Army knife of wallets. I saw this because the TMT has several built-in tools.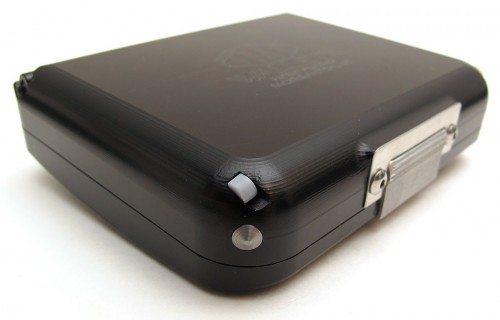 In addition to the built-in compass on the lid of the wallet, all four bottom corners offer extra features. Here you see carbide glass breaker point and the head of a pair of tweezers.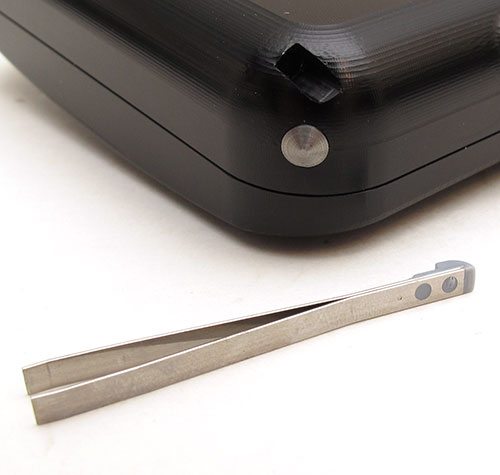 See, I wasn't kidding. They look identical to the tweezers that are included with most Swiss Army knives.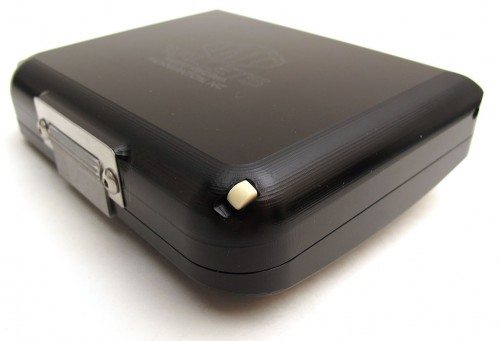 The other corner has another familiar tool…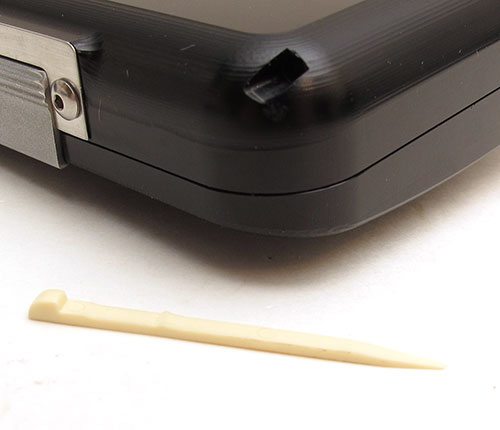 The handy dandy toothpick.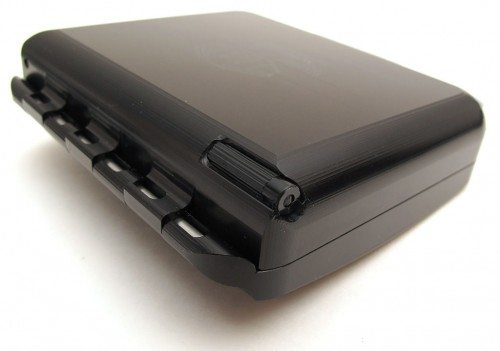 There's also a built-in ink pen. It took me awhile to figure out how to remove it. I kept wanting to pull it out like the other tools, till I finally realized that I had to unscrew it by using my fingernail on the ridges.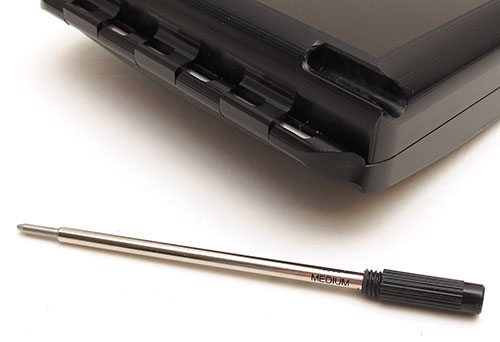 Removing and reinserting the pen is quite cumbersome and awkward and as a result, I'd rarely use it. But of course, it's always going to be there if you need it.
Although not shown, the other corner has a lanyard hole.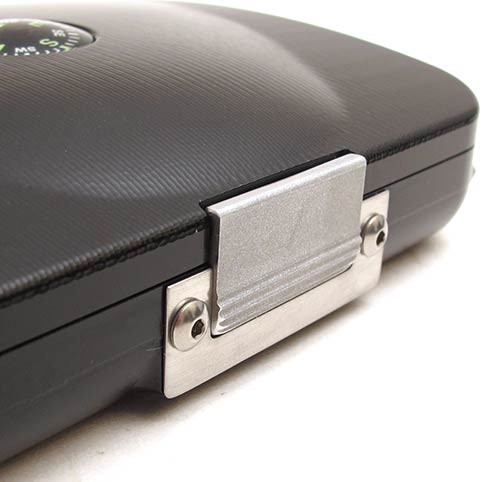 Opening and closing the wallet is very easy. There's a metal clasp on the front that pivots open and closed. Here we see it in the closed / locked position. Just press in on the ridged section…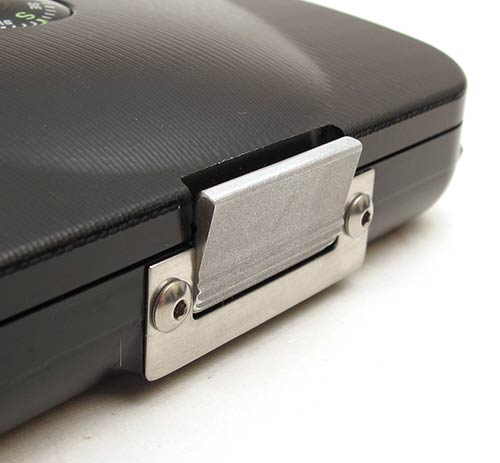 …to pop it open.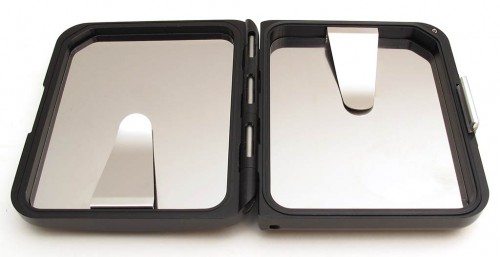 The wallet opens like a book, with currency / credit card storage on both sides.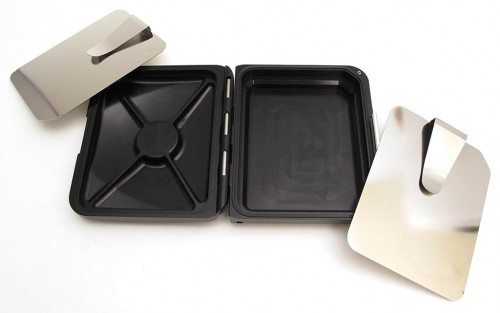 The two stainless steel money clips can be removed to reveal hidden storage compartments that can be used for other items such as medication, a small pocket knife, sewing kit…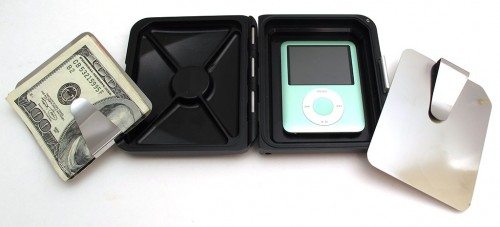 It's even deep enough to hold an iPod "fatty" nano.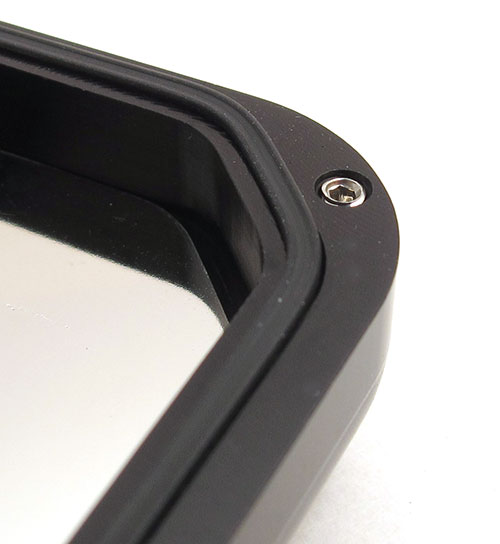 The wallet has O-ring seals to keep water, dirt and dust from entering the interior.
TMT also claims to block RFID scanning devices. I could not figure out a way to test this feature, so I'll just have to take their word on it.
The TMT Tactical wallet is not something I would recommend carrying in your back pocket like a normal leather wallet. For one thing, it would be very uncomfortable to sit on. I think it would be better suited for a jacket pocket or gear bag. I can't really see the average guy (or girl?) using this wallet. But I definitely see it as a good choice for someone in the military or other extreme job.
What do you think? Would the TMT Wallet fit your criteria as your ultimate wallet?
Product Information
Price:
$125.00
Manufacturer:
TMT Wallets
Pros:

Rugged
Several built in tools
RFID shielding
Hidden storage

Cons:

Difficult to remove the ink pen