We use affiliate links. If you buy something through the links on this page, we may earn a commission at no cost to you. Learn more.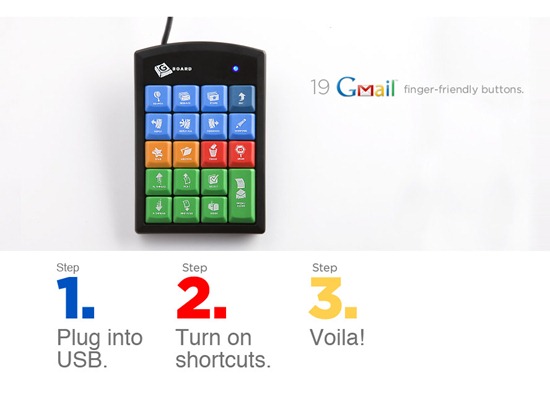 Emailing is a very important part of everyday life and Google's Gmail is wildly popular in the emailing realm.  I use it heavily for work and personal emailing.  One interesting functionality of Gmail is the use of keyboard shortcuts to help save time in issuing common commands like new mail, delete, send, reply, etc.  The Gboard provides the same functionality without having to remember the specific keyboard shortcuts.
The Gboard came in a very simplistic box.  No extra instruction manuals or CD drivers are provided since it's a plug and play device.
Tech Specs :
Dimensions (DxWxH)
* BOX: 6.9 X 4.75 X 0.88 in / 176 x 116 x 22 mm
* PRODUCT: 4.88 X 3.5 X .38 in / 130 X 88 X 9 mm
WEIGHT
* 0.3 lb / 0.14 kg (product + packaging)
SYSTEM REQUIREMENTS
* US Keyboard Layout
* Recent Apple OS
* Recent Windows OS
* Ubuntu (other *nix versions untested)
* Current Browser
* USB port
The keys are nicely labeled along with their appropriate graphical icons.  The build quality is just OK so don't be expecting Logitech quality.
I plugged it into my Windows 7 computer and it quickly recognized it as an input device.  I went to Gmail and turned on the keyboard shortcut settings and tried out the Gboard.  How the Gboard works is that it emulates the keys of the keyboard with the specified keyboard shortcuts from Gmail.  It works as advertised…that is if you can get used to remembering the location of the keys.  Personally I got too used to the keyboard shortcuts on my own keyboard and I find it hard to pick up my hand and move it to the Gboard.  I also find it to be easier to use the mouse to issue a point and click command than using the Gboard.  Another down side of the Gboard is that it's not customizable.  There's no way to change shortcut keys command or even use the Gboard for other applications other than Gmail.
For $19.99, the Gboard might be good for people that are heavy Gmail users and for those that can't remember those shortcut keys.

Product Information
Price:
$19.99
Manufacturer:
Gboard
Pros:

Plug and Play
Simple to use

Cons:

Cannot reconfigure keys
Can only work with Gmail