We use affiliate links. If you buy something through the links on this page, we may earn a commission at no cost to you. Learn more.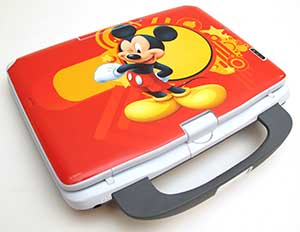 Netbooks have become extremely popular due to their affordable price and small size which makes them wonderful travel companions. But can a netbook make a great learning tool for kids? If it is the Intel-Powered Convertible classmate PC it can. The classmate PC isn't just a regular netbook. It's also a touch screen tablet computer. Let's take a look.
The classmate PC is an educational tool that has been designed for school aged children ages 6 and up. It is being marketed to schools more than individual consumers. That's not to say that you can't purchase one if you want one. They are available through retail outlets such as Amazon.com
Hardware Specifications
CPU: Intel® ATOM™ processor N270 1.6GHz Processor
Chipset: Intel® 945GSE
Form Factor: Clamshell / Tablet
Memory: 1GB / 512MB
Storage: 16GB / 8GB / 4GB Flash or 1.8″ HDD
Operating System: Windows XP / Linux
Display: 8.9″ 1024 x 600 Touch Screen
Network: 10/100M Ethernet, 802.11b/g/n WLAN, Mesh support (Linux only)
Security: WPA, WPA-PSK, WPA2, WPA2-PSK
Audio: Integrated 2 channel audio
Camera: 1.3 MP
I/O: 2 x USB 2.0 ports, 1 SD slot, VGA port
Battery: 4 or 6 cell batteries are available
Dimensions: with handle 241 x 215 x (26.0 ~ 39.3) mm
Weight: 1.25-1.45 Kg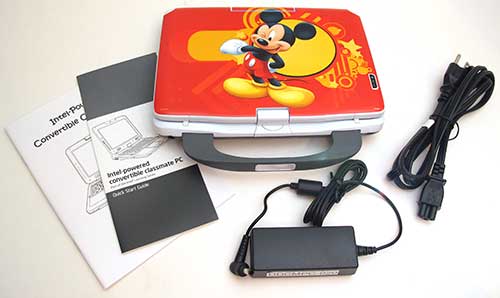 What's in the box
Intel-powered convertible classmate PC
AC power cord and power adapter
Battery
Quick Start Guide
Stylus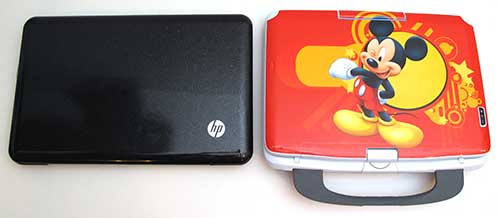 As you can see from the image above, the classmate PC is similar in size to the HP mini 1000 netbook.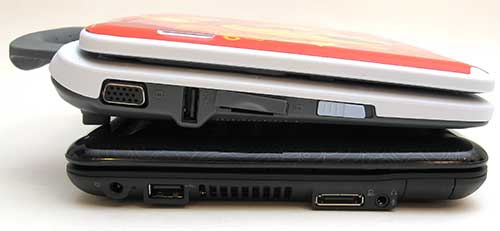 The classmate PC is thicker with a wedge shape though.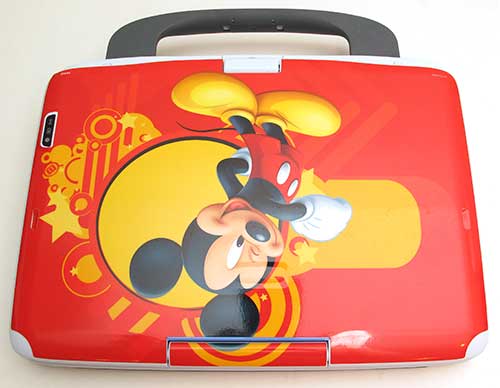 You might be wondering about the Mickey Mouse graphic on the lid. It's a SkinIt skin. Skinit will be working with schools to create skins with team emblems.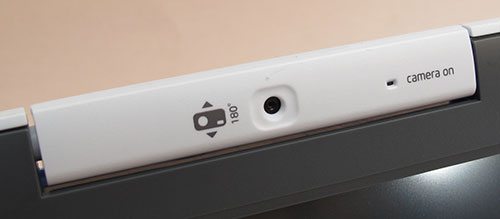 The lid of the classmate has a built-in webcam that rotates 180 degrees so that it can be used in desktop mode or tablet mode.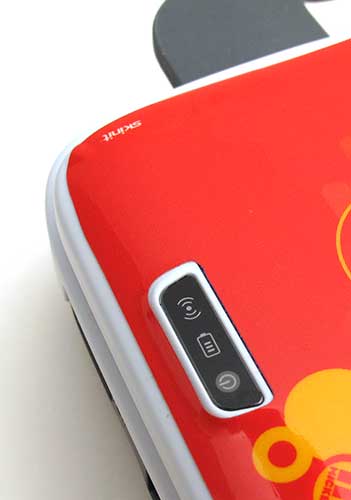 The outside of the lid also has a small LED status panel that shows battery charging, power and WiFi status.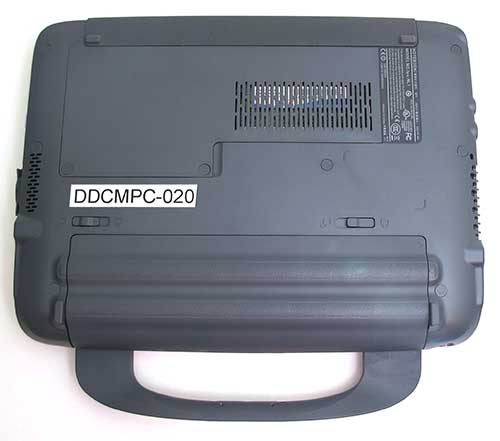 The back of the computer has the battery slot. There is a 4 cell and 6 cell battery available. The one installed here is the 4 cell (4400mAh), which can run for about 4hrs. The 6 cell is supposed to provide 6hrs of power.
You'll also notice the built-in handle. It's a flexible rubber handle that makes it very easy to for kids (and adults) to tote this computer around from place to place. It's also important to note that the classmate is pretty rugged and has been built to withstand a 3 foot drop.

On the right site, you'll find the stylus, microphone and head phone jacks, a tether attachment point for the stylus, as well as a USB and Ethernet port.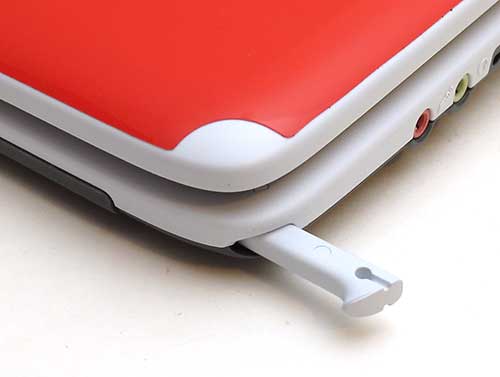 The stylus slot. The stylus itself isn't special. You could use any PDA stylus on the screen, as well as your finger.

On the left side there is a VGA out connector, a 2nd USB port, an SD flash card reader slot and the power slider switch.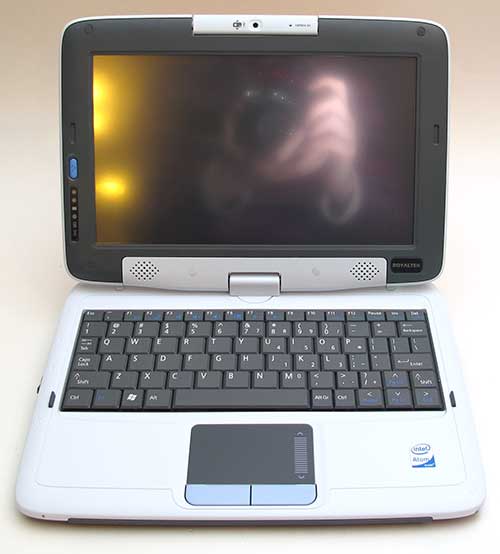 Lifting the lid reveals the 8.9 inch touch screen display. Below the display are the stereo speakers.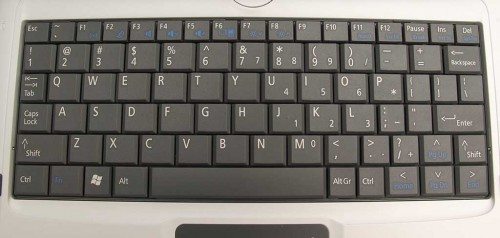 The keyboard like many netbooks is very compact. It's also water resistant – a good feature to have for kids. No worries if they dump the contents of a juice box on it.
I didn't find it to be as comfortable to touch type on as the HP mini 1000. You can click on the image above for a larger view. You'll also notice the special function icons are printed in dark blue on the keys which I find really hard to see. My main problem with the keyboard has been the placement of the right shift key. I seem to always press the up arrow instead.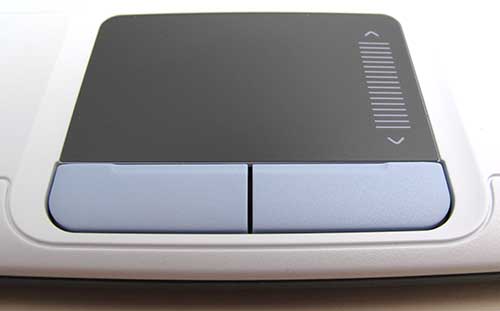 The track pad is adequate and works well enough. However, I wasn't able to scroll pages using it.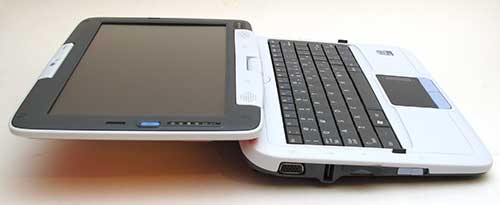 The screen can lay completely flat as you see here.  It then rotates counterclockwise to…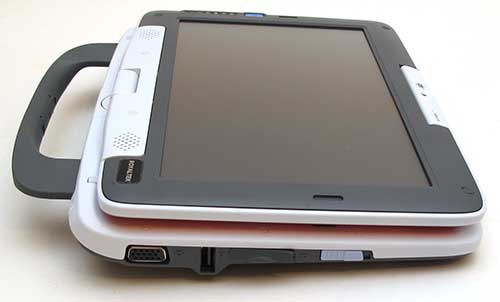 …convert into a tablet.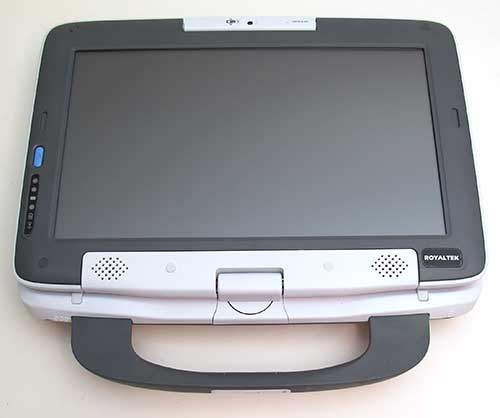 The classmate PC has a built-in accelerator that auto rotates the screen to match the orientation in which you are holding it. Even to portrait mode.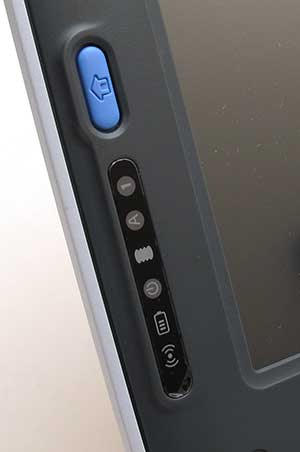 On the left side of the display is an status bar that shows battery, wireless, power, hard disk access and caps lock status. The Blue home button launches the finger friendly application launcher.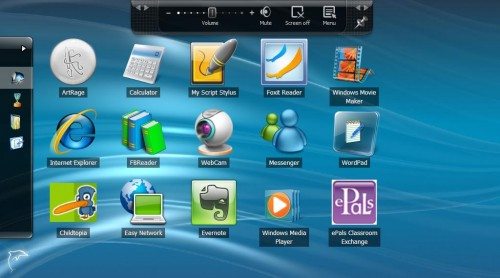 The classmate PC has Windows XP installed but also includes several third party apps that take advantage of the table / touch screen features.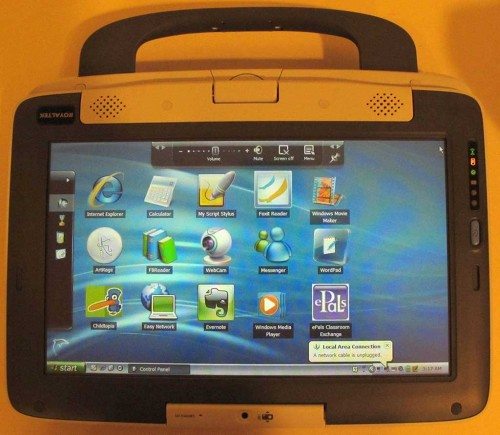 Some of the apps include Artrage, Foxit Reader and Evernote.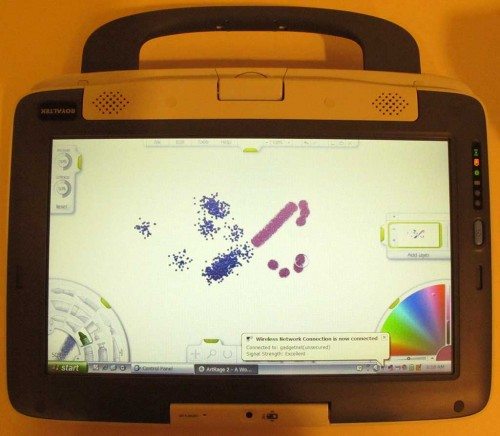 Artrage is one of my favorites. It is a really cool art program that almost feels like you're using crayons, paint brushes and pallet knives.
Entering text can be entered using a touch keyboard or the handwriting input field. Both work best with the included stylus. The handwriting recognition is actually really good (even though my example image doesn't reflect that) and works with printed letters or cursive. The input field can be resized to allow for writing more text at one time.
As a netbook, the classmate PC is on par with most of the other netbooks currently on the market, but what sets it apart is that it can be converted into a tablet. I haven't had a lot of experience with tablet computers. This one is probably the first one that I've actually spent a decent amount of time actually using. For me, I'm much faster at entering text with a keyboard, so I'm not completely sold on entering text with a stylus. That said, I can see how this type of computer would be useful in school. I can envision kids using them to take tests where they select multiple choice answers with their styli. Or where they carry the classmate as a tablet when they are doing science experiments, etc. I even found myself using the classmate PC in tablet mode to surf the web while watching TV in my living room.
Now that portable computers such as netbooks are considerably less expensive than they ever have been, I can imagine devices such as the Intel-Powered Convertible classmate PC taking the place of text books in grade schools. I would have loved something like this back when I was in school!
What do you think? Would you choose the classmate PC over a regular netbook?
Product Information
Price:
$479.99
Pros:

Converts to a touch screen tablet
Auto rotates
Good battery life

Cons:

No Bluetooth
Cramped keyboard