We use affiliate links. If you buy something through the links on this page, we may earn a commission at no cost to you. Learn more.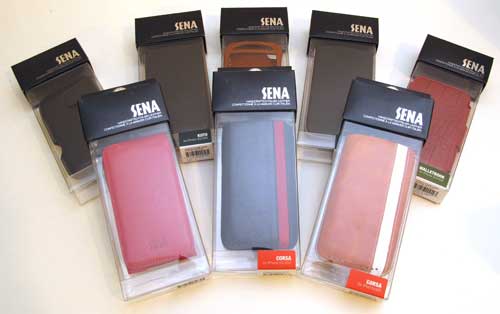 Wow, the Christmas elves at Sena have been busy creating some very nice leather cases for the iPhone and iPod Touch. They sent me a nice selection to check out and I thought I'd do a quickie review of them for everyone that might be doing some last minute Christmas shopping.
Walletbook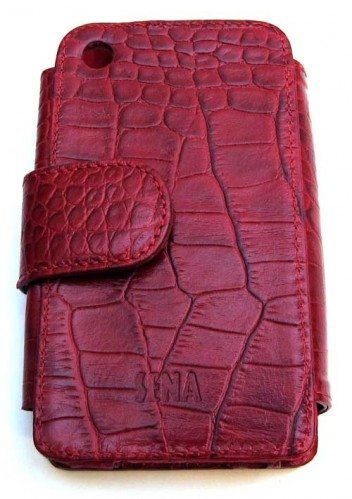 This book style snap case holds your iPhone and can do double duty as a minimalist wallet. It's available in 13 different colors which include 4 with a crocodile embossed look.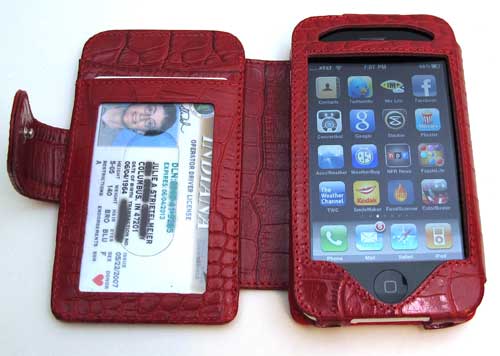 The wallet portion of the case has 2 card slots (one has a plastic see-thru window) with another slot behind them to hold folded currency.
This is a nicely made case, but isn't one that I would pick for myself. It seems more like a case for a PDA instead of a phone. I would find it really inconvenient to unsnap the cover in order to access the iPhone to answer a call. I also think it would be uncomfortable to hold while talking. I suppose if you're a Bluetooth headset user, that this would be a non issue.
Price $52.00
Sarach Leather Skin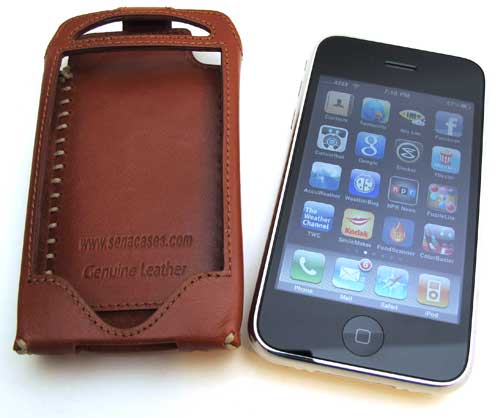 This is one of my favorites because it doesn't add a lot of bulk to the iPhone and doesn't hinder usability.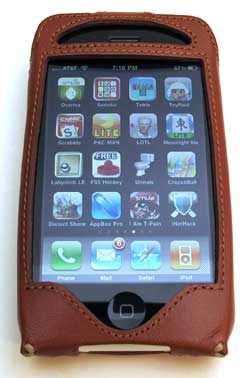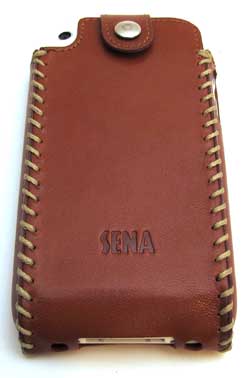 The Sarach Leather Skin is available in 5 colors. Each one has the same type of saddle stitch that you will probably either love or hate. I love it 🙂 If you prefer this same case but with a protective flip cover (which is held closed with a magnet), that's no problem, you just have to pay an additional $10.
Price $59.99 without flip cover, $69.99 with a cover
Corsa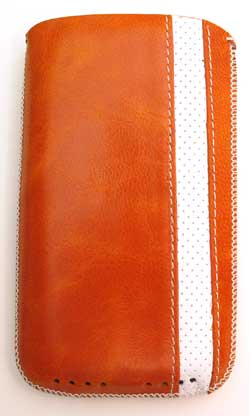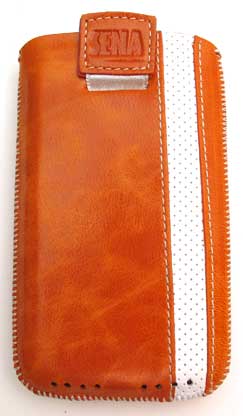 If you don't want a play-through case, but just something to protect your iPhone or iPod touch during transport, then the Corsa is a good choice.
It's basically a two-toned leather sheath that has a unique pull strap that is used to eject the device when you need to use it. Just pull the strap and it lifts the iPhone out of the case.
Price $39.99
Laterale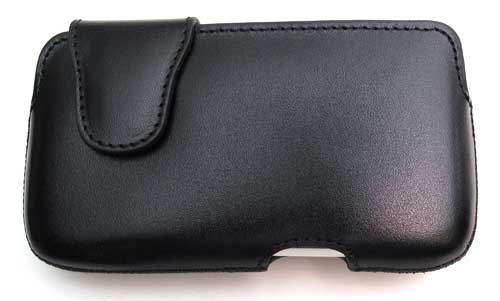 The Laterale looks a little retro to me. It has a soft padded round design with a convenient cutout that you can use to push the iPhone up for easy retrieval. The interior is lined in soft velvet to protect your phone.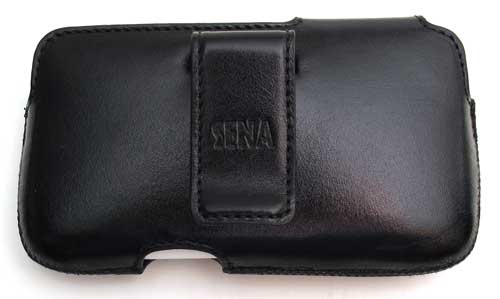 On the back is a leather covered spring clip that you can use to wear this case on your belt.
The Laterale is available in 7 color styles with 3 having a crocodile embossed texture.
Price $39.99
Kutu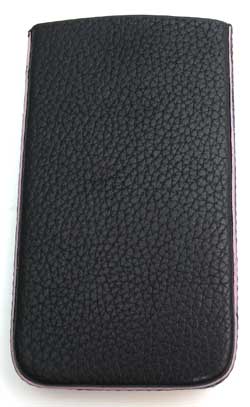 The Kutu is similar to the Corsa. It's a rigid leather sleeve that is reminiscent of an instrument case. It's available in 3 colors and has a soft lining.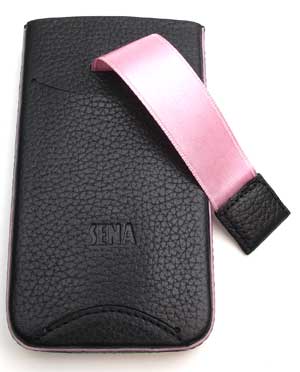 Like the Corsa, it has a pull tab device lifting feature. There's also a card slot built into the back of the sleeve.
Price $44.95
All of these cases are made very well. I was unable to find any defects in the material or workmanship. In my opinion Sena Cases are a very good alternative to Vaja Cases when it comes to a wide variety of styles and colors, for an affordable price.
Product Information
Price:
Depends on the case
Manufacturer:
Sena
Pros:

Good selection of styles and colors
Quality materials
Quality workmanship
Good value

Cons:

Walletbook iPhone is not comfortable for making / receiving calls