We use affiliate links. If you buy something through the links on this page, we may earn a commission at no cost to you. Learn more.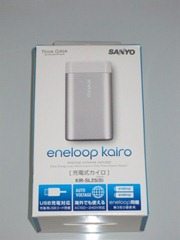 Not too long ago Julie posted a news spotlight on Sanyo's Eneloop Kairo hand warmer.  I love the beauty of winter but hate the cold.  I always enjoy going outside with my big coat with many pockets to keep my gadgets in, but my hands are always cold even with gloves!  So I went out in search of hand warmers.  I have tried one-time use chemical warms but those are true to their marketing of being "one time use" only.  I also tried reusable chemical warmers that you can "recharge" by boiling them.  But those too were one time use only when I'm out in the city without easy access to boiling water.  Plus both of these chemical hand warmers are only warm for 30 to 45 minutes at a time.  What if there was a hand warmer that can last the day in the city?  That's where Sanyo's Eneloop Kairo comes in.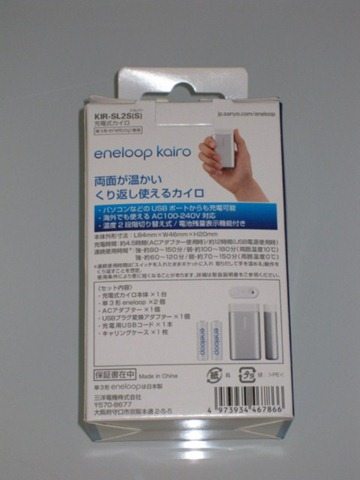 The hand warmer that I got was a bit different from Julie's news spotlight since it was a 2 sided version (Model # KIR-SL2SS).  I got it imported from Japan so everything is in Japanese.
Inside the small box are the Japanese instructions, the Kairo hand warmer, 2 AA eneloop pre-charged rechargeable batteries, power adapter, mini-USB cord, mini-USB to power tip converter, and the carrying pouch.
The Japanese instructions weren't needed since it was pretty much self explanatory on how to set the hand warmer up.
1) Remove the top.
2) Put batteries in.
3) Close top.
4) Push button to turn on.
5)  Enjoy being warm!
This hand warmer provides 2 heat settings.  Push button once for 102˚F.  Push it again for 115˚F.  On tests, the Eneloop Kairo runs for 3 hours on low and 2 hours on high.  The temperature is very comfortable and does provide warmth for a much longer time compared to the chemical warmers.
Never miss one of our posts again. Sent MON, WED, and FRI with the latest gadget reviews and news!
The best thing with the Eneloop Kairo is that you can always pop in fresh batteries when it runs out.  And carrying an extra set of AA batteries in the winter coat isn't so bad.  Priced at $44.99, it is a bit pricier than chemical warmers but its reusability and longer warmth is well worth it.
Product Information
Price:
$44.99
Manufacturer:
Sanyo
Pros:

Long lasting
Reusable
Rechargeable
Warm

Cons: