We use affiliate links. If you buy something through the links on this page, we may earn a commission at no cost to you. Learn more.

Talk about a niche market. This application is designed for all the folks that:
.
Have an Android Phone
Play Fantasy Football
Have their league at MyFantasyLeague.com
Luckily all three of these apply to me, so I asked Julie to see if we could get a copy for review. What does that say about my cheapness that I didn't just buy a $5 program? Well, to be fair, I have since purchased it. I think it shows real promise. But I am getting ahead of myself.
The application is designed to provide wireless access to your MyFantasyLeague football league with your Android. It displays your league standings, weekly score summaries and game details.
You start by entering your League ID in the application. If you use the windows-based application to track scoring, it is the same ID. You can also find it in the URL of your league in your browser.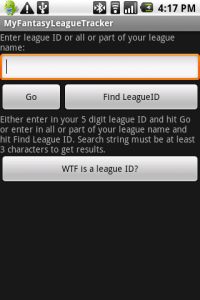 The application also remembers the leagues you enter, so if you have multiple leagues you can select from a list rather than always remembering the ID.
After you enter your league ID you will see the Weekly Summary: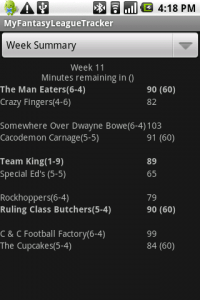 Never miss one of our posts again. Sent MON, WED, and FRI with the latest gadget reviews and news!
In this screen you see the scores of all the games for that week. The number in parenthesis is the player minutes remaining for a team. It highlights a team once they have won (highest score, no minutes left for the opposition). I would have liked the ability to tap on a game to see the details here. Update: Max has already added this feature in an update (he is the 2nd comment on this post). Now if he could just add a feature so that I pick all the right players…
To see the details of a game, you pick one of the teams from the drop-down list: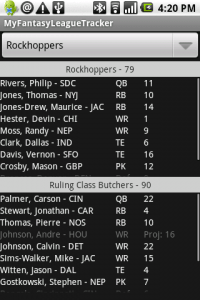 Once a player's score is final, their line appears in bright white. You can also see the projected score for players that have not started. The application does show the total bench score of each team, but it would have been nice to see all the players on the bench. Perhaps as an option (I could see folks not wanting to waste time on loading that data).
The overall Standings displays all teams including division wins and losses and total points for and against. This is a nice view at the end of the season when you are going for that wild card slot. There is also an option to see standings by division.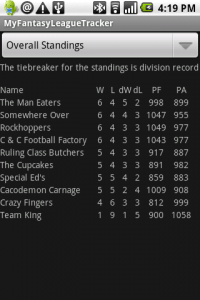 Only issue with my league is that we have ties, and the standings do not include a column for ties.
Conclusion
I already gave it away at the beginning. I like this application. It makes a nice supplement to the other tools I use. It is certainly faster and easier than access the web sites mobile options. It is not perfect, I would like to see a slicker look, maybe some appropriate use of color. I look forward to seeing this further develop (though the Fantasy Football season is coming to an end). The developer also dropped the cost to $2, which is really hard to complain about.
Product Information
Price:
$2.00
Manufacturer:
MaxImUmZ
Retailer:
Android Market
Pros:

Inexpensive
Quick access to most data

Cons:

Interface could improve
Limited data