We use affiliate links. If you buy something through the links on this page, we may earn a commission at no cost to you. Learn more.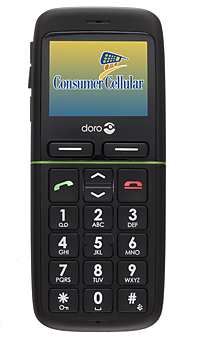 Do you have an aging parent or grandparent with vision or manual dexterity problems?   These physical changes can make it difficult for them to use a regular cell phone, but make it important that they always be able to call for help.  I know I wanted my Dad to have a cell phone with him at all times in case he had a car problem or needed help.  Having one of the senior-friendly phones from Consumer Cellular would have made using the phone much easier for him. 
The Doro PhoneEasy 345 (a "candy bar" phone for $40.00) and the Doro PhoneEasy 410 (a clamshell phone for $50.00) feature large buttons, a bigger screen, and are hearing-aid compatible.  Phone menus can be customized to make the phones very simple to use.  Both phones have an Emergency SOS button.  Consumer Cellular offers six no-contract phone plans, and they allow family members to share plan minutes for $10.00 per additional line.  AARP members are even eligible for a discount on the monthly plan fees.  Other phones are available from Consumer Cellular, even one free phone.