We use affiliate links. If you buy something through the links on this page, we may earn a commission at no cost to you. Learn more.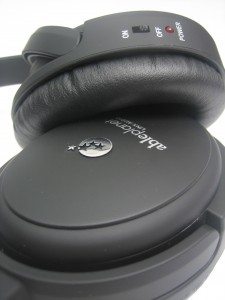 I write this review as I fly at 35,000 feet in the air.  I thought this would be the ideal place to review and test the noise-canceling feature of the Able Planet True Fidelity Active Noise Canceling Headphones (NC300B).  Technology used in high quality hearing aids is implemented in these headphones to enhance sounds and reduce external noise. The result is a full rich sound that is pleasure to my ears, especially in an airplane's cabin. And that's not all…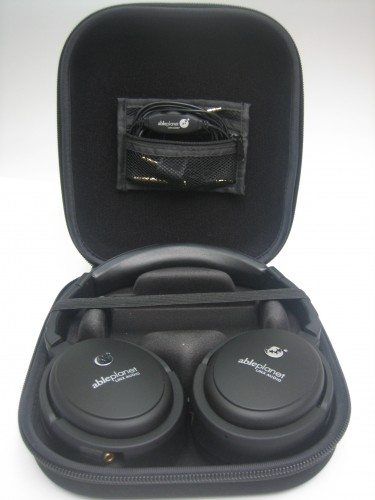 What you get in the box:
Headphone
3.5 mm plug with in-line volume control
1/4 Home Stereo Adaptor
AAA Battery (1)
Hard Shell Protective Carrying Case with Velcro Pouch
Airplane Adapter
The noise-canceling feature may be turned on and off using the switch located on the right earpiece.  The noise canceling feature makes a huge difference in removing cabin noise even without an audio source plugged in. The difference is not subtle. It tuned out the engine noise almost entirely. The change is dramatic.  I could still hear the hum of the cabin but the external plane noise was cut out.  Things don't sound muffled, just less noisy.  Unfortunately (or fortunately), there were no crying babies or loud talkers to cancel out. The airline adapter included in the box came in handy as well.  Most airlines have the single 3.5 mm jack but my seat required the dual jack.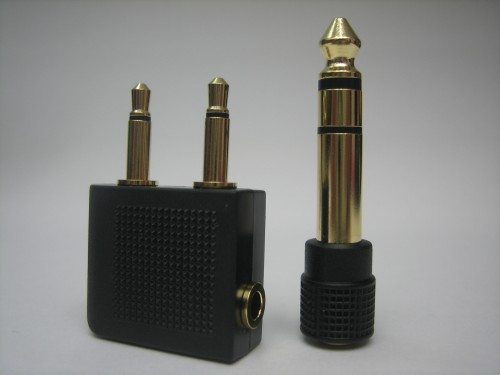 To be fair, I also tried the noise-canceling feature in a less noisy setting, my apartment. Without the audio connected, I did notice a small amount of white noise when I turned on the headphones.  I did not notice the white noise on the plane.  When connected to the audio source the white noise, although still present, was drowned out by the music.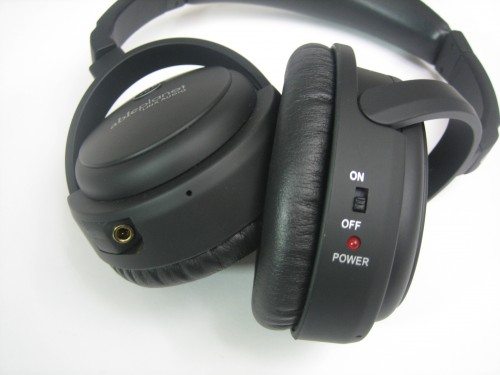 Without the noise canceling turned on, audio has to compete with external noise. This usually results in having to turn the volume WAY up to hear anything.  But with the noise-canceling feature turned on there are fewer external noises to compete with.  Audio has far more quality at lower volumes.  They call their technology LINX AUDIO, but I call it music to my ears.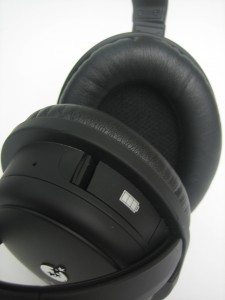 The headphones are also well constructed. The right and left earpieces pivot smoothly from the frame. Each headphone has a smooth, almost soft to the touch, black surface. The headband is adjustable for larger heads. The battery placement is discreetly hidden behind the pivoting earpiece.  According to Able Planet, the battery life is about 30 hours.  The plug includes convenient in-line volume control.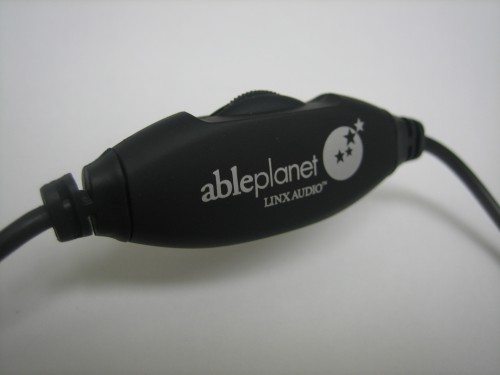 One of my personal pet peeves is when other people can hear my music when I have my headphones on or when I can hear others' music from their headphones.  Unfortunately, I have yet to find headphones that avoid this problem.   Although it sounds great at higher volumes, I would not recommend turning these headphone all the way up in a quite setting like a library.
A couple of times I heard a very subtle clicking or tapping sound out of the right headphone.  Although I tried to determine a pattern  (going from high volume to low, heavy bass songs to less bass songs) I could not establish one. My best guess is it is part of the noise canceling circuitry doing some auto adjusting.  I only heard it a couple times and it was not persistent or regular so it didn't bother me.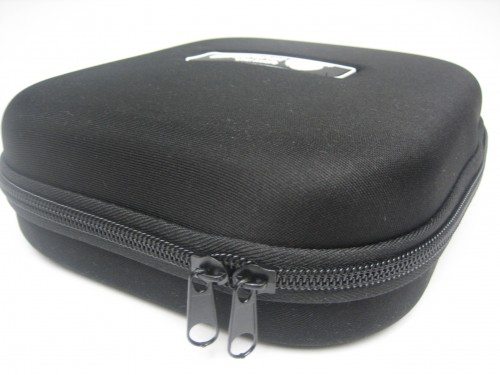 The hard-shelled case provides a protective way to carry your headphones. Inside the case is a small Velcro pouch for wires and adapters.  The case itself took up a large chunk of my carry-on bag.  So, if there are plans for traveling with these headphones make sure you have the room to spare.   Once in air, you wont be sorry you brought them.

Product Information
Price:
$99.99
Manufacturer:
Able Planet
Pros:

Noise canceling
Sound quality
Bass

Cons:

Case is large for traveling