We use affiliate links. If you buy something through the links on this page, we may earn a commission at no cost to you. Learn more.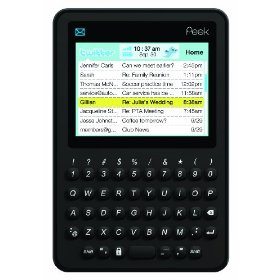 I'm not a Twitter user, making me and the dog down the street the only non-Tweeters in existence.  Listening to the ladies on The View talk about their Tweeting habits just kind of kills the whole draw for me.  But if I was interested in reading vapid celebrity comments or broadcasting my thoughts (as few as they may be) and moment by moment experiences to the world, I would love this little TwitterPeek gadget.
There are a number of negative reviews on Amazon for this little guy, the main beef being that it's a device only built to connect with Twitter (Peek also is the manufacturer of an email and texting Peek device) but to me that's part of its beauty–the simplicity.  It appears as though the manufacturer will be making software updates and upgrades fairly regularly, so I'm not sure what all the harsh criticism is all about.
TwitterPeek currently comes in two colors, charcoal and aqua, has a sexy .4″ profile, and full QWERTY keyboard.  The device works on Peek's own data network, there's no need to locate a WiFi spot, and as long as the device is on and logged into your account it's receiving new tweets and your tweets will show up instantaneously.  Both of these points are what Peek is touting to be superior to similar Smartphone apps, as well as it being quite a bit cheaper than most data plans. I'm not sure how many of those app users would want to double dip and get this as well, but  it seems like a pretty good alternative for us non-smartphoners (seriously, just me and the dog again!?).  Bonus for it looking like a mini-Blackberry!
TwitterPeek is currently sold exclusively through Amazon with two different service packages– $99.95 for the device and 6 months of service, with service at $7.95 each month after or $199.95 for the device and lifetime service.