We use affiliate links. If you buy something through the links on this page, we may earn a commission at no cost to you. Learn more.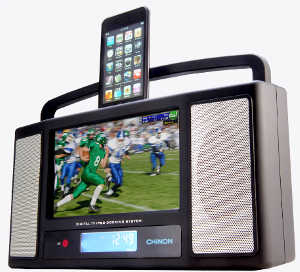 The Chinon AVi is an all in one entertainment system. It includes a 7″ LCD, Digital TV tuner, Alarm clock, FM Radio, Speaker system and iPod dock. It looks like a nice system for a college dorm, kitchen, etc. The price is an affordable $199.99. Press release after the jump.
Chinon Introduces Portable Entertainment System with iPod™ Docking, LCD Monitor and Digital TV Tuner
Must-have, affordable, premium docking station only available online
DALLAS, TX – Just in time for the holidays, Chinon Corporation, a premier digital technology innovator, announced the launch of the AVi, the industry's first portable iPod™ docking station with a built-in LCD monitor and digital TV tuner. Consumers can view content and listen to music, as well as watch TV, all in one docking station.
The user-friendly device combines an alarm clock, digital picture frame, iPod player, radio, and TV into an affordable, all-in-one, compact entertainment system. The AVi couples the iconic frame of a retro boom box with a modern rubberized black finish and silver trim, to capture the nostalgic style of the past, with the technology of today. The unit's functionality along with its light, portable design make this sleek gadget the perfect holiday gift for the tech guru, music lover or child in your life.
"Chinon is committed to bringing the latest technology in consumer electronics to the U.S.," said Masazumi Chino, president of Chinon Corporation. "This entertainment system is the most functional and portable docking station and TV combination on the market."
Designed for use at home or on the road, the AVi features a 7-inch LCD monitor, AUX input, ATSC digital TV tuner with AV out, built-in telescopic radio antenna, external telescopic TV antenna, digital FM radio and alarm clock, and a full-function remote. This all-inclusive system plays both local TV channels and the contents of an iPod, including music videos, pre-recorded movies, TV shows and videos, images, as well as just music. The AVi can also last up to 3 hours on battery power making it easy to take it on the go.
The AVi simultaneously plays and charges your iPod so you don't have to worry about running down your battery. It can also be used as a digital converter box for any analog TV.
The AVi is officially licensed by Apple in the "Made for iPod" range, and can be purchased for $199.99 only at www.chinonusa.com.
About Chinon Corporation
Japan-based Chinon Corporation, established in 1962, is a premier manufacturer of digital electronics and appliances. Chinon's portfolio of products in the United States includes a digital photo frame, USB micro-SD card reader, digital compass, and heat stroke alert wristwatch. For additional information, please visit www.chinonusa.com.