We use affiliate links. If you buy something through the links on this page, we may earn a commission at no cost to you. Learn more.

If someone asked me which website that I spend the more than 50% of my overall surfing time on, I'd have to say Google. Using a search engine to find information is hard-wired into our brains these days. Overall, search engines aren't overly exciting though. They do their job with little applause. Probably the last time you heard news about a search engine was when Bing! came on the scene. How many people actually use Bing as their go to source for info? Yeah, me neither. I'm sure it's fine, but I'm so used to using Google, that I've not been motivated to make a change to another info vendor. But, that may change with the recent announcement by
LeapFish
. They are making plans to unveil a new multimedia and real-time search, communication and sharing platform.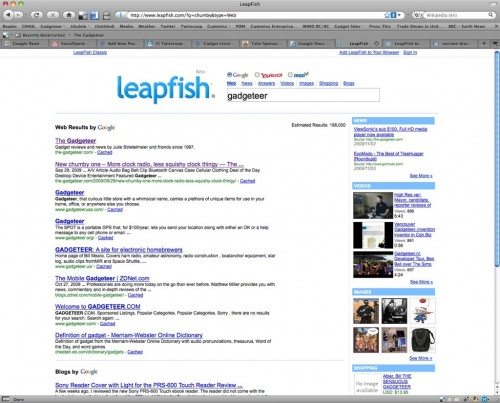 Exact details surrounding the features of this new search platform and how it works have not yet been released, but LeapFish is conducting private demos prior to the highly anticipated launch (if interested please email [email protected]) and a beta version of the site is already available that you can try. The main thing you will notice just as soon as you start typing search terms in the input field is that the results start showing up as you are typing the keywords. You can specify where you want Leapfish to search: google, yahoo or MSN. And on the right side bar, it will show associated news, videos, images, and shopping links. Leapfish also has an answers option, that is pretty cool. It lists questions people have asked that include your search terms.
LeapFish.com is pretty cool so far. I'm definitely going to check it out further when it comes out of beta. What do you guys think? Would you switch to it over google?