We use affiliate links. If you buy something through the links on this page, we may earn a commission at no cost to you. Learn more.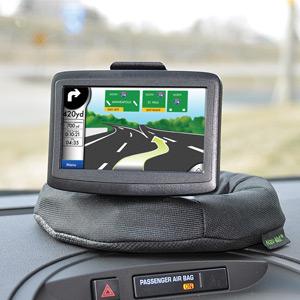 If you have a portable GPS unit, do you suction-cup it to your windshield?  Do you worry that the mounting arm left on your windshield – or even the suction cup marks left on the glass – advertise to thieves that you have a portable GPS unit? 
If you do, the Nav-Mat Portable GPS dash mount may be what you need.  The Nav-Mat by Bracketron Inc is a weighted bag that conforms to the shape of your car dash.  It has a non-skid bottom and a shiny round plate in the middle of the top.  You simply stick the mounting arm that came with your GPS unit to the shiny top plate and set it in the center of your dash.  It works with devices up to several pounds.
We have one of these Nav-Mats that we use with our portable Tom-Tom GPS unit.  The mounting arm suction cup holds tight to the mounting plate, and we simply throw the Nav-Mat into the tote bag along with the Tom-Tom when we leave the car.  It works great and doesn't leave any of those telltale "expensive electronic equipment in here" signs in your car window. 
It's $39.95 directly from Bracketron, and it can be found at other retailers, such as amazon.com for as little as $12.40.