We use affiliate links. If you buy something through the links on this page, we may earn a commission at no cost to you. Learn more.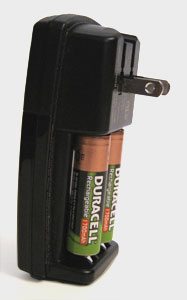 As can be seen in the figure, the main draw of the Duracell GoEasy Recharger ($12.99) is its succinct size — no wall wart nor long cable needed.  One of the several new Duracell "Smart Power Initiative" devices, it is a an unpretentious little charger for AA or AAA Nickel Metal Hydride (NiMH) batteries.  It is compact and unobtrusive – note that the two AC prongs fold up for storage.
Here are its pedigree points:
Charges two AA or AAA NiMH batteries in about 8 hours
Turns off charging when complete, displays red LED during charging, green when charging is complete (see figure)
Comes with 2 AA NiMH batteries, 1700 mAH at 1.2 V
Prongs fold up for storage
Input: 120V AC/60Hz, 2W
Outupt:  2.8v DC/300 mA (for 2 AA), 2.8v DC 140 mA (for 2 AAA)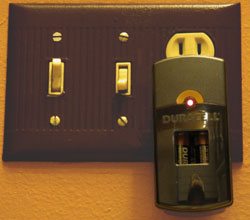 The GoEasy is light weight and truly portable and can fit in a backpack or roll on luggage (or a kitchen drawer) without getting snagged or caught.  But it still takes a long time to charge, and it only charges two batteries at a time.  And this may be fine for some consumers, depending on their requirements.  I'd probably be inclined to go for the Duracell GoMobile device, however, which can not only charge four batteries, but purportedly can do so in only an hour, and comes with a car lighter adapter (see The-Gadgeteer review for the Duracell GoMobile Charger.)
The GoEasy is a nice and inexpensive though not flashy charger.
Product Information
| | |
| --- | --- |
| Price: | $12.99 |
| Manufacturer: | Duracell |
| Pros: | Does what it says, inexpensive, portable, stops charging when charging complete, comes with two batteries |
| Cons: | Takes a long time to charge; only holds two cells |