We use affiliate links. If you buy something through the links on this page, we may earn a commission at no cost to you. Learn more.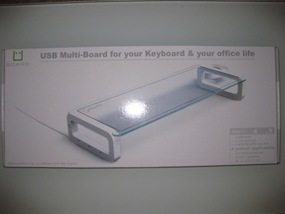 Like most Gadgeteers, I have multiple laptops, monitors, and assorted tech cluttered on my desk.  I've always searched for many different ways of organizing my desk space.  That's where the U-Board USB Multi-Board from Pyramid Distribution comes in.  I've always wanted a small second shelf, like a mini-hutch, for my glass desk.  The problem is that many places that sells them are made of wood, which doesn't really match well with the glass desk.  Luckily the U-Board is made of tempered glass too.
There is no instruction manual included in the package but there's a single picture of how all the pieces come together on the back of the box.  It was pretty much self explanatory.  It comes with the glass, left and right frame, cup holder, 4 rubber pads, 4 screws, and 4 screw covers.  The left frame also acts as a 3 port USB hub.
Putting it together was pretty simple.  You just slide the glass in to the frames and screw it down.  The only thing that I noticed is that the screw sticks out a tiny bit which makes the screw covers lump out.  I tried tightening the screws more but I was afraid that I might crack the glass.  It's not a big deal but it would be nice if the screw covers were flat with the frame.
On the left and right of the frame are 2 holes that you can insert the cup holder in.  The cup holder has 5 slots that you can hold papers in also.  I'm not sure about you but I personally like to keep liquids far away from my tech.  It would be better if they changed that cup holder to something like an iPod dock.
Never miss one of our posts again. Sent MON, WED, and FRI with the latest gadget reviews and news!
The U-Board logo is on the top left of the glass.
The U-Board is big enough to fit a full size Microsoft Keyboard Elite.  And of course it can fit the Mac Wireless Keyboard also. It can even hold a monitor as long as it is not heavier than 33lbs. (15kg).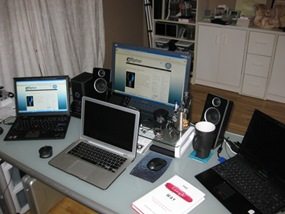 Having the U-Board gave me an extra shelf to place stuff on in front of my monitor and also be able to slide my keyboard underneath it.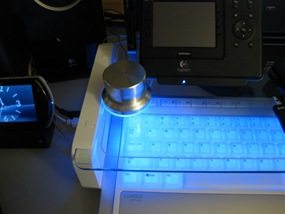 My Griffin knob and Luxeed keyboard gives the U-Board a nice glow.
At $49.95, I believe the U-Board is well worth it.  I love the simplistic design and the integrated USB hub.  The U-Board is also compatible with both Macs and PCs.
Product Information
Price:
$49.95
Manufacturer:
Pyramid Distribution
Pros:

Beautiful design
Great price
Integrated USB hub

Cons: