We use affiliate links. If you buy something through the links on this page, we may earn a commission at no cost to you. Learn more.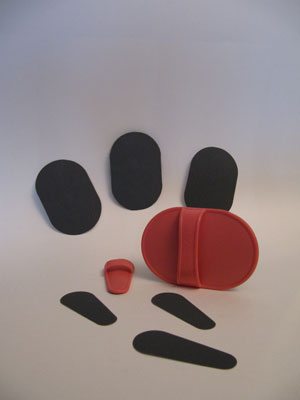 The purpose of the Smooth Away Hair Removal System is to rid one's self of furry follicles from the extremities by way of a "crystallized smoothing pad".  The main advantages are: removal of said particles without the need for a razor; without water; without soap; without waxing; without pain; and (if you read some product reviews), without success.  But others swear by its performance.
I was interested in the device that had polarized so many people's opinions.  About half said it worked perfectly and another half said that it did not work at all; the reviews were usually to either one extreme or the other.  What did The Gadgeteer find?
First, the Smooth Away system ($14.99) comes with a set of replaceable smoothing pads and holders, one set for larger areas and one for smaller patches.  The smoothing pads at first glance look like they would remove money from your wallet before they could possibly remove even dust from your skin, let alone fuzz.  It seems like it could not possibly work.
The instructions are to swirl the pads against your skin in a circular motion, ten times clockwise and ten times counter-clockwise.  This does not do anything but take up time.  However, if you increase the dosage of the orbit by ten fold, meaning rotate the pad a hundred times, some results can be achieved.  Not all areas responded well to the hundred or so buffs with the pad; certain parts of the dermis turned angry red and made my yoga moves fairly painful later in the day.  So clearly the product must be deferred for certain defurring.  But the results that I did see made me wonder how those magic crystals worked (yes, not very well of course, but…).  So I decided to experiment with the product for several weeks and then re-assess.
I had to quit the experiment after three days because all of the pads wore down.  They (the advertisements) do not expose the fact that the pads erode so quickly and you need refills.  Refills, I found, although rife on the internet, were expensive, the postage usually exceeding the cost of the product.  But having gotten some success with my one-hundred orbit solution, I was still intrigued and wanted to continue with my experiment.  So I ordered a few refills from Amazon.com, thinking that it was at least worth a try.
Here is where the story takes a twist.  The refill pads were from a different manufacturer.  While the originals had been clearly marked "3M", the refills had no such identification.  Upon peeling back the adhesive paper from the refill pads, a surprising (to me anyway) set of mysterious hieroglyphs appeared: "1500c Silicon Carbide Waterproof Abrasive Paper Electro Coaeted".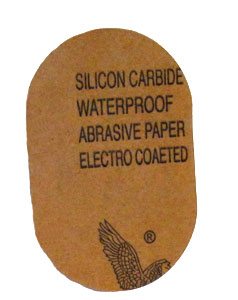 DOH! It's not made of magic crystals – it's just sand paper.  Oddly enough, though, the refill pads worked much better than the originals.  It removed flocculent protrusions much better and left the hide very smooth.  But the refill pads wore down just as quickly as the originals, but then again — eh, at least these made the product useful, and I didn't need any water.  If I were stranded on a desert island and needed to wear my Stilettos in an emergency I could do well by these.
So, does the Smooth Away work?  Yes, with certain grits of sandpaper, er, I mean, uh certain sized magic crystals, and yes it works for certain areas of one's surface.
Does it cause pain?  Yes in certain locations.
Is it worth it?  I think so in the sense that it can be used without the need for water or other accouterments.  Not a bad thing for hikers, travelers, and (hairy) hermits off the grid.

Product Information
Price:
$14.99
Manufacturer:
Smooth Away
Pros:

Simple, no need for tools, water, lather or electricity
Portable

Cons:

Needs lots of replacement pads; replacement pads can have different grits.