We use affiliate links. If you buy something through the links on this page, we may earn a commission at no cost to you. Learn more.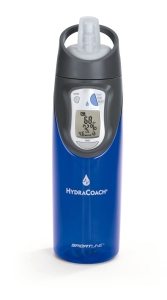 Do you have any idea how much water you should drink in a day to be healthy?  Do you have any idea how much water you actually consume during the day?  Drinking proper amounts of water daily is important to keep your body working properly, but I know I never get in much water.
The HydraCoach interactive water bottle from Sportline can help you meet your water needs.  It's a typical looking water bottle – except for the little computer module on the front.  During setup, you enter your current weight and the HydraCoach tells you how much water you need daily.  You can adjust the suggested amount up or down for your personal needs and activity levels.  As you drink during the day, the HydraCoach tracks how much you've drunk and displays information about that amount, how much more you need for the day, and how many more hours out of the day you have left to accomplish your goal.
The HydraCoach costs $29.99 and comes in blue, orange, and smoke.  The bottle itself is dishwasher-safe after you remove the computer.  The lid assembly is hand-washable.  Maybe a little gadgetry would make the water go down easier!