We use affiliate links. If you buy something through the links on this page, we may earn a commission at no cost to you. Learn more.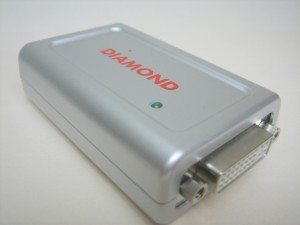 If you have ever had a multi-monitor setup you know the added productivity it can provide.   The Diamond USB Display Adapter is a simple device that allows you to add an additional monitor using a spare USB port.  The adapter is basically a portable video card that works with your Mac or PC. The Diamond USB Adapter provides a portable solution for setting up multiple monitors, particularly ideal for laptop setups.
Traditionally, in order to support two monitors you would need a video card with two outputs or two video cards, which can be expensive and especially hard to do on a laptop.  The Diamond adapter provides a solution in a far simpler form.
In the box: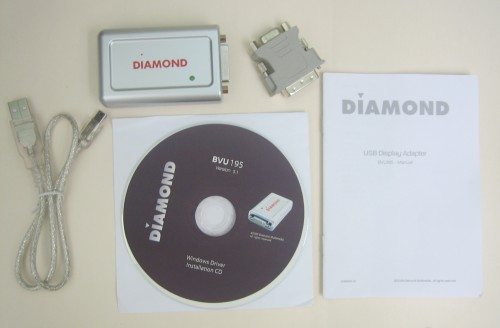 –  Diamond USB Display Adaptor
– Mini USB to Standard USB cable
– DVI to VGA adapter
– Quick Start Guide
– Installation CD
It is important to note what is not included, as you may need one or more of the following to complete the setup. You will not find the following in the box: Monitor cables, DVI cable, MAC drivers (see link below), and HDMI converter/cable.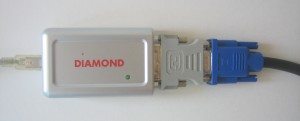 Installation on a Windows system is straight forward.  The installation CD includes all the Windows' drivers you will need.  The adapter connects to the computer's USB using a mini USB cable. If your monitor or LCD screen does not support DVI, the adapter comes with a DVI to VGA adapter. Unfortunately, no HDMI adapter is provided.
Once the drivers are loaded and the device is wired up, it is pretty much plug and play and can handle hot plug in and out. You may need to adjust the screen settings on the second monitor in order to maximize viewing. On a LCD TV the best way to do this is via the TV menu's auto adjust feature.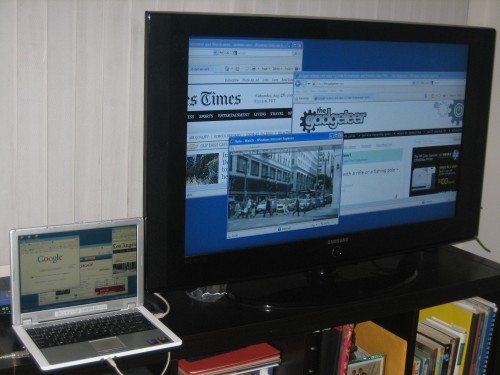 On Windows, the software will install an icon in your taskbar to give easy access to configuration settings. There are two modes: Mirror and Expand. Mirror mode duplicates your screen on to the second monitor whereas Expand mode expands your desktop to the second screen. Expand up, down, left or right. Aspect ratios may prevent different screens from lining up completely flush, as shown in the screen capture below.

The tool bar will not expand to the second screen. However, Ultamon (only for Windows) provides some great software to maximize the multi-monitor experience including extra taskbars in each screen, windows management, shortcuts, display profiles, desktop wallpaper span, and screen saver spanning.
While Windows set up was pretty simple, Mac setup proved to be a little trickier. Diamond does not include the drivers for the Mac on the CD.  I called up Diamond support and they instructed me to download the Mac driver from DisplayLink from here: http://www.displaylink.com/support/mac_downloads.html
This could have been helpful information to include in the Quick Start Guide or anywhere, especially since the box and all the marketing information tout the fact they support Apple OS X. I did find the fine print on a product spec sheet from Diamond's website but that was about all.  To Diamond's benefit, their phone support was helpful.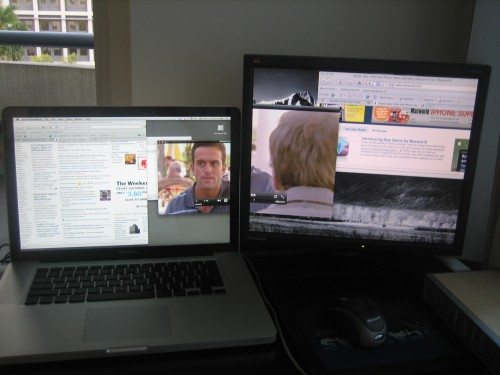 The adapter can work on Apple OS X systems. I ran mine on a MacBook Pro. If you use hot corners on your Mac the Expand mode will stretch them to the corners of your expanded screen.  The display menu from the system preference is where to select the direction of the expand or mirror mode.
Each adapter supports only one additional display. Therefore, if you want to add another monitor, you will have to purchase another USB Display Adapter.  Windows systems can support up to 6 monitor and Mac can support 4.
Diamond also sells a lower version of the adapter under BVU160.  What is the difference between Diamond's BVU195 and BVU160? The BVU195 provides a maximum resolution of 1920 x 1200 and 2048 x 1152 (wide) whereas the BVU160 provides 1600 x 1200 and 1680 x 1050 (wide).  If your second screen is an LCD TV then the BVU195 could be a better buy if you want to maximize quality (e.g., movies, DVDs), but if you have a standard monitor then you may be better off going with the BVU160.  The price difference is 10 bucks.
Product Information
Price:
$89.99
Manufacturer:
Diamond
Pros:

Plug and Play
Easy install

Cons:

No Mac Drivers or HDMI cable included