We use affiliate links. If you buy something through the links on this page, we may earn a commission at no cost to you. Learn more.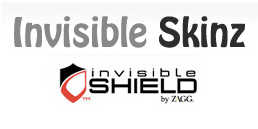 If you're looking for a way to protect your iPhone without increasing its size and weight, check out the Invisible Shield. It has been  specifically designed to protect every inch of the iPhone while maintaining the original look. The shield is a clear film that is cut to the exact dimensions of the phone. It is made of a very tough and durable material called polyurethane. The material was originally used by the military to protect helicopter blades. With the Invisible Shield being both clear and tough as nails it turns out to be the perfect iPhone cover.
InvisibleSkinz.com is a leading online dealer of the Invisible Shield. In addition to the iPhone, they offer skins for over 1,500 electronic devices including cell phones, lap tops, gaming systems, iPods, and even watches. Gadgeteer readers can use the coupon code gadget20 to receive a 20% discount on all products purchased on the InvisibleSkinz site. The code is good for 2yrs!