The Gadgeteer is supported by readers like you! If you buy something through links on our site, we may earn an affiliate commission at no cost to you. Thank you! Learn more.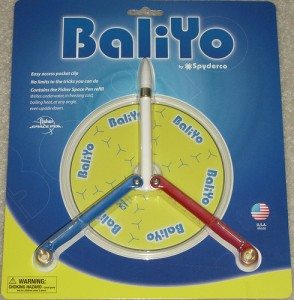 Butterfly knife or writing utensil? Actually it's the Spyderco BaliYo Pen that is designed like a butterfly knife, but it's a pen too.
I was truly looking forward to doing this review, because I am what you would call a GEEK when it comes to cool and different pens. So when I got this thing I did not hesitate to start using it right away. This pen is designed to be a "trick" pen and based on the design you are supposed to be able to spin, flip, and twirl this thing like it's an extension of your fingers. Before I watched the included DVD, which I will get into a bit later, I decided to give this thing a shot on my own. I have always thought I had some very good hand-eye coordination. However this product sure did prove me wrong. Every time I tried anything with this pen I nearly took out an eye, and that eye wasn't even mine, it was someone else's from across the room, because this thing kept flying away from me. I started to think I was the wrong person to be reviewing this pen. But I am not one to give up. So before I did, I popped in the included DVD.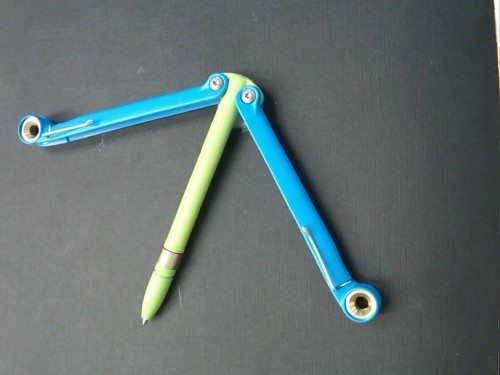 The video basically goes over 6 different "tricks" that you can do with this pen. Each section of the video shows the trick at regular speed and in slow motion. Like I said, I have always thought I had exceptional coordination. I sat and practiced each one of these tricks for at least an hour a piece. No matter what I did, I just could not get this pen to do a single trick. They make it look so easy in the video. I think it may make the "tricks" easier to understand if there was a step by step tutorial. Unfortunately there is not. Regardless of the hard time I was having I still kept this pen with me non-stop for the last few days, and practiced and practiced some more. Now before I finally gave up on the tricks, I figured it was time to use it as an actual pen. The one positive thing about this product is the designers actually took the time to put in a Fisher Space Pen refill which can write underwater, in freezing cold, boiling heat, and even upside down.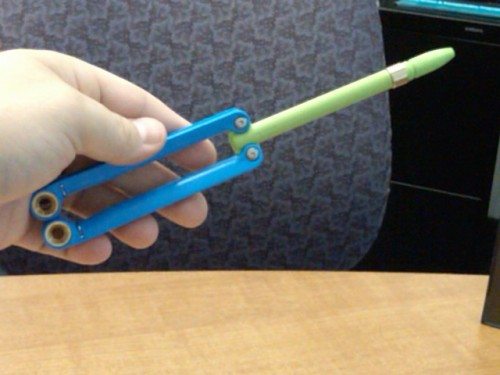 So overall, this pen is, if nothing else designed to look cool.
However the two outer arms do not stay locked in place, so writing with this pen is actually quite uncomfortable. And that is due to the way you have to grip it when the outer arms are down. You cannot "twist" out the pen tip unless the sides are up. This pen is definitely geared toward kids. I just can't see a business man busting out the BaliYo in the middle of a meeting or on a sales call. And even though I could possibly see a high school kid using one of these I really can NOT see anyone dishing out the whopping $34.95 it costs for this pen. Is it a conversation starter…YES! Is it practical…NO! Being nearly impossible to learn the tricks and a bit over priced this pen/toy is definitely cool looking but unfortunately you will not find one in my gear bag. I can buy a lot of dollar store pens for a lot less than this one. But if you are so inclined to learn more and check out all the different colors this product comes in just go to www.baliyo.com and you will see that there is definitely a color combo for anyone.
Product Information
Price:
$34.95
Manufacturer:
Spyderco
Pros:
Cons:

Too expensive
Hard to learn tricks
Uncomfortable to use as a pen