We use affiliate links. If you buy something through the links on this page, we may earn a commission at no cost to you. Learn more.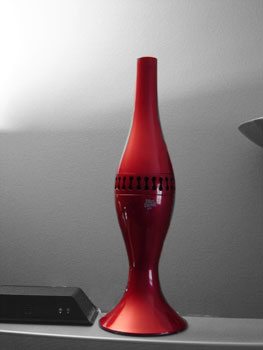 I picked up two of these Dirt Devil Kurv designer hand vacuums on sale for $19.99 (regular list price $49.99).  I had seen them advertised and was enthralled with the concept –a stylish contemporary capsule disguising a vacuum cleaner.  But I thought $50 was kind of pricey even though it was a really good idea.  When I saw them on sale at Buy.com for less than half the price, instead of thinking "Hmmm what's up with that?" I instead thought, "Cool I can get one of these now" and quickly ordered two and thought about getting four.  How convenient it would be to have quick clutter control without having that ugly iron-looking contraption that I have now.
The Kurv comes in two main parts: a charging base or sheath and the main, hand-held vacuum unit.  The latter comes apart (with some coaxing) to reveal a dust bag the size of a hamster's gall bladder.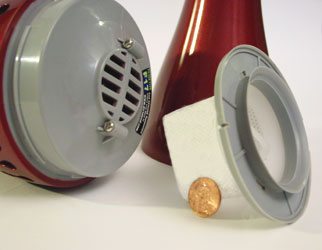 The main unit contains a 9.5 volt motor which is roughly double that of the DustBuster model I have.  When fully charged the business end of the main unit performs . . .  well it performs.  Tiny disgusting objects are pulled into its abyss.  But it does not pass the true consumer's vacuum test (a test for both hand-held and corded vacuums, by the way) : cleaning out the debris between the sliding glass patio door.  The Kurv actually had trouble even getting out the cobwebs.  COBWEBS!
So now I see why they were on sale:
It is too large considering the lack of power that it provides.
The base is easily knocked over when retrieving or replacing the main vacuum unit.  While the unit looks sleek sitting atop an industrial new-age stainless steel desk or mantel, it still requires an obligatory wall wart and power cable and is too top-heavy for placing it above one's torso.
The dust bag is microscopic and requires frequent emptying.
It is somewhat difficult to get access to the dust bag.
The base and vacuum must be carefully aligned in order for the batteries to get charged.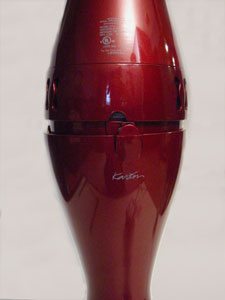 The Kurv is a brilliant idea; masquerade a normally ugly tool into an elegant conversation piece.  But it works about as well (i.e. as poor) as any hand-held chargeable vacuum I've used.  It's just not something I can recommend unless it is at a deep discount.  And even then I still think it is much too large for the performance it provides.
Cordless vacuums are illusive and good ones, I'm afraid, are illusions. You can find similar items on The-Gadgeteer with similar findings at:
Black & Decker VPX Hand Vac (VPX2102)">
USB Mini Vacuum Review
Product Information
| | |
| --- | --- |
| Price: | $49.99 list price; can be found at discounted price |
| Manufacturer: | Dirt Devil |
| Pros: | |
| Cons: | |