We use affiliate links. If you buy something through the links on this page, we may earn a commission at no cost to you. Learn more.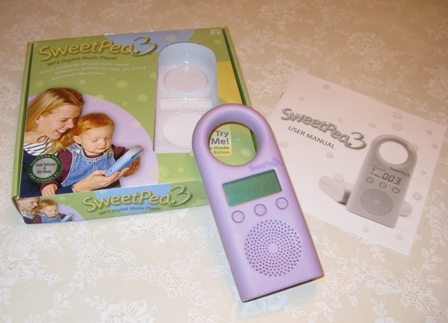 Here's a great MP3 player for toddlers.  It's easy to use for both parent and child, it has an external speaker and it's durable.  I had been searching for a music player just like this, it's like the SweetPea Toy Company read my mind.
I purchased the SweetPea3 MP3 player for my three year old daughter in January 2009.  I was looking for a MP3 player with an external speaker and the ability to add any songs I want to it.  I only found one other MP3 player with an external speaker, the Sansa Shaker by SanDisk.  I got to try one that my co-worker purchased for her daughter and I think it is a neat machine, but it's a little complicated for a toddler.
There are all sorts of reviews raving about this product; their fan page on FaceBook has nothing but positive comments. Here are a few reasons I like the SweetPea3 MP3 player.
It has an external speaker.
The volume control is in the Settings Menu so that the child cannot change it.  For what it is, the speaker quality is good too, the music does not sound not distorted or tinny.
It has a headphone jack which has its own independent volume setting in the Settings Menu.
There are only three buttons on the unit.  My three year old can turn it on and off and change the songs and even my nine month old twins seem to enjoy pushing the buttons and changing the songs.
Plays MP3 or WMA format  (it does not play licensed music from subscription services or music purchased from iTunes)
Compatible with both PC and Macintosh computers.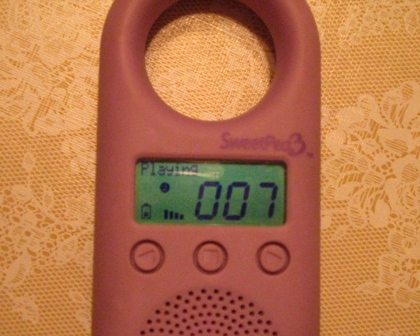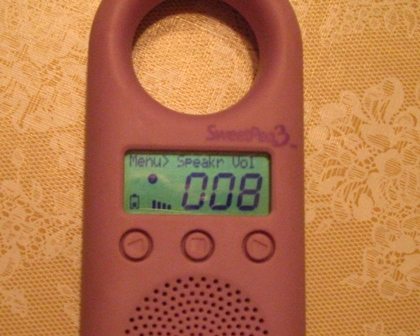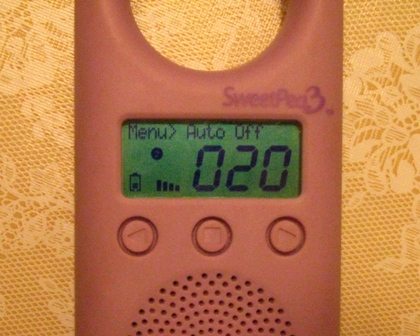 Additionally, there are three play lists in the Setting Menu.  I have dedicated one to audio books, one to everyday music and one I have relegated as a junk folder (songs to be organized at a later date). There's also an auto off feature that can be adjusted from 5 – 120 minutes (see photo above).
The player connects to your computer using an USB cable and music is easily copied to the player by drag and drop.  If you want to move a file to Play list 3, drag and drop it there.  Very simple.
Here's my only "complaint", the player is fairly expensive for a fixed 1 GB MP3 player.  The cost is $59.95 + $9.95 shipping, plus a currency conversion fee (~5%) from your credit card if you reside in the US (the company is in Canada). So the grand total is $70.00+ for a 1 GB MP3 player.  By comparison, the Sansa Shaker is around $25.00 and it takes a removable SD card.
I highly recommend the SweetPea3 MP3 player.  Sometimes a good product is worth the price and this is one of those times.  I'm just hoping that my twin boys will share their sister's when she outgrows it.  Otherwise I'm going to have to buy another one.
Product Information
Price:
$70.00+
Manufacturer:
SweetPea Toy Company
Pros:

Easy to use (only 3 buttons)
Parental volume controls
Auto Off feature
Runs on 1 AA battery

Cons:

Expensive
Does not display the song title (I don't find this to be a con but it's something to be aware of)