The Gadgeteer is supported by readers like you! If you buy something through links on our site, we may earn an affiliate commission. Thank you! Learn more.

Electronic Books (eBooks) are huge news these days. From the Kindle to Barnes & Noble's latest offering, portable readers are the news of the day. While some think this is the wave of the future, I have come full circle from my non-comvergence stance: At some point in the future, there will be a single device that will do everything you want well enough that you will stop using your single-purpose device. Some say that day has come and the iPhone is it. I'm not quite there mentally, but the proliferation of reading programs on the iTunes App Store makes me think some folks are going in that direction. This review is of one of many different reading apps, Classics2Go from KiwiTech.
Copyright before Steamboat Willie (who transmogrified into Mickey Mouse) was a looser affair than it is now. Works were owned by the originator, and they remained so until that person died. If no renewals took place, the work became public domain, and anyone could publish and use parts of it at will. For this reason, many of the book readers and collections (including the Gutenberg Project) concentrate on pre-1923 works: Dickens, Doyle, Wells, Shakespeare, et al. Modern copyright makes paying royalties to the originator (or the current copyright holder) difficult, at best.
Classics2Go takes all those books many of us grew up reading and loving, as well as the tomes we endured in English Literature over the years, and puts them into a library of easy to manage volumes right on your iPhone. There are two versions of the application – Classics2Go Lite and the Classics2Go Collection. Several individual titles are also available as stand-alone freebies.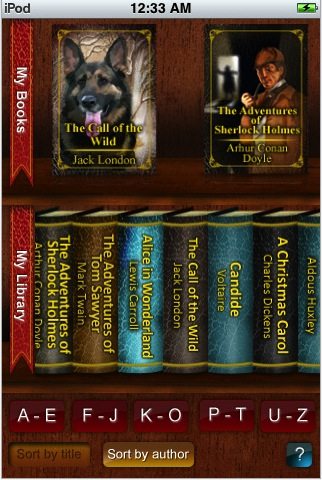 To anyone who has read an eBook on a handheld device, the interface will be familiar, but probably more attractive than any other readers you've seen. To those who have never thought of reading on a handheld – give it a shot. The books show up in a Bookshelf, you read the titles off the spine, and tap once to add them to your shelf. Once there, another single tap opens the book to the cover. Each subsequent tap takes you a page along the volume. Tap to the left of center, and you'll go back a page. In an instant, you're reading with one hand, and captivated by the antique patina on the page. OK, so it doesn't feel like an old book, and it's not dusty or moldy, but the visual effect is that of reading one of the classics in a pulp printing from back in the day. There are even wrinkles on the cover.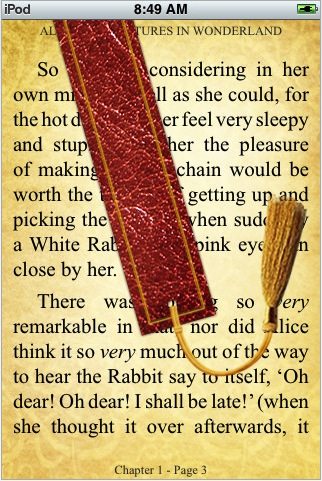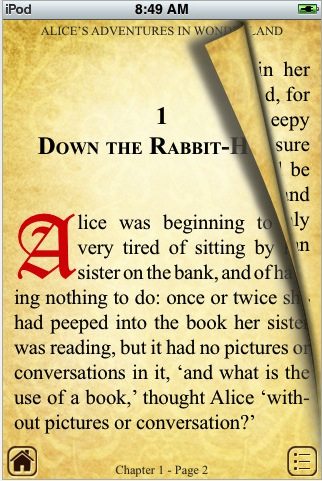 Turning the page is animated by a tap or right-to-left swipe.
When I first got a Palm, I began to re-read the Adventures of Sherlock Holmes in stolen moments waiting for clients, sitting in traffic, and at lunch. I probably hadn't read them since the 70's. The greenish tint and the sans-serif print, not to mention having to tap with my fingernail or click a button to turn the page, was not quite the same effect as my hardback collected works edition that I think is still at my mom's house. Here they are again, though, ready for another round, anytime I want. Now, I'm reading some other oldies (P. G. Wodehouse's "The Girl on the Boat" and Dumas' "Three Musketeers", if you must know). Small touches like a tasseled leather bookmark that floats over the page to save your place when you exit one book for another let you know that this collection was put together by someone who is paying attention to your reading experience.
With Classics2Go, as long as you have your iPhone, you'll never lack something to read. And with the collection, updating your application will add new books as they bring more to this platform. It's a great way to carry around your required reading if you're in school, or to re-read (or maybe discover!) those treasures from the past.
Product Information
Price:
$0.99 for full version of reader with 47 books. Lite reader and additional books are free
Manufacturer:
KiwiTech
Pros:

Nice collection of literature
Very book-like interface
Bookmark saves your place

Cons:

Old works only - limited content
No dusty "old library" smell
Reading in dark/low light can distract those around you