We use affiliate links. If you buy something through the links on this page, we may earn a commission at no cost to you. Learn more.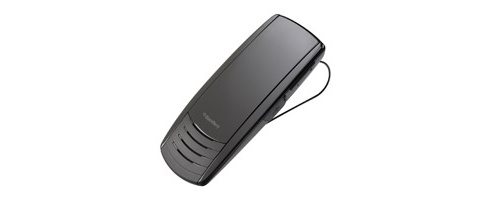 The Blackberry Visor Mount Speakerphone (VM-605) is a pretty, slick new device from RIM that combines a hands-free speakerphone with an FM transmitter to let you hear your Blackberry over the car's speakers. In appearance and function, it is a piece of art.
Besides a hands-free speakerphone, it is also billed as your gateway to 'Road Ready Tunes' and as being GPS friendly.
Let's get the specs out of the way-
Nine Languages /Variants Supported- U.K. English, U.S. English, French, Italian, German, Spanish, LatAm Spanish, Brazilian Portuguese, Chinese
Caller ID Announcement- Audible, Visual — through car stereo's LCD (RDS)
Standby Time- 240 hours with Time-out shutdown
Charging- Micro-USB 12/24V Automotive Charger will also charge Micro-USB BlackBerry®smartphones
Battery- 1100mAh Li-Polymer (enclosed)
Bluetooth Version 2.0, class

2

Audio Outputs- Onboard speakerphone (3.3 Watts), FM transmission with auto station scanning

Echo and noise cancellation

Size- 4.84 x 2.27 x 0.63 inches (123 x 57.6 x 16mm, and 3.03 ounces (86g)
The demo unit I was sent included the Visor Mount Speakerphone (VMO), an auto/DC charging cord, a CD-ROM, and a single page of printed directions. (The PDF on-line has more information.)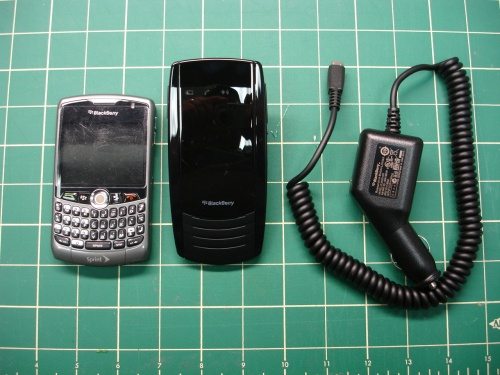 THE DEVICE-
The VMO is a beautifully styled unit that is compact and passes the Creak Test with very minor noise. The front of the unit is actually both a large button, display panel for four icons, and the microphone. The very glossy surface shows fingerprints and dust, and has a tendency to reflect glare. Most of the icons have several states to help you figure out what is going on… if you remember them all or have the guide handy.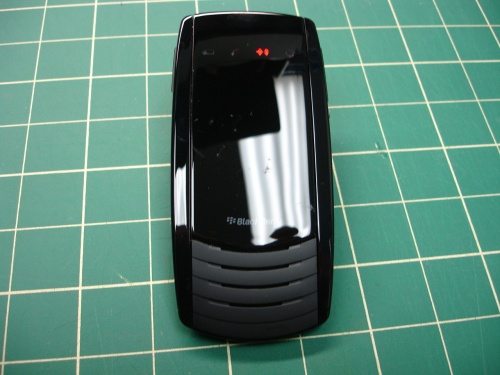 The sides of the unit have a Volume Up and Down button and covered charging port on the right, and an FM button on the left. The Up/Down buttons serve many functions.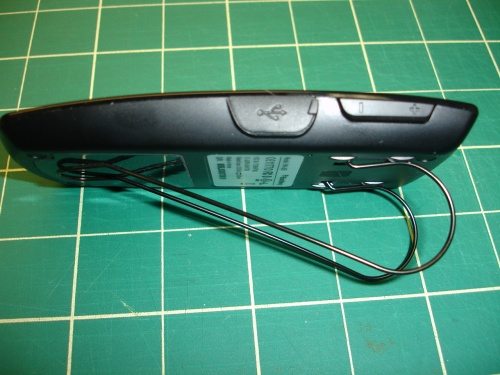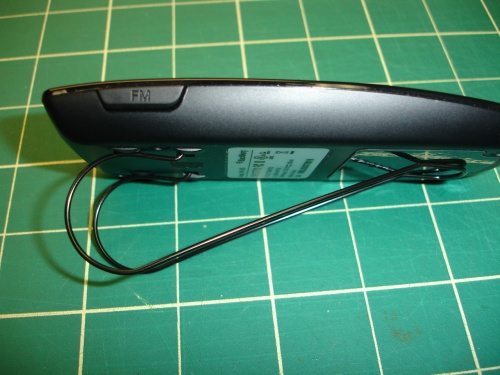 GETTING STARTED-
To turn the VMO on and off, you press the front button for 2 and 4 seconds respectively. It will say "Connected' or 'Pairing Off'. A couple of minor things so far…
The instructions say 'Press and hold front panel'. What they mean is to press the top edge of the panel. The panel is basically hinged at the bottom, so pressing the top gets you the best results. Pressing in the middle was often inconsistent for me.
The synthesized voices sound like an English woman and are a bit indistinct.
There is a pause between pressing the button and the voice, so there is a tendency to press for too long, turning the whole thing off again.
The instructions for pairing the unit take six steps, but it went exactly as planned and the instructions are well-written for this part. It was up and running in a couple minutes.
The unit was delivered partially charged, and plugging it in to charge is simple enough. I could perhaps wish for a longer cord, but I just charged it on the passenger seat- although an AC charger would have been nice. While there is not a battery indicator, there are indicators for charging, fully charged, and low battery. The battery lasted my entire testing period- about a week just sitting there and about an hour of active use. If your Blackberry uses the Micro-USB connector, it can charge your unit. Mine uses a Mini-USB so I am out of luck- a dual-tipped charger would be nice.
The VM-605 speaks nine languages, and you may have to change the language- but it is easy to do if you have the directions handy.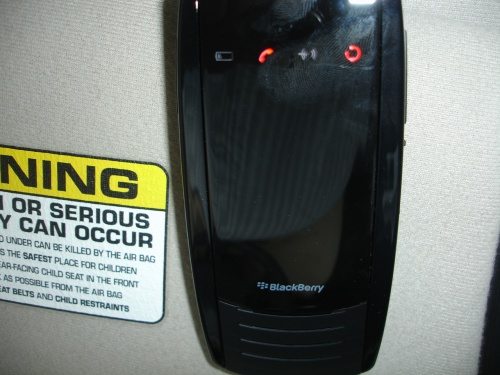 FM TRANSMITTER-
The heart of this unit is its ability to transmit the Blackberry's speaker to your vehicle's FM radio. Pressing the FM button on the side starts the pairing process and it will announce a frequency. Play something over the Blackberry, use the menu to transmit it over the VM-605 (which should be a menu item), and listen. If you hear it over the radio, great! If not, just touch the Volume Up button for a second and it will announce 'Searching…', and a new frequency. A couple minor things on this point include…
It often sent me to a frequency that had a station on it- the 'search' feature seems to be more of a 'what is on my internal list' than 'what frequencies are clear' search.
Omaha is not a big city, but it is hard to find clear channels to use. The unit and I found two of them, both have some static.
An undocumented feature is that if you tap the Up or Down buttons, the frequency changes by one step. This can help you lock in a good channel.
Overall sound quality is about that of an AM radio or a bit better. Your results will depend a lot on the frequencies. Considering that this is sold as a music device, I was a bit disappointed- but it is no worse than any other FM transmitter I have tried, and better than many.
The FM transmitter function shuts off after a minute if it is not in use. I also noticed that it did not always automatically reconnect when starting the car, but a quick tap of the FM button solves this.
SPEAKERPHONE-
To answer or hang up, you just click the front panel (at the top) quickly. The calls were quickly transferred to the radio and sounded good on my end. The people on the other end usually reported that the quality and clarity was the same as a call straight from the Blackberry- so the microphone is obviously doing a good job of picking up my voice and filtering out the background noise- just as it promised!
You can ignore a call by holding the front panel for a second, or mute a call by tapping the panel while on a call. You supposedly come back from muting by tapping the Up button- but every time I tried it, it changed frequencies.
OVERALL-
This is a nice unit. It has a few minor glitches, but overall works nicely and offers good sound quality on calls. I heartily endorse hands-free devices for drivers who use cell phones (the crash statistics are scary!) and this is a good option. My biggest complaint is the nice, slick front panel.
Besides showing fingerprints and glare, it also acts as a multi-function button with no cues on how to use it. How long do you press it, and what functions can it do again? You would quickly master it in use, but I think that any learning curve or distraction while driving should have been engineered out. I understand that adding buttons makes distractions worse, and I applaud the use of voice cues to make this easier, but I can wish it was a bit less ambiguous.
I do not have voice commands set up on my Blackberry, so I was unable to try them with this unit, but others have noted they work well together to make an even more hands-free experience. I was also unable to test it with a GPS system, but again, other reviewers liked this feature.
At $99.99 suggested retail, it may be a bit high but I would expect the price to drop as other retailers start to carry it.

Product Information
Price:
$99.99
Manufacturer:
Research In Motion (RIM)
Retailer:
ShopBlackberry
Pros:

Easy set-up
Good speakerphone functionality
Very good voice quality
Works with other non-Blackberry devices capable of stereo Bluetooth

Cons:

Typical FM transmitter functionality and station clarity
Typical music transmission quality
'Multi-purpose' buttons require some learning and seem inconsistent in some applications