We use affiliate links. If you buy something through the links on this page, we may earn a commission at no cost to you. Learn more.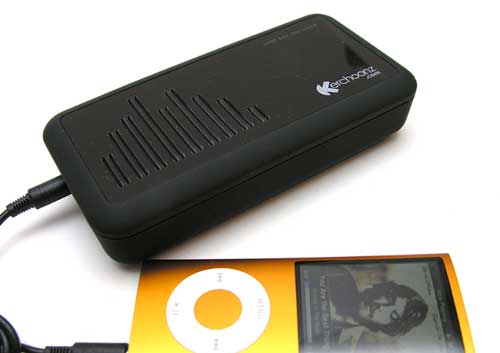 The K-box Gel Speaker from Kerchoonz is not your typical speaker. It uses whatever surface it is sitting on as a soundboard. We've reviewed similar devices here before. Most recently it was the Free-D i-Ball and several years ago it was the Olympia Soundbug. Neither provided what I would consider 'good' sound. When the folks at Kerchoonz contacted me to see if I would review the K-box, I was skeptical that it would be able to do much better than the others. It arrived at Gadgeteer HQ, I've tested it and here are the results.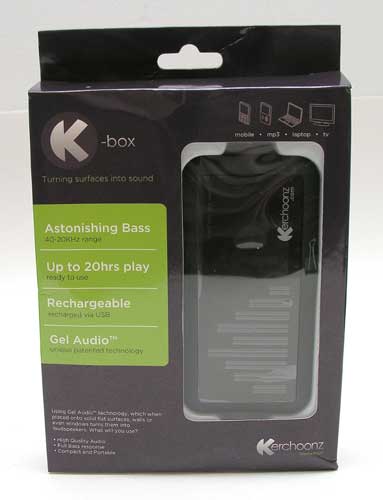 Hardware Specs
Bass response 40-20KHz
Compact and Portable (115 x 55 x 20mm)
Up to 20 hours battery life (recharge via USB)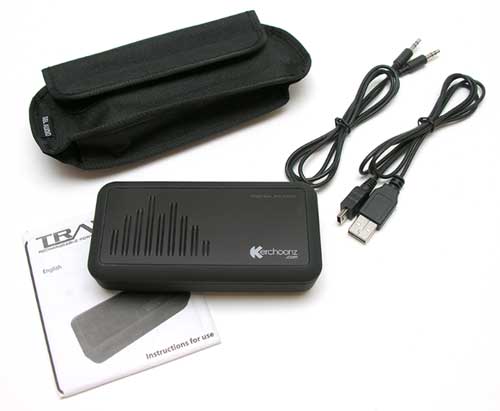 Package Contents
K-box speaker
Canvas case
3.5mm patch cable
USB charge cable
Instruction sheet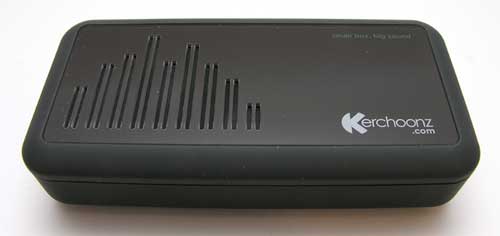 The K-box is a rectangular shaped Black plastic module similar in size to an power brick for laptop.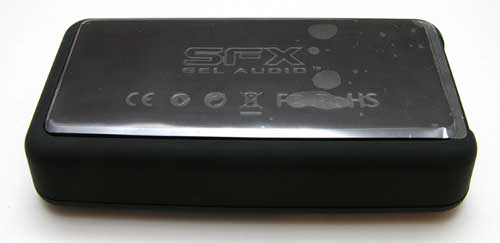 Never miss one of our posts again. Sent MON, WED, and FRI with the latest gadget reviews and news!
The bottom has a clear protective cover that when removed, reveals…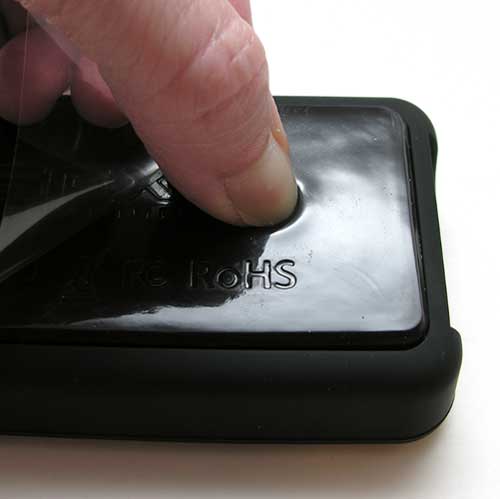 … a tacky gel core. This is what sets the K-box apart from other vibration style speakers. It's actually a hybrid speaker. It has a standard speaker inside that delivers mid to high frequencies and then a gel audio driver that delivers low end bass frequencies.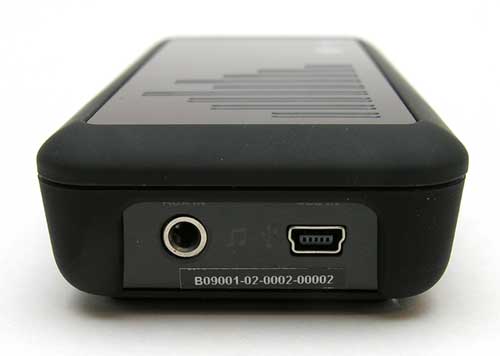 There are no buttons, dials or switches on this device. There are just two connection points. A 3.5mm Aux In jack and a mini USB connector that is used for charging the internal battery.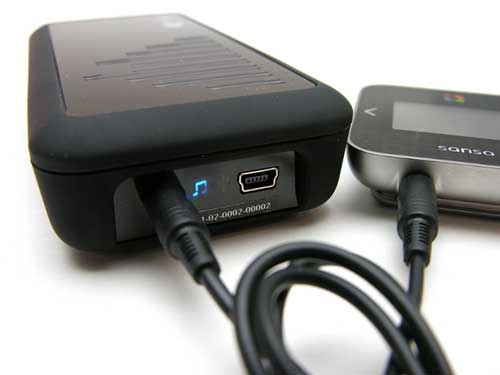 To use the K-box, you first must charge it via the included USB cable. Then connect one end of the included 3.5mm audio patch cable to the line out or earphone jack of an audio device and the other end of the patch cable to the Aux In jack of the K-box. As soon as you plug into the K-box, it will power on. You'll know it's on because a Blue LED next to the jack will light up. Unplug the cable and the speaker powers off. Easy.
I tested this speaker with an iPod nano and my Slacker G2 radio on various surfaces, including a wooden laminate floor over concrete, table top, stack of books, concrete sidewalk, wooden deck, large empty plastic storage container, etc. I was very surprised that the K-box performed much better than other vibration styles speakers that I've tried in the past. Audio is loud, clear and has decent bass when paired with the right surface. I found that the best overall sound was achieved by placing the speaker on the top several layers of poster board placed on top of my computer desk, which has a kitchen cabinet style Formica top. Removing the poster board caused the bass to weaken. Placing the K-box on the floor of my wooden front porch also yielded good sound / bass.
Regardless to the surface used, a definite hiss / static can be heard in the background when the music was paused and sometimes when playing quiet music. This isn't noticeable from several feet away though. Another issue worth mentioning is that a popping noise is heard when the audio cable is pulled out of the K-box Aux In jack to turn off device. Speaking of power, it would be nice if there were some type of battery level indicator on the device.
All in all, the speaker does perform as advertised. I like that it is both portable and rechargeable. The 20 hours of playing time per charge is definitely an advantage over other small travel speakers. The only downside to the Kerchoonz K-box is that it requires some experimentation in order to find the right surface that will produce the best sound. But once you do find a sweet spot, it does surprisingly well.
Product Information
Price:
£39.99 (~$66.00)
Manufacturer:
Kerchoonz
Pros:

20hr battery life
Good bass
Easy to use
Comes with a case

Cons:

Background hiss
No battery level indicator