We use affiliate links. If you buy something through the links on this page, we may earn a commission at no cost to you. Learn more.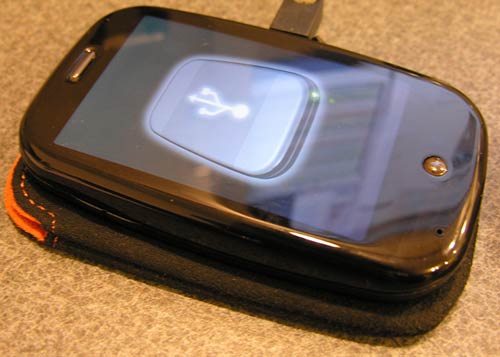 My time with the Palm Pre has come to an end. As each day has passed, I've grown more fond of this phone, but I still do not see myself switching carriers from AT&T to Sprint for it. It's a nice first generation webOS device from Palm, but it's not quite what I had dreamed it would be. With that said, let's take a look at the following features:
App Catalog
PIM syncing
Built-in video applications
Classic emulator
Let's go shopping!
Apple may not have been the first company to have an application store on a mobile device (Handango is another one that comes to mind), but they have paved the way with a very easy to use interface and an excellent software update process.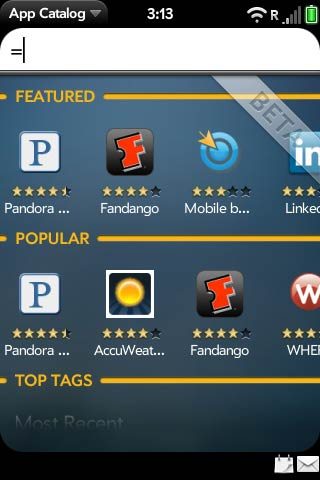 The App Catalog on the Palm Pre is another similarity that this phone has to the iPhone. After the app catalog is launched, you are presented with various ways to filter the list of applications. Featured, Popular, Most Recent, Entertainment, Utilities, etc are just some of the ways to display lists of apps for download.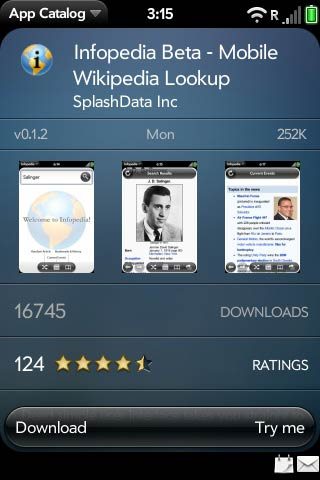 Tapping an application icon brings you into the detail page for that app. Typically you can see screen shots, ratings, reviews, number of downloads and a button to download / install it. Currently the applications are all free to try and there aren't any paid apps (that I've seen).
The selection of applications is very small right now. I'm not sure there are even a hundred apps yet. Even so, the quality of the applications that I've tried have been very nice – and again, very iPhone-ish in look and feel.
As an example, here are two of my faves…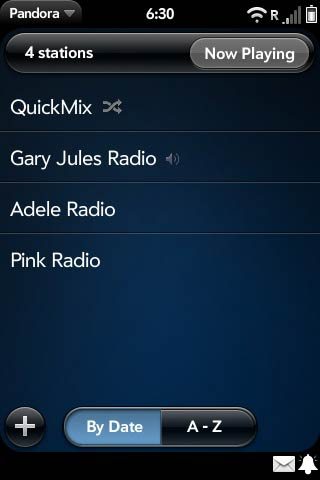 The first one is a Pandora radio client. I'm a big fan of Slacker Radio, and this is similar in that you can create your own channels of music from your favorite artists.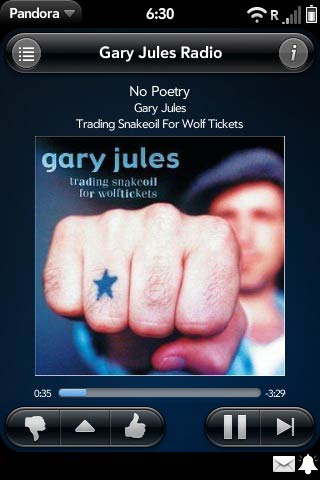 It works great via WiFi, but so far I haven't been able to get it to work at all through a Sprint data connection. Remember though, I don't live in an area with 3G and my signal when I'm not roaming is lucky to be 3 bars.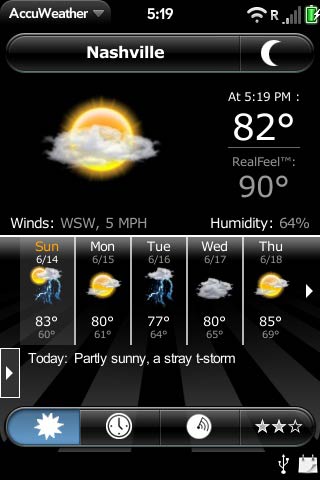 Another really nice app is AccuWeather. It will use your current location to display the forecast and radar.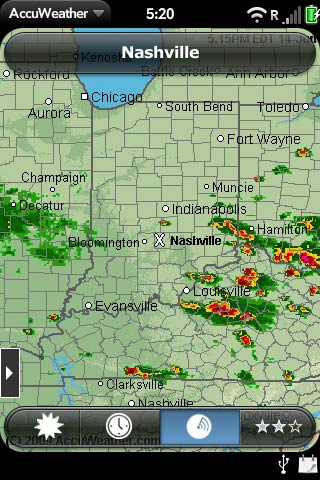 Nice huh?
I like the App Catalog quite a bit and look forward to seeing how the application evolve. I wonder if we will start seeing Palm commercials on TV saying "We have an app for that".
Video on the Pre
So far I've not been too terribly impressed with the video capability of the Palm Pre. For one thing, you can't record video with it yet and that's a bummer considering that the camera pretty good. I guess that's a feature for a future firmware release. But who wants to wait? 😉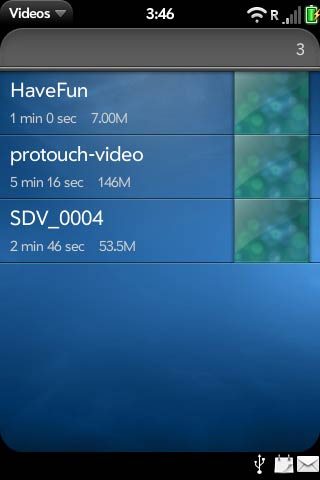 The stock video player was not able to play any of the videos that I tried including .AVI, .MOV, .MP4 and .WMvs.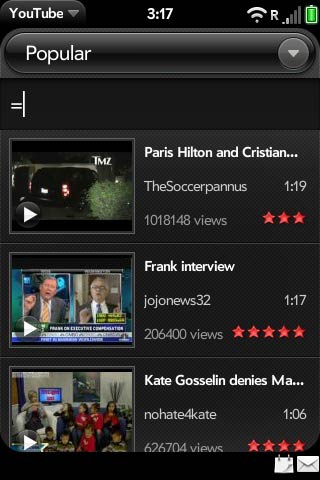 The YouTube client works great though via WiFi.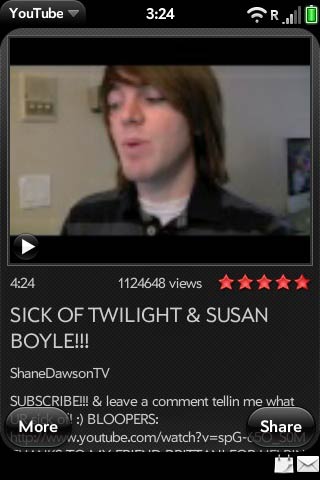 But, through a non-3G connection, not so much. The video is very jerky and pixelated if you do not have a fast connection.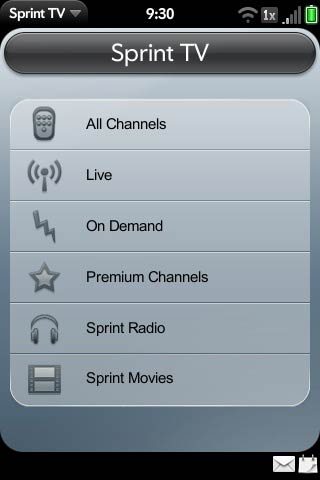 There's a Sprint TV application that is supposed to provide access to movies, trailers, radio stations, etc. I was unable to get it to work through WiFi or a data connection.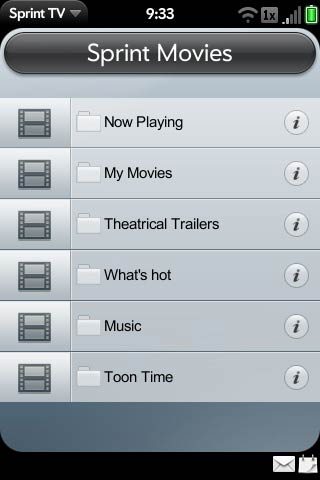 I had no problems getting a list of content to view, but as soon as I would tap one to load and watch, an error box saying that I had a network problem would pop up. Boo…
The Palm Pre as a PDA
The Palm Pre is Palm's first device that does not sync it's PIM data to a desktop application. Syncing is now completely cloud based to Google, Facebook or Microsoft Exchange. Since I recently have moved all my contacts, calendar and email to Google, this has been perfect for me. I love that I no longer have to dork around with special third party syncing applications like MissingSync (sorry guys) for my Mac.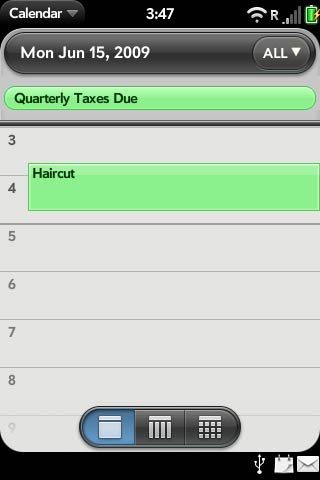 The Calendar application is pretty basic. There's an agenda view.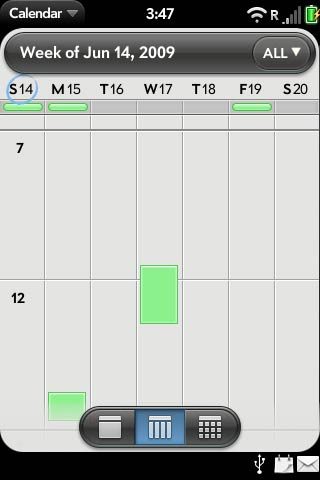 Weekly view.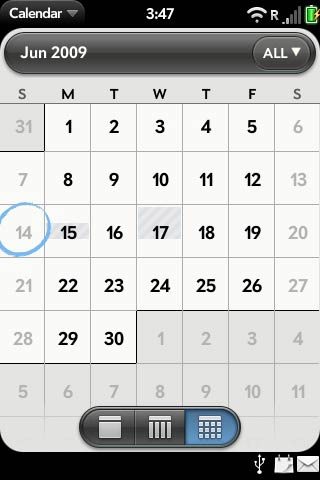 And monthly view.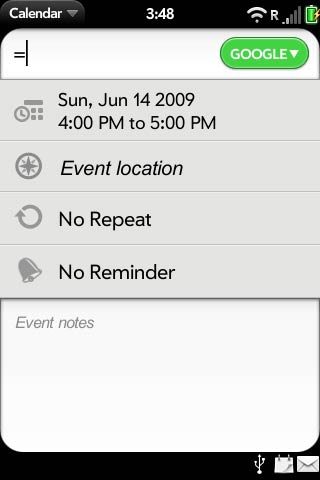 Adding a new event / meeting is pretty simple as you can see. Not many bells and whistles here. It really needs some beefing up to be sure. But of course, that can be a feature for a future firmware update…
The two things missing for me are that you can't set a reminder for longer than 1 day and that you can't set the alarm sound or how many times it will alert you before it gives up.
The Contacts app isn't a fave of mine either…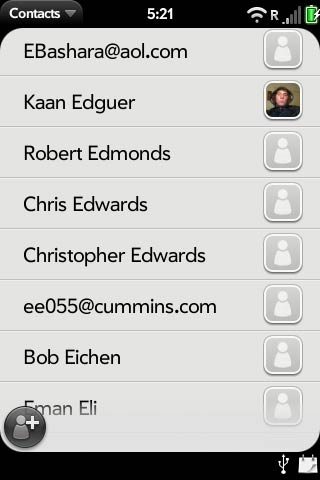 I don't like it for the simple reason that it adds everyone that you've ever contacted (from gmail and Facebook) as a contact. So I have over 900 contacts in my list, when it should be less than 100. Grrrrrr…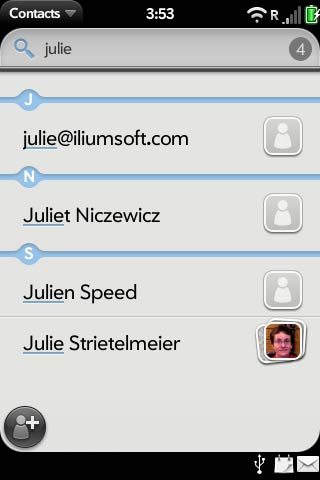 Of course to find a contact you can easily filter the list of people by typing a name. But still…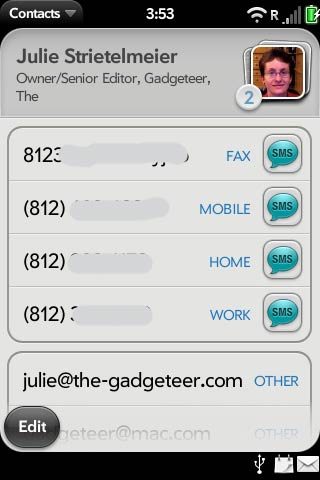 The person view shows all their numbers, email addresses, etc.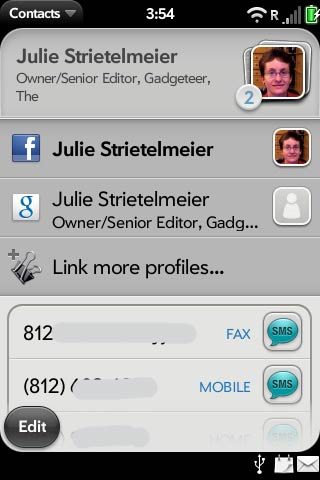 You can choose which profile to use for each contact.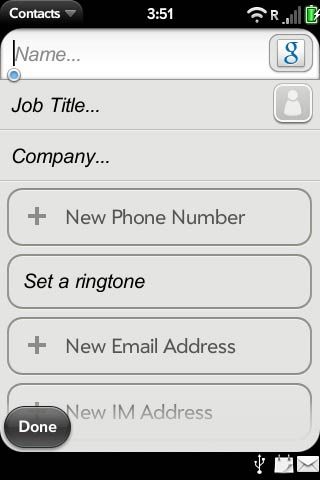 Here are the fields that you can use when setting up a new contact.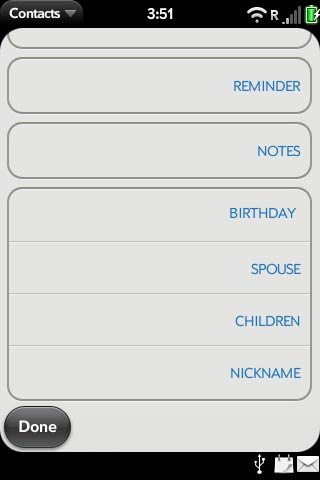 More fields…
I'd like the contacts app a lot better if groups would sync from gmail. Put that on the list of potential future features.
What's in the mail?
For those of us that live and die by email, I was anxious to check out the included mail client.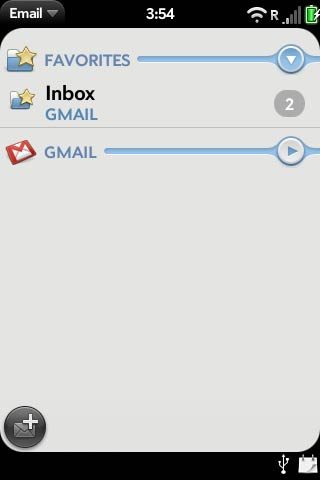 If you have more than one email account, they will show up in the main display. I just use Gmail, so that is what we see here. Tapping the little arrow to the right will show all the folders.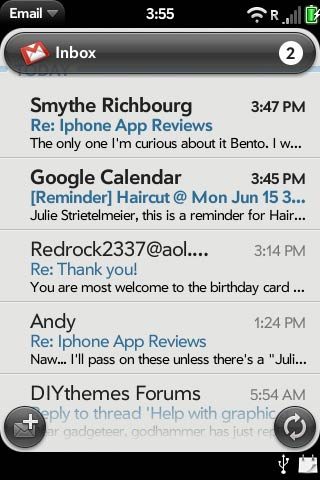 Unread emails are shown in bold. Gmail emails from the same person are not grouped together like they are in your desktop browser. They show up in the list chronologically. To read, just tap one.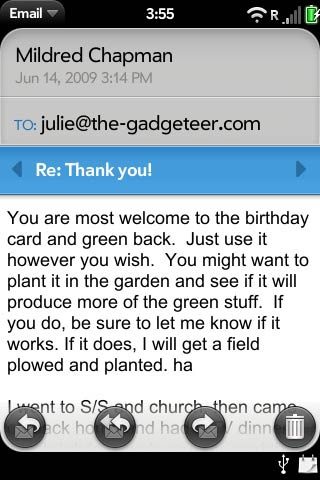 The two finger pinch and expand gestures work here. No screen rotation though…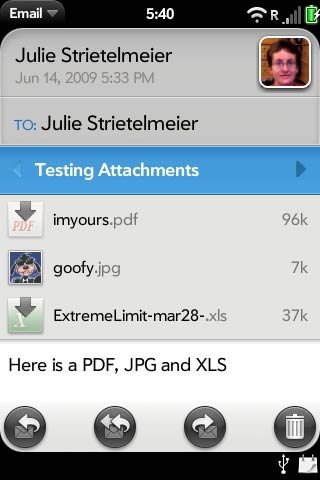 Inline graphics and attachments work surprisingly well too.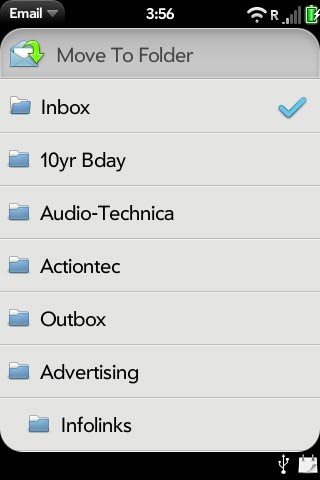 And of course you can move emails to any folders / labels that you have created.
I wish that there was a mail search feature and a spell check.
Palm OS apps under webOS. Let's get Classic.
If you're a long time Palm OS user, you'll probably come to the Pre with some favorite applications that you want to be able to run on your new device. Not to worry, there's an app for that. Sorry, I couldn't resist 😉
But yes, there is an app for that and it's called Classic from MotionApps. A 7 day free trial can be downloaded from the App Catalog. If you want to continue using it, it will cost you $29.99.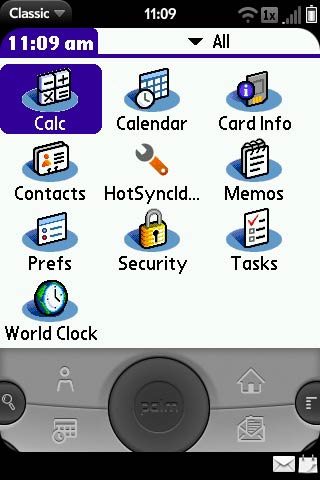 When you launch Classic, you'll see a familiar friend popup on the display. The only thing missing is the Graffiti area.
If you are expecting to see your PIM data inside Classic, you're going to be disappointed… But all is not lost as you can import it. That is, you can import the databases from an older device (not the data in the webOS PIMs). But you can't really do much with the data because it isn't going to be backed up.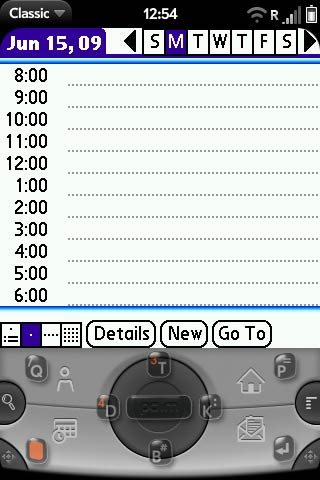 There's a touch navigation panel at the bottom of the Classic display that can be toggled to use the slide out keyboard for certain actions.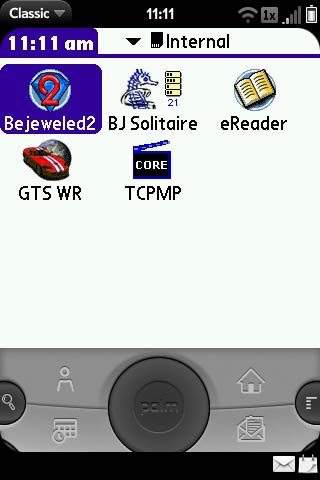 Installing applications is a simple matter of copying the .PRC files into a special folder on your Pre while it's in USB mode. The next time you launch Classic they will be there.
The emulator will not allow access to external hardware devices through Bluetooth, serial or USB ports.
I tried a few applications and they loaded and launched fine. That said, they were not easy to actually use due to the fact that the Pre will not take stylus input and these apps have small buttons and fields that are just too hard to press accurately with the tip of your finger.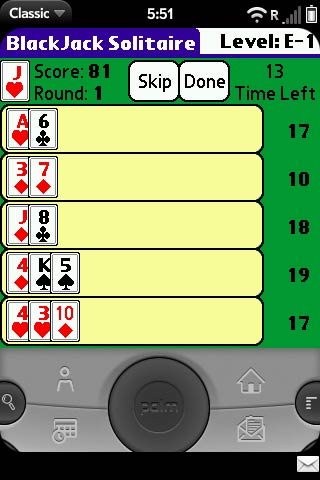 Some apps will work better than others like BlackJack Solitaire from Seahorse Software. I'm curious as to how many people will actually use Classic on a regular basis and which apps they will use with it.
When it's all said and done…
My Palm Pre is going back to Sprint. Probably tomorrow. I like it, but I just don't love it. I had high hopes for it that haven't quite been met and the carrier coverage in my area doesn't really make me want to switch away from AT&T right now. As far as the actual device is concerned, I guess I have my standards set too high. Like new gadgeteer contributor Bryan Sherman and I talked about the other day, I need to quit wishing for some new end all be all device to come on the market because it's probably never going to happen and I'm likely never going to be satisfied.
What would make me satisfied with the Pre? A metal body, better slider mechanism, MicroSD card slot, better macro mode for pix, video recording capability, GSM version and physical buttons on the front that allow you to answer / end a call.
As it is, the Palm Pre has a very nice form factor. It's pocket friendly with a nice display, slide out QWERTY keyboard and a decent camera. The webOS is a nice new platform that appears to be developer and hacker friendly. I think the Pre is a nice first generation device and I look forward to the release of other form factors and more features to the built in apps. I hope that the Pre helps Palm climb back up the ladder. Don't give up Palm!