We use affiliate links. If you buy something through the links on this page, we may earn a commission at no cost to you. Learn more.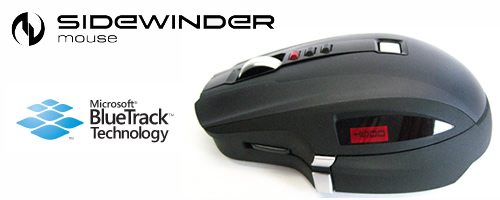 Microsoft continues their penetration into the PC Gaming hardware fray with their newest release, the Sidewinder X8 mouse. Wireless peripherals in PC gaming have long been a no-no, promising lag and instant death. Will this wireless mouse change that notion?
I recently reviewed the Microsoft Sidewinder Gaming Mouse, which is the wired sister to this X8 model. I was very impressed with its features, feel, and performance, and I was more than anxious to get my sweaty gaming paws all over what Microsoft is touting as the best tracking wireless mouse made. Needless to say I was ecstatic when Julie scored a review model for me to try out. Let's get to the specs!
Features
2.4 GHz Wireless connection BlueTrack Technology Play and Charge Twelve Buttons! Seven are programmable Full-Speed USB Reporting Engineered for Speed Vertical side buttons LCD Display Quick Launch Button DPI Switching Replaceable Mouse Feet Macro Record 3-Year Limited Warranty
Hardware Specifications
Resolution: 4000 dpi
Image Processing: 13,000 frames per second Max Acceleration: 75 G's Max Speed: 120 inches per second USB Reporting: Full Speed 500Hz Connection: Up to 30ft 2.4GHZ Wireless Glide: 3 sets of different mouse feet (for glide preference)
Package Contents
Sidewinder X8 Wireless Mouse
Accessory Storage Box with Integral Charging Cord
Rechargeable Battery Three Sets of glide feet
Intellipoint Software
Quick Start Guide
Product Guide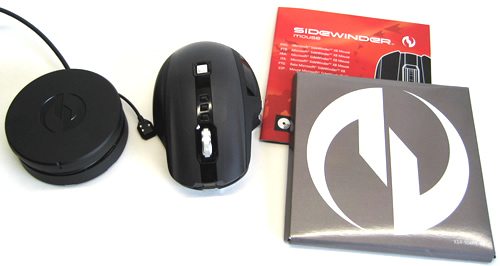 Test Machine
Windows 7 Ultimate Beta R7000, 64 Bit
2.6 Ghz Intel Core2 Quad Processor
4Gigs Ram
Nvidia Geforce 8600GT
Sound Blaster X-Fi XtremeGamer
Setup
The first thing you have to do is install the included rechargeable battery into the mouse. This is done by removing the bottom cover and sliding the battery in at an angle. Once in, the mouse came to life with at least a little bit of juice to get things going. There are three sets of feet included to configure the grip the mouse has or doesn't have based on the surface you will utilize. These feet are stored in the round charging station and accessory holder. These are easily switched out per the provided instructions.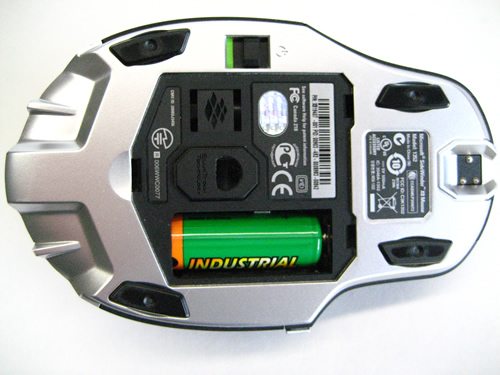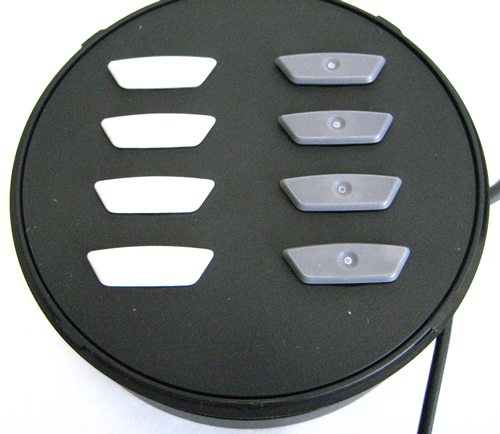 As in my previous Sidewinder review, this mouse utilizes the Intellipoint software that integrates nicely with the built in windows mouse configuration control panel. I like this implementation because it doesn't add a 3rd party utility that can get a little buggy come game time. Simply throw the CD in and let Windows do its thing, then plug in the USB charging station, and turn the mouse on. Within Intellipoint you can of course configure your mouse buttons for different operations and set the DPI, which on this mouse, is a configurable super wide scale from 250 to 4000. Needless to say, you should play with a combination of DPI settings and in-game sensitivity settings to get just the right feel.
I hate to keep referring back to my original Sidewinder review, as this mouse is a somewhat different beast, but I have to say I'm just a tad disappointed in the physical feel of this mouse, especially considering how much I love the original. It's not that it's bad compared to other mice, it's just not as plush as it's sibling. It is a tad heavy, which I prefer, but that's without the added extra weights included in the original Sidewinder. The surfaces of this mouse are pretty much what you see on the shelves at Best Buy. It's plastic. The original Sidewinder has a nice soft rubbery textured surface that I find I am missing somewhat. They covered the charging station in this surface, why not the mouse?
Microsoft BlueTrack Technology

The BlueTrack technology implemented in this device is something I had not heard a lot about, but after doing a little research, I've got to say I'm very impressed with the development. Briefly, a blurb from the BlueTrack Website explains:
This new tracking technology—available only from Microsoft—lets you use a mouse anywhere and work with confidence on more surfaces than ever before. BlueTrack combines the power of optical with the precision of laser, allowing you to mouse on virtually any surface—from a granite counter top to an airport bench to your living-room carpet.
I could go into great depth here, because it's actually very interesting, but instead, how about watching a couple of brief videos? The first video is a quick intro into the features of BlueTrack, the second video is by the inventor of the technology, and gives a nice solid background on the development of it.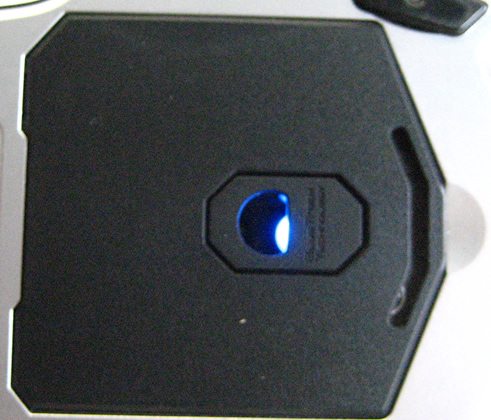 I did try this mouse on a variety of surfaces in my home, granite counter tops, hardwood floors, the wooden desk surface, the dining table, the wall, and even the carpet. The mouse worked great on all of them, even on the carpet, which I find somewhat odd and pretty amazing all at the same time.
Performance
This is where this mouse shines. The performance is great. By far and away it is the best wireless mouse I've ever had my hands on. The biggest compliment I can give it is that it performs just as accurately and acutely as its wired sibling. Its precision is surgical, and its speed can be set to borderline insane. Like its wired sibling, you can swing this mouse around for a shot so fast it will make you dizzy, but you can pull up and zero in a kill just as quickly.
Shift on the Fly DPI, implemented by the three buttons on top of the mouse, make it easy to switch from precise pixel level control to head spinning whirling in an instant.
The two side buttons are situated at inverting angles which is actually more comfortable and intuitive, I find, than on the original Sidewinder. The buttons don't protrude from the body as much, but the different angles let you know immediately where you are and make for fast switching and clicking between them.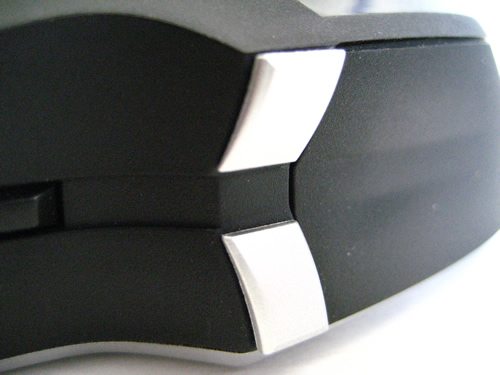 The scroll wheel, while not as wide as the original, does do the tilt, which adds a nice dimension to gaming. I set mine to leaning in Team Fortress 2, and found I immediately liked that feature. The detents are pronounced, and the machined surface of the metal wheel gives some nice traction.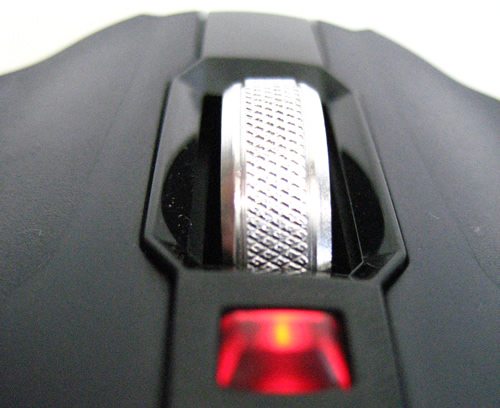 The implementation of the LCD Screen, Precision Booster, Macro recording features, and Quick Turn found in the (OK I KNOW I KEEP REFERRING TO IT) review of the original, really give it some sweet extras.
I was never able to measure the touted 30 hours of straight use, my gut can no longer handle Red Bull and Twinkies as sustenance, but I never had a problem after 6 straight hours of use, and noticed no degradation in performance during that time. But when it's game over, one of my favorite features kicks in.
The magnetic cord which couples on the underside of the mouse to charge it, almost seems to reach out and find its home in the docking bay of the mouse automatically. Microsoft did an excellent job of making this mouse easy to charge and easy to disconnect from charging. And as a bonus, if you forget to charge after a few sessions and the mouse goes dead, simply unwind some more of the cord, leave the mouse plugged up, and keep on going.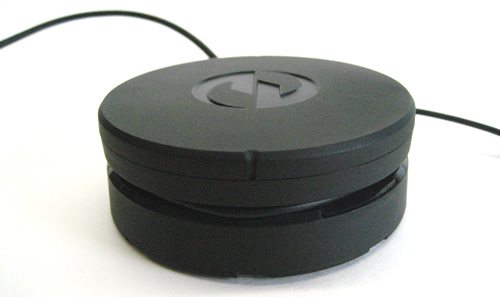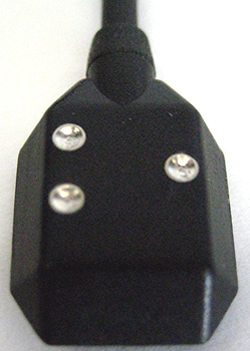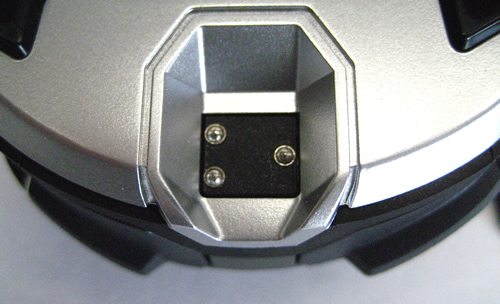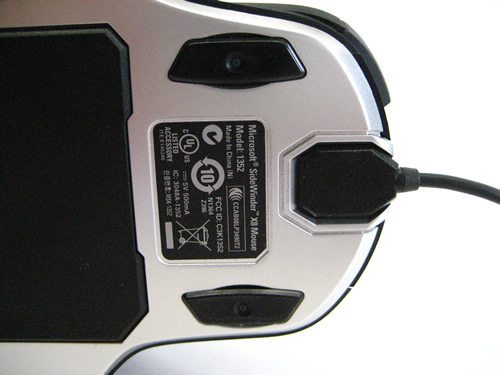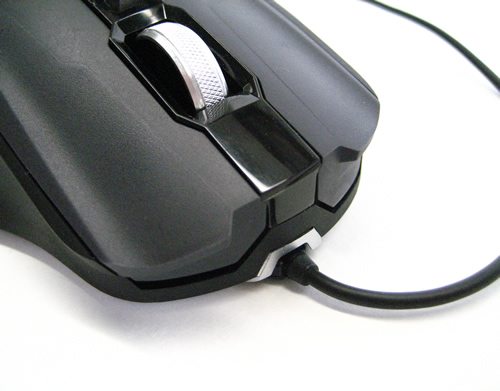 Conclusion: Game-O-licious
Dont' try it, buy it. While I miss the posh and sophisticated surface on the original Sidewinder and its metal buttons and extra wide scroll wheel, the wireless freedom and performance of this mouse more than make up for it. I notice absolutely zero lag or tracking degradation vs. a wired performance mouse.
It performs so well in fact, that I'm not sure this BlueTrack hocus-pocus doesn't let this wireless mouse perform better than the wired Sidewinder, the spec says it does, and it seems to ring true. It is deadly accurate. The addition of tilt wheel also adds a nice dimension I've not used in-game before. The huge feature set and configuration variables make it very customizable.
Would I go out and spend the money to upgrade from the original? That is one tough call. I love the original, but the wireless freedom of the X8 is so very nice. What I do know is that my new X8 is upstairs, calling me to undock it from it's charging cord, set it free, hop online, and seriously own some newbs with a very serious piece of hardware.
Happy Fragging!
Product Information
| | |
| --- | --- |
| Price: | $99.95 |
| Manufacturer: | Microsoft |
| Requirements: | Windows XP or Vista, 100mb hard drive space, USB, CD Drive or Internet connection for software. |
| Pros: | Barrier breaking wireless mouse performance. Huge feature set. Priced very reasonably for performance / features. Decent build quality. |
| Cons: | Microsoft could have and should have applied the same level of detail to the exterior finishes as on the original Sidewinder wired mouse. |