We use affiliate links. If you buy something through the links on this page, we may earn a commission at no cost to you. Learn more.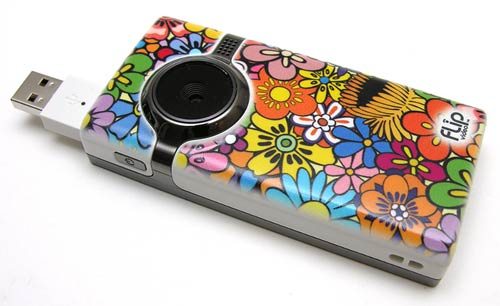 It goes without saying that we love our gadgets here at The Gadgeteer. We love big gadgets, little gadgets, complex gadgets and simple gadgets. Today I want to show you a gadget that is both little and simple. It's the Flip minoHD video camera.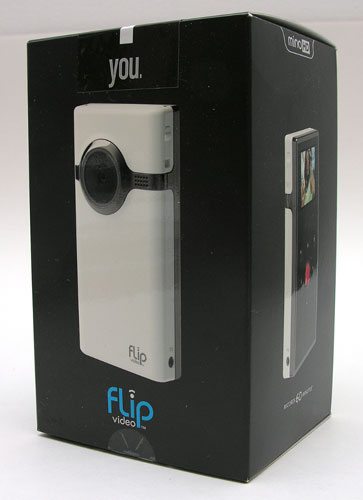 Hardware Specs
Recording time – 60 minutes
Internal memory – 4GB
Display – Transflective TFT 1.5″ diagonal (528 x 132)
Video resolution – 16:9 widescreen, HD 720p (1280 x 720) at 30 frames per second progressive scan
Sensor – 1/4.5″ HD CMOS Sensor 2.2µm pixels
Lens – 2x digital zoom
Light sensitivity – Ultra low-light sensitivity (>1.4 V/lux-sec)
Average bitrate – 9.0Mbps (auto-adaptive algorithm)
Video format – H.264 video compression, AAC audio compression, MP4 file format
Battery – Internal Lithium-Ion Rechargeable with up to 2hr runtime
Dimensions – 3.94″ x 1.97″ x 0.63″
Weight – 3.3 oz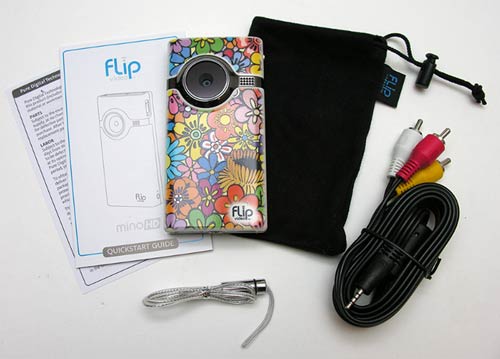 Package Contents
Flip minoHD
TV cable
Wrist strap
Soft carrying case
Quickstart guide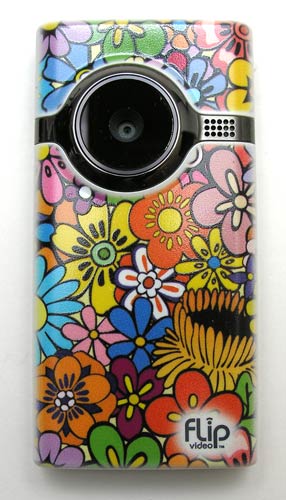 The Flip minoHD is available in an infinite variety of colors and designs. You can choose from popular designs like the one you see above, or  you can go crazy and use your own images to create a one of a kind look for your Flip.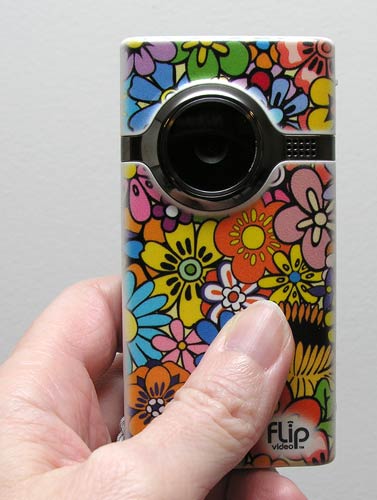 The camera has a compact plastic body that is very pocketable and comfortable to hold. On the front side you will find the lens and next to it on the right is the microphone. The microphone area lights up in Red when the camera is in record mode.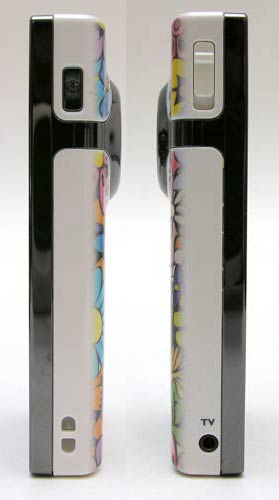 On the Left side is the power button and lanyard eyelet. On the Right side is the USB connector eject button and TV out jack.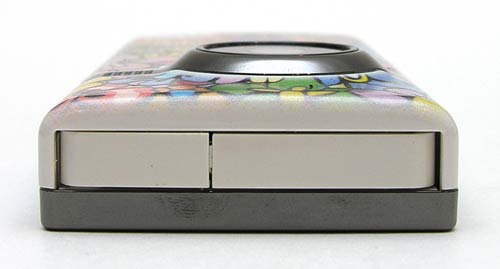 The USB connector folds into the top of the camera when not being used.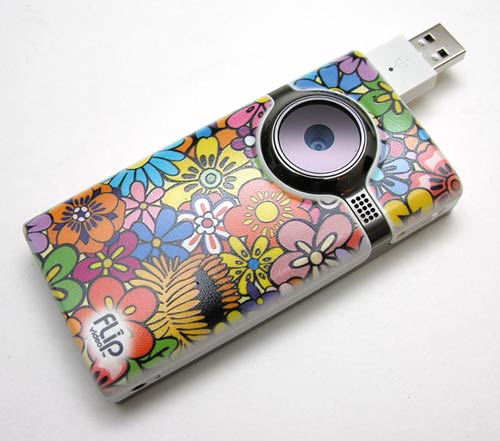 When the side switch is activated, the USB connector pops out.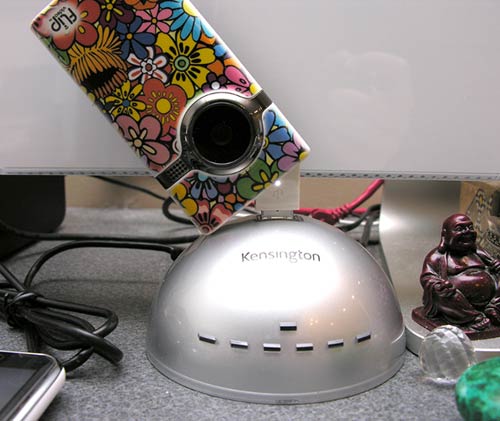 The camera can then be plugged directly into a USB port on your PC or Mac for charging and manipulation of recorded videos. A small White LED on the USB connector glows to show that the Flip's internal batteries are charging. The LED turns off when the camera is fully charged.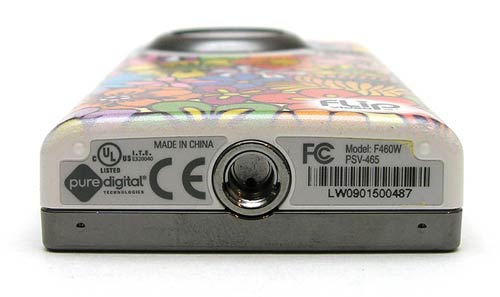 A standard sized threaded tripod mount is located on the bottom of the device.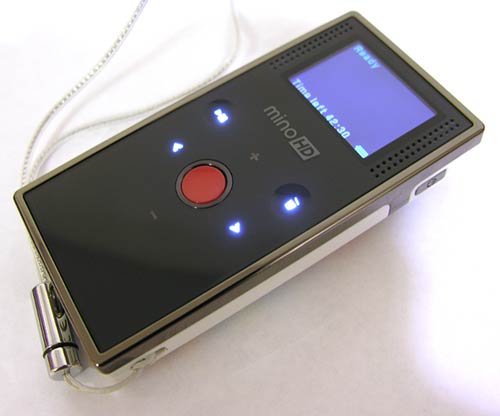 All of the user controls are located on the back side of the Flip. There's only one physical button, a big Red record toggle. The other 'buttons' are touch sensitive. There's a + and – that zoom in and out, play/pause, delete and left/right navigation buttons.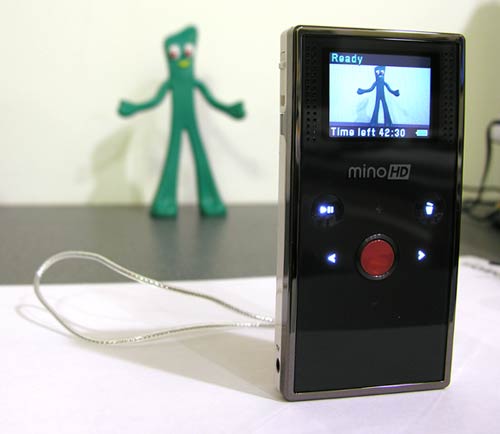 Where other video cameras can be overly complex with a bazillion buttons, modes and features, the Flip minoHD is about as simple as it can get. Press the power button to turn on the camera and within 4 seconds you are ready to press the Red button to start recording. Press it again to stop recording. Each time you do that, a new file is saved to the camera's 2gb internal memory.
The small color LCD shows the battery level and how much time you have left to record before running out of space. The only settings that you can change are the date, time of day and if you want button press tones or not. That's it. I told you this camera was simple didn't I?
Recording is easy and spontaneous with a camera this small. The LCD is very small, but it can be seen outdoors in full sunlight. The one button start / stop record is easy to press while holding the camera. Zooming in and out with the touch sensitive buttons is a bit awkward though. Most times I have to press the + or – multiple times before it recognizes that I've touched it.
The only other issue that I've noticed with recording is that this camera does not have an anti-shake or stabilization feature built into it. This is obvious on some of my recordings where I was holding the camera in my hand.
Once you have recorded a few samples, you can access them by plugging the Flip into your PC or Mac. The Flip will show up as USB flash drive that you can drag and drop files to.  Copy the .MP4 off to your computer, manipulate them with your favorite software and you're done. Don't have a favorite software package for manipulating video? Not to fear, there's a PC and Mac application built into the the camera. 🙂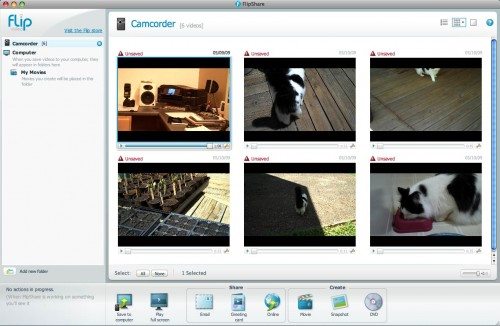 It's pretty basic software, but this is a basic video camera, so no shock there. The software allows you to view the videos in thumbnail or full screen mode. You can email the videos, create video greeting cards, upload to sites like YouTube or MySpace, create a DVD and even capture a still image from a video.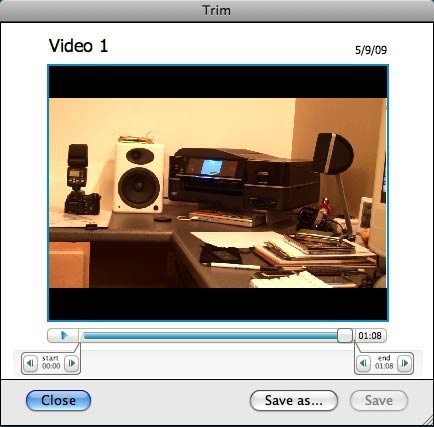 Simple tools give you the ability to trim clips to remove unnecessary footage.
Here are a few samples that I recorded to give you an idea of the video quality. In order to view the video without problems, right click the links and save the files directly to your computer and view them that way instead of through your web browser. If you view through your web browser, the playback will be jerky.
flip-minohd-traffic 22mb (to view, right click and save to your desktop)
flip-minohd-wasp 28mb (to view, right click and save to your desktop)
flip-minohd-max 56mb (to view, right click and save to your desktop)
flip-minohd-ukulele 105mb (to view, right click and save to your desktop)
These samples show a few things that I'd like to point out. If you look at the wasp and traffic videos, you'll notice that the recorded frame rate is a bit slow. In the traffic video, if you look through the trees in the upper right corner, you can make out the LED price board from a local gas station. You can see the prices blinking, which of course they don't do in real life. You'll see something similar in the wasp video. Wasps typically do not flutter around like a butterfly. If you intend to shoot extremely fast subject matter, this camera might not be able to deliver.
One other thing that I wanted to point out is that the camera captures colors much better in natural light as opposed to indoor artificial light like from compact fluorescent light bulbs. If you take a look at my ukulele video, my skin tone looks kinda Yellow – and as far as I know, I don' t have any liver issues. Although the minoHD has an automatic white balance feature, I think it would be great to also have a way to manually adjust it.
Even with those few little issues (lack of physical zoom buttons, frame rate and white balance), I have absolutely enjoyed using the Flip minoHD. I love the fact that it is super fast and easy to use. You can give this camera to anyone (child or grandparent) and they won't be confused with the controls. I also appreciate that I'm not required to have a separate AC adapter to charge it. There's something to be said for simplicity. You've probably heard of the acronym KISS before. It stands for Keep It Simple Stupid and the Flip definitely takes that rule to heart.
Product Information
Price:
$229.99
Manufacturer:
Pure Digital Technologies
Pros:

Extremely easy to use
Fast start up
Good video quality
USB connector built in for charging

Cons:

White balance doesn't seem to be that good under fluorescent lights
Frame rate slow for some fast speed recording