We use affiliate links. If you buy something through the links on this page, we may earn a commission at no cost to you. Learn more.
Ever since I was a kid geek, I wanted to be an astronaut.  What's better than flying around space in a rocket?  Watching your kid play with a toy version!
When given a chance to review some "kid" items from ThinkGeek, I jumped at the iPlay Lift-Off Rocket.
Here are the features from the ThinkGeek website:
For ages 18 months and up
Has On/Off switch and volume control
Cockpit compartment with room for two astronauts
Kitchen compartment with a murphy bed that folds and has a toilet underneath
A Stow away dune buggy in the cargo hold and can store figures
Has a handle for easy and convenient transporting
Press button to see engines light up and plays realistic rocket sounds
Operates on 2 "AA" Batteries (included)
The Rocket is approx. 16″ high
Comes With
Alien
Moon Crater
Dune Buggy
Space Dog
Two Astronauts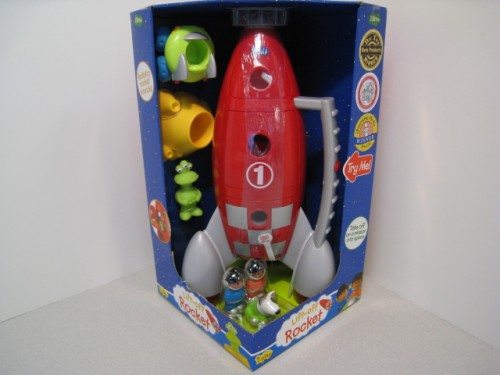 The kit comes in one of those newfangled toy packages where every single bit is tied down with impenetrable metal twistie-ties.  Being impatient, I ended up using a very kid-unfriendly knife to free the toys from the box.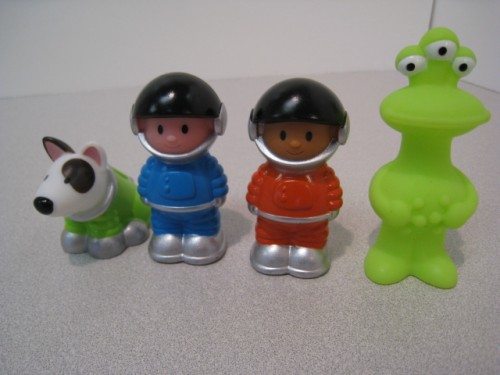 The figures (astronauts, dog, alien) are simple, one-piece semi-soft plastic toys.  No posable limbs, but nothing to break off, either.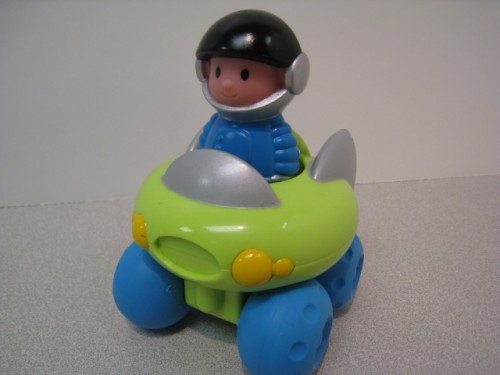 The yellow "moon crater" and dune buggy fits all the figures, EXCEPT the dog.  I guess in space things are just not dog-friendly yet!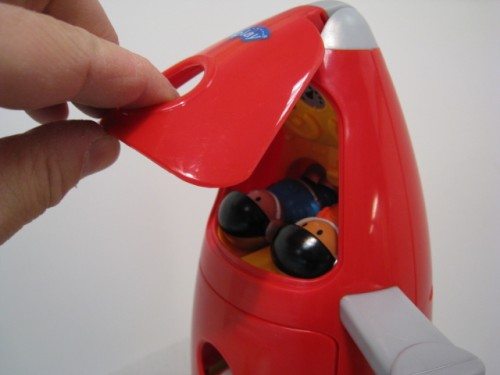 The cockpit fits two astronauts.  Won't fit the dog or alien (yes I tried).  I noticed the hatch detaches from the hinge out if you tug hard enough.  I thought that was odd at first until I came upon the dune buggy hatch (see below).
Never miss one of our posts again. Sent MON, WED, and FRI with the latest gadget reviews and news!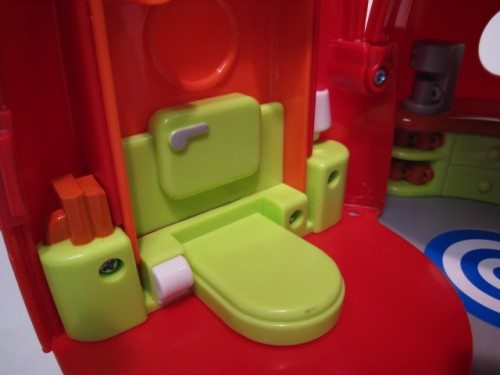 The middle compartment houses the kitchen/bedroom/toilet.  It's rather well apportioned with a bed that folds up to reveal a toilet (complete with toilet paper roll and reading material on a shelf).  I'm sure the toilet comes in handy after drinking all that coffee from the pretend coffee maker on the counter.  The bed has a small divot for a helmeted astronaut.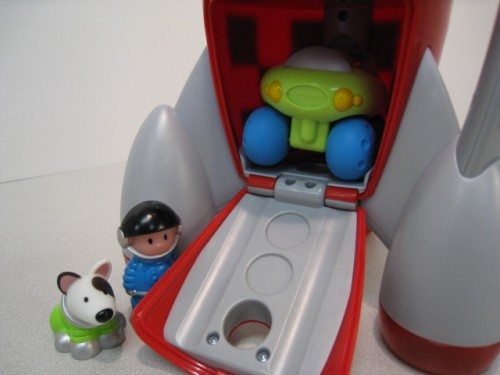 The lowest compartment is a garage for the dune buggy.  The hatch conveniently serves as a ramp, complete with wheel grooves.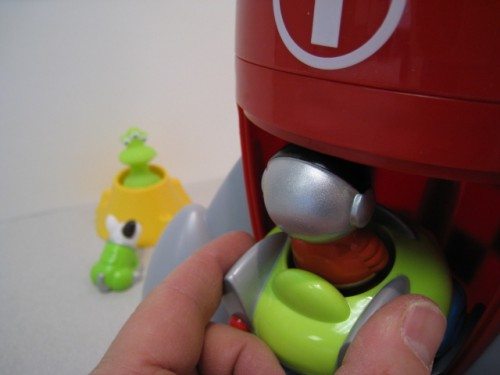 In a major design flaw, I noticed a seated astronaut can't simply drive into the bay, without risking head trauma.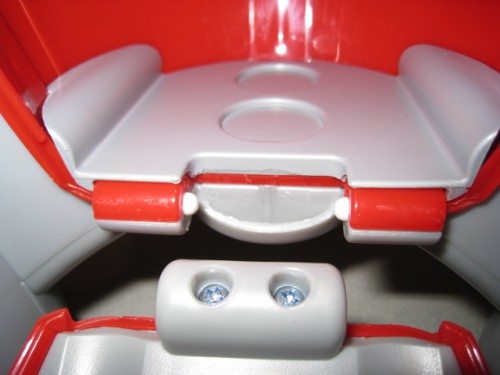 Like the cockpit hatch, the garage "door/ramp" also detaches easily.  This time, I noticed a spring-loaded ball-and-socket hinge that makes replacing the door a snap.  I am guessing these removable doors are intended to prevent permanent damage with heavy-handed kids (or adults) who might try tearing off the hatches.   Nothing is worse than being in space and not having any doors!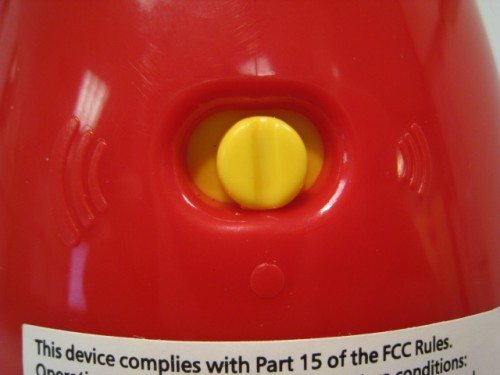 There is a button on the convenient handle which creates "background space noises" when held horizontally, and a "countdown" when the rocket is upright in launch position.  Red lights at the rocket "thrusters" flash in unison to the sounds.  A three-way switch on the rocket allows you to set to volume, or off completely.
Click for movie of the iPlay Lift-Off Rocket in action (.mov file)
(In the clip, my son is actually making supplementary "whooshing" sounds as the rocket flies.)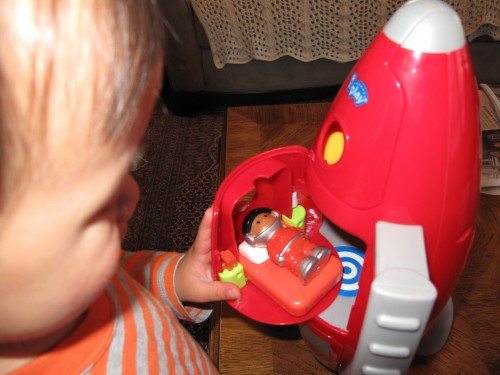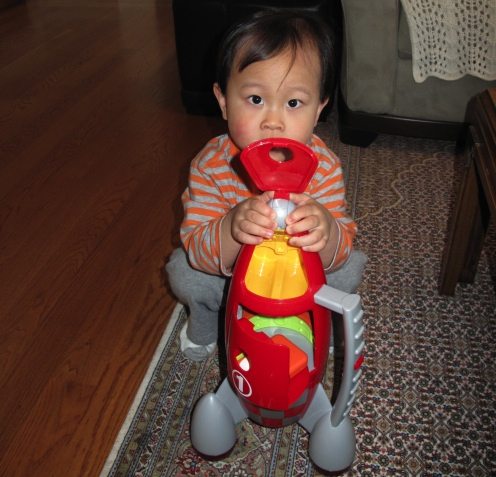 My son was actually scared of the rocket when I made the mistake of demonstrating the sound of the countdown.  I think it startled him.  Now he calls it "scary" but yet at times, is perfectly content playing with it at Grandmas' house.  I guess rockets and Grandmas go together somehow.
Product Information
| | |
| --- | --- |
| Price: | $39.99 at ThinkGeek. (I have seen the same item locally for $54.99) |
| Manufacturer: | iPlay |
| Retailer: | ThinkGeek |
| Pros: | One of the better designed "rocket" toys I've seen. A cute, friendly cartoony look. Rocket is position-sensitive to play one of two different "space sounds" when button is pushed. Integrated handle makes "flight" a breeze. |
| Cons: | If you're a plastic space dog, your seating arrangements are limited. |