We use affiliate links. If you buy something through the links on this page, we may earn a commission at no cost to you. Learn more.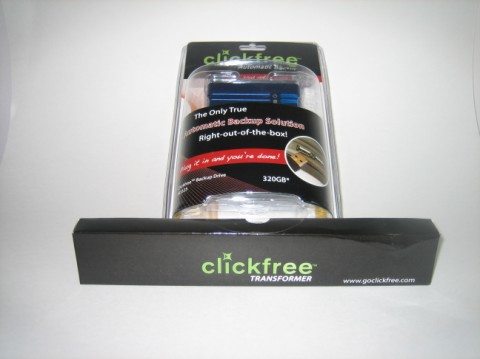 There are three certainties in life: death, taxes and data loss. While the clickfree data backup solutions can't do anything about the first two, they may provide you with an answer to the data loss issue. These solutions are geared toward the technophobe and procrastinator, but do provide features that the more adventurous will appreciate. We'll look at both the clickfree backup drive and the clickfree transformer, similar approaches that only differ in their implementation.
The clickfree devices are essentially a software solution packaged in hardware. The backup drive is a USB portable disk that includes a backup application resident in a protected partition on the drive. The transformer is a USB cable assembly that has the application built in to an eprom. The user must supply a USB device for the storage. I have used both devices in this review and because they operated virtually identical, I'll only call out the differences.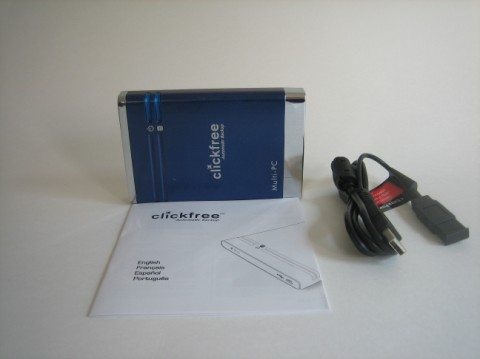 Technical Specs
Clickfree Portable Backup HD325
Hard Drive 2.5 inch SATA
Capacity 320GB
RPM 5400
Cache Buffer 8MB
Interface USB 2.0 and 1.1 compliant
Dimensions 4.52″ x 0.67″ x 2.99″ in (115 mm x 17 mm x 76 mm)
Weight: 6.35 oz (180 g)
PC Requirements O/S
Microsoft Windows Vista (Home Basic, Home Premium, Ultimate
or Business)
Windows XP (Home, Professional or Media Center Edition)
Windows 2000 (with Service Pack 4)
Connection
Available USB port (1.1 or 2.0)
(USB 2.0 cable included)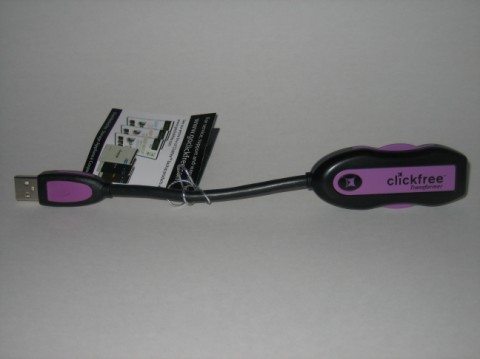 Technical Specs
Clickfree Transformer
Interface USB 2.0 and 1.1 compliant
Dimensions 8.5" x 1.3" x 0.6" (216mm x 33mm x 15mm)
Weight: 1.1oz (30g)
PC Requirements O/S
Microsoft Windows Vista (Home Basic, Home Premium,
Ultimate or Business)
Windows XP (Home, Professional or Media Center Edition)
Windows 2000 (with Service Pack 4)
Connection
Available USB port (1.1 or 2.0)
(USB 2.0 cable included)
The premise behind the clickfree device is that a user need only plug the device into an available USB port on the system to be backed up and then the device takes over. These devices do differ from Julie's recent review of the Seagate Replica in that it ONLY backs up the data files. The operating system and applications are not backed up.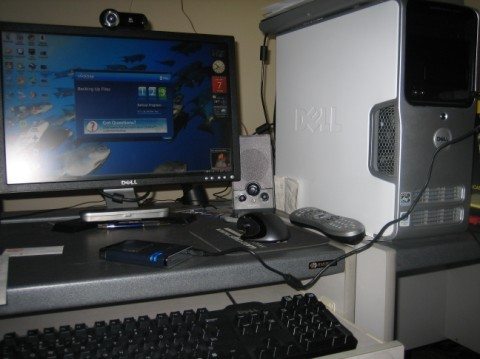 I began by plugging the clickfree drive into my front USB port on a Dell desktop running Windows Vista. The drive has a double ended cable that provides an extra USB plug for power, in the event you are using a port that doesn't supply enough. This wasn't needed on my desktop, but it was necessary when attaching to my laptop with the port replicator. It also has a 5v power socket next to the mini usb connector, but no supply is provided. You can tell when extra power is required because the drive continuously seeks. If using the transformer, you would plug in the cable instead of the drive.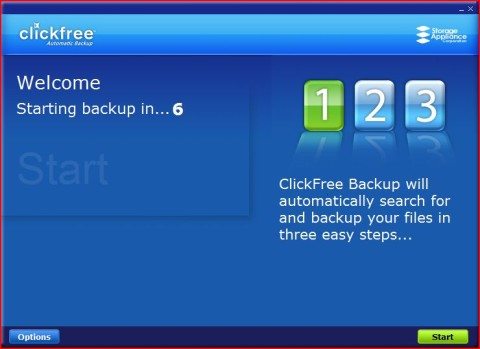 After about a minute, the above window pops up. At this point you can either wait until it counts down to a start or click the start button. If you were using the transformer, an additional window would pop up advising you to plug your drive into the transformer cable.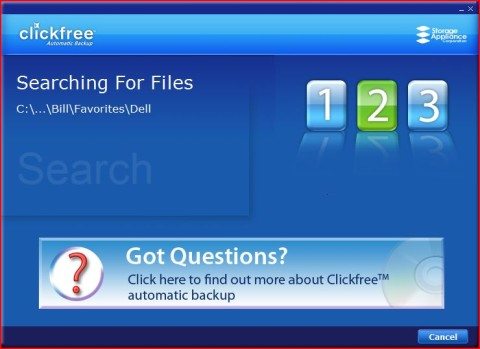 Next the application searches the hard drives for files to be backed up. It will back up all local drives and partitions.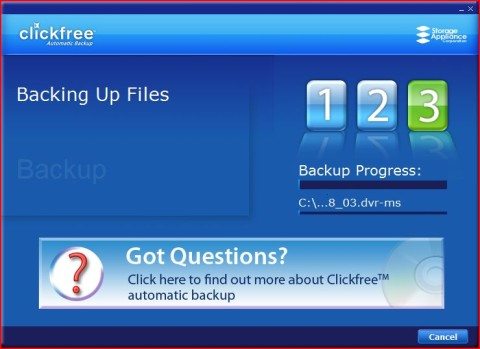 The initial backup took about 1.5 hrs and while I was waiting I searched around my system to see how the PC recognized the clickfree drive.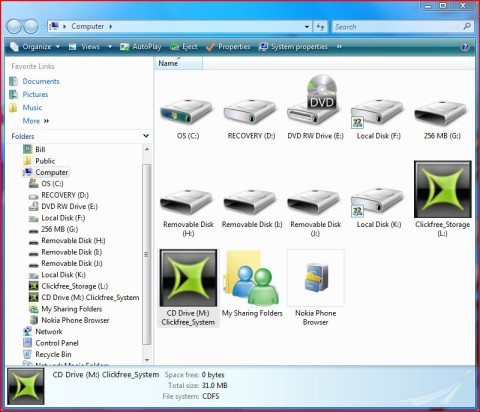 You'll notice that the clickfree hardware is comprised of 2 logical drives. The one with the application (M:) looks to the PC as a CD drive and the other (L:) acts like a regular removable disk.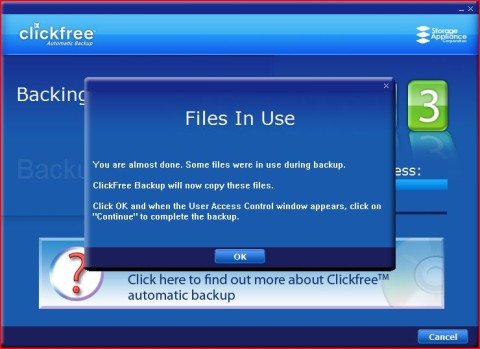 At the completion of the backup, the above window popped up and I clicked on OK and then……….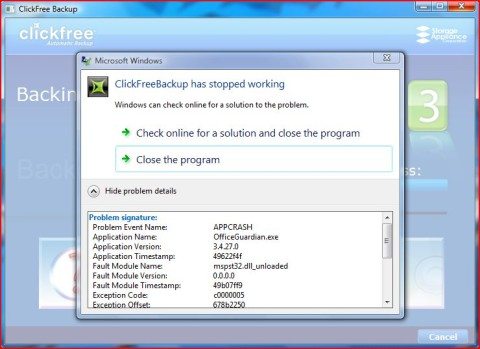 I could go into detail about what I did, but suffice it to say, I wasn't impressed. After reading the 65 page manual and checking the web site for FAQ's and running a fix it utility resident on the disk, the best I came up with was that it could be made to work, but only after plugging the device in for a second time in a row. The first time I plugged it in the searching window would come up and then just disappear. Thinking that I might have a faulty device, I used the Transformer device and received the exact same error symptoms.
I decided to continue my review by switching to a Windows XP system and had no problems. Both the drive and transformer worked flawlessly.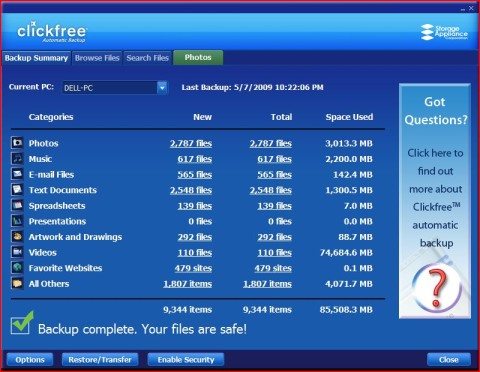 At the conclusion of the backup, you are presented with a summary page. From here you can search for or browse files and by clicking on the photos tab, any backed up photos will display as thumbnails within the clickfree application.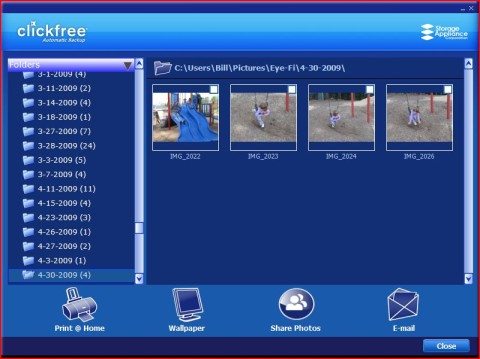 In addition to viewing the photos, one can e-mail, print and share photos, all from within the application. Also, any file in the back up set can be double clicked and it will invoke its application on the system and cause it to display/play.
The real test of a backup device is whether you can actually restore what you saved. The clickfree devices give you the options of restoring individual files or a complete data restore.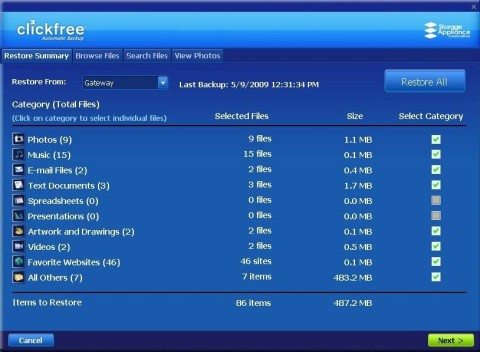 I purposely deleted several files on my desktop to test the restore capability. It was a little difficult to find an individual file, but the easier option turned out to be a complete restore and then skipping restoration of files already on your hard drive. I checked the box for "do this for all duplicated files" and just the missing ones were restored. You can also use the search feature on the summary page to find a file in the backup set and then double click to have it restored. You'll notice that you can have multiple systems backed up and it is only limited by the amount of space on the back up drive.
Final thoughts: The clickfree product set can be a viable solution for the road warrior, whose main concern is the loss of data. He/she would have an IT department to reload the system and applications if need be. It also would be a good solution for those who don't back up at all now. At least using it on Windows XP was plug and play, with Vista being a little problematic. For those who are more techie, there are options to schedule back ups, limit what is and isn't backed up, add file types to the backup set and generally customize operations. If you buy this solution, I would suggest the transformer option. I gives you the flexibility of using multiple backup disks of varying sizes.
Personally, I prefer an image back up. I do not enjoy reloading the operating system and all the updates. Even though clickfree says they backup over 400 file types, how do I know that all my file types are part of that list. I would be concerned that some obscure file type would be attached to something I couldn't afford to lose. At least with an image backup, I know everything is there.
Product Information
| | |
| --- | --- |
| Price: | 320 GB Backup Drive $179.99, Transformer $59.99 |
| Manufacturer: | ClickFree |
| Pros: | |
| Cons: | Has problems with Windows Vista |