We use affiliate links. If you buy something through the links on this page, we may earn a commission at no cost to you. Learn more.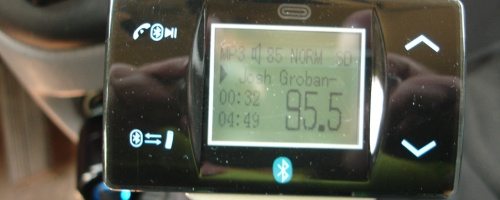 Handsfree/Bluetooth call phone device AND an FM transmitter that can handle any MP3 player, SD.MMC cards, and USB thumbdrives? PLUS 2 remotes- a 'normal' one and one for the steering wheel? All this and cool blue LED lights, too? The Merconnet Bluetooth Car Kit certainly aims high, and with Julie's great review of the Merconnet Bluetooth FM Transmitter Speakerphone. I had high hopes!
The nicely packaged unit includes:
FM29B Transmitter
Wireless Remote (with preinstalled battery)
Steering Wheel-mounted Remote (with preinstalled battery)
Stereo patch cord- 3.5mm male to male about 8″ long
Manuals for transmitter and steering wheel remote (also available on-line)
The FM transmitter part works beautifully. It is pre-set to 95.5FM and can be adjusted anywhere between 87.5 and 108FM. The frequency is adjusted in small steps with buttons on the main unit or either of two included remotes. Clarity is excellent, and I say that as someone who has been unsatisfied with every other FM transmitter I have tried. Searching for a new frequency is just a matter of finding some clear air on the radio, and then holding any of 8 buttons (4 on the steering wheel remote, 2 on the other remote, 2 on the transmitter) up or down until the frequencies match.
The Bluetooth hands-free phone part is not bad. Paring it up is pretty straightforward even though the instructions are in mangled English (basically- get your phone looking for a Bluetooth device, then press and hold the pairing button on the transmitter while keying in the code- it would be easier if you had a spare hand, but is not bad.  The sound is good on my side (with factory speakers), but the callers report that the sound on their end is poor- not too surprising considering the small mic in the transmitter. It can even transmit music from your phone if it is 'a2dp' compatible, which the Centro sadly is not..
Music? The good news is that when it finds the music, it plays nicely. You are basically playing it over an FM radio, so you are not going to get CD quality out of it, but it is pretty clean sounding. The unit is even smart enough that it found my music tucked away on the SD card- not in any special folder. The bad news is in two parts- finding music is limited to skipping ahead or back (a la the 'iPod Shuffle'), which is annoying if you have many songs loaded. The bigger bad news is that I was never able to get my iPod or any music on a flash drive to play. Don't look to the instructions to help- the mangled English is not very helpful. I have no idea of the problems were something I was doing wrong, or a flaw in the unit- but nothing I tried, and no other USB or MP3 player I tried worked. Arrgh.
Let's look at the components for a moment as I calm down.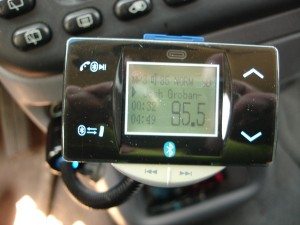 The main transmitter is well-built- solid, simple. There are several blue LEDs that make it attractive as well. The gooseneck is reasonably strong and it holds position well. It is not strong enough to hold it in position as you press the buttons, but not bad. The styling is good- although I could wish that the LEDs on the face were the actual buttons, but that is not a big deal.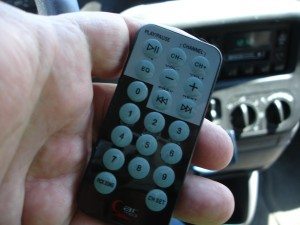 It comes with two remotes, a typical 20 button remote that does pretty much everything, including directly selecting a new frequency or song to go to, and a 'steering wheel remote'. The normal remote is OK- it does not look like it was designed by the same people who made the transmitter, and there is not much documentation for it, but these are fairly minor nags. Supposedly, you can use the keypad to dial your phone- but that has not worked for me yet, and speed dialing is more convenient.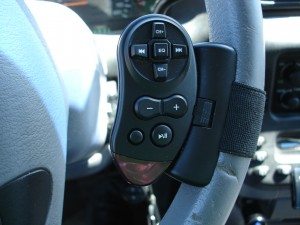 The steering wheel remote is, to me, a pain. It starts with the awkward documentation (sample: Thank you very much for using our products, it is a nevol and Portable infrared steering wheel remote contro.) and is followed by the annoying installation. I found it was always in the way, tended to move as I tried to push buttons, I could not remember what button did what without looking, and some buttons are small and close together. You do not need this remote, but if it worked properly, it would be safer than the other remote. I mean- come on! One of the keys is labeled as "undefined keys" and does not seem to do anything!
The steering wheel remote also looks like it was designed by someone else, and there is supposed to be a quick-release feature to allow you to remove the remote when you don't need it in the way. On mine, the release was distorted or mis-cast and did not release the remote until I shaved it down a bit.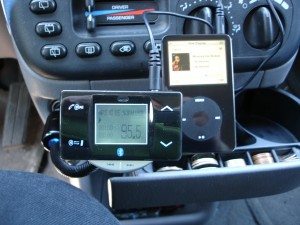 OK- one of the BIG SELLING POINTS of this thing is its music abilities, so here I am with the iPod plugged in (using the included 7 inch cord- so short I need to balance my iPod in the cupholder thingy). The iPod is on and playing- it is plugged into the only hole in the transmitter, and there is absolutely nothing happening. Pushing the button that tells it to take a call (if it does not do it automatically, which it always did for me) and interrupt the music does nothing, and the instructions and website have no helpful advice. The troubleshooting guide does not even mention the jack, but does offer the helpful advice to make sure the volume is not at 0.
Hate the steering wheel remote, hate the instructions, hate the fact that I cannot hook my iPod into it. Other than that, I actually like this unit, and the fact that it retails for only $69.99- which would not be bad, even with the remote and directions, if the music part worked.
Product Information
Price:
$69.99
Manufacturer:
Merconnet
Pros:

FM transmitter works nicely
Great sound quality

Cons:

Cannot get music to work from USB or 3.5mm jack
Poor documentation
Steering wheel remote gets in the way