We use affiliate links. If you buy something through the links on this page, we may earn a commission at no cost to you. Learn more.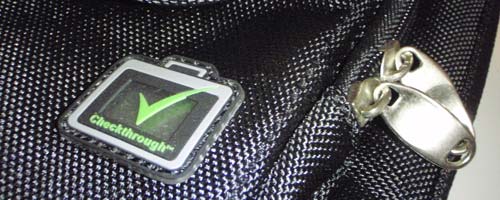 I remember as a kid traveling with my parents (aka, back in the day) when there was no security at the airport or during college being able to say goodbye to my girlfriend at the gate. But sadly those days are forever gone…. Today, we have painfully long lines to get through security where you must take off your shoes, bag your toothpaste and shampoo, remove your laptop from its bag, etc. So to allivate some of this hassle, Skooba Design has come up with a new bag design which allows your laptop to remain within the safety of its specially engineered compartment while your bag goes through security. The Skooba Checkthrough Messenger Bag is the second laptop case in their Checkthrough series.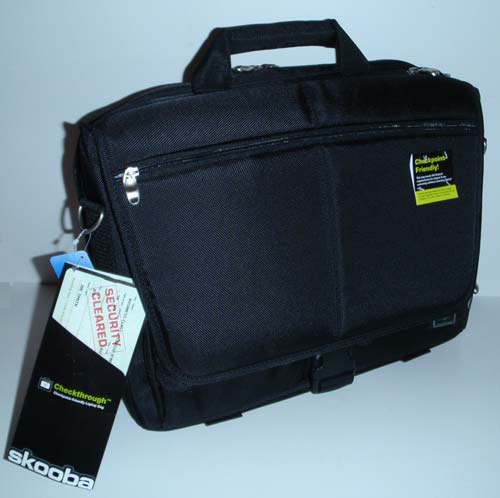 Skooba's Checkthrough Messenger Bag is a high quality laptop bag constructed of 1680 Denier (a heavy duty) Ballistic exterior with a smooth nylon interior. All materials are water-repellent and the edges are well stitched. The messenger bag overall size is 17″L x 13″H x 5.5″D and weighs in at 40 ounces. The front flap has a medium sized pocket perfect for keeping travel receipts or misc paperwork.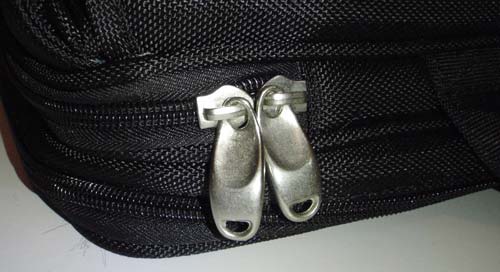 The zippers and stitching are top quality and rugged enough to stand the test of time.

Both the strap and handle are nicely made and relatively comfortable.

I typically do not carry much with me when I travel (the lighter the better) just the essentials; my Macbook Air, Etymotic hf5 earbuds, iPod Touch, Verizon USB727 wireless card, credentials, aventail token, usb extension cable, and bit of paperwork as well.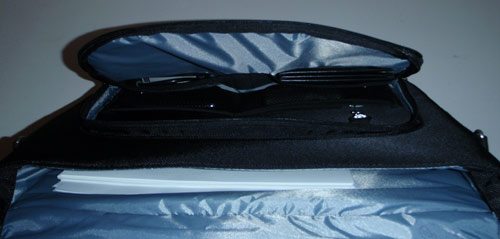 All of this fits neatly in the interior front pocket of the messenger bag. The inner front pocket has four sub-pockets of various sizes that make it easy to keep things well organized and keep your stuff from rattling around. The front pocket also has two pen slots, a key clip, business card slot and it zippers closed. The front pocket is stitched onto a large padded main pocket ideal for carrying paperwork and (for me) my power brick for my Macbook.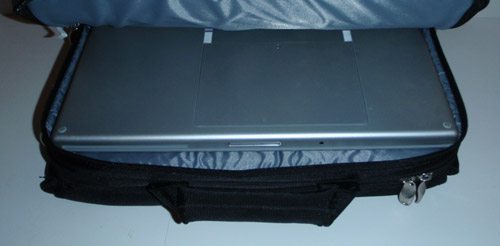 The computer compartment fits my 17″ Macbook Pro like a glove (for reference, a 17" Macbook Pro measures 15.4 x 10.4 x 1"). This compartment is well padded and does a good job of protecting your laptop. But countless laptop bags do that…..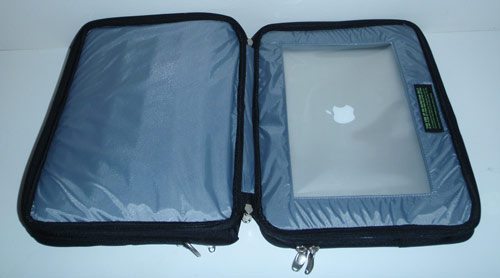 What makes the Checkthrough Series unique is the see-thru computer compartment that enables you to leave the laptop in your bag versus having to remove it. The messenger bag unzips around the middle, folds open and exposes the laptop section with its 'patent-pending quick-recognition' window.

Additionally, the laptop bag itself is designed to have nothing else on the computer half of the case to interfere with the X-ray scan.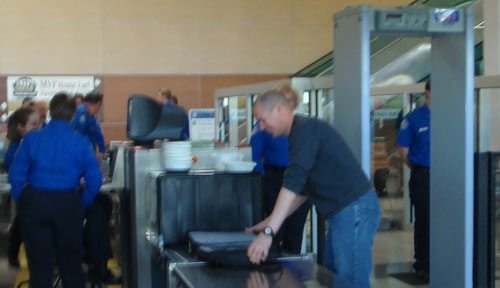 Skooba Design's Checkthrough Messenger Bag worked perfectly. I unzipped the zipper connecting the two halves, layed it on the X-ray machine and the TSA security folks did not even look twice (although they were eyeing me for asking a little old lady to take this picture of me going through with the messenger bag). It was very convenient and definitely one less logistic that you have to deal with in what is sometimes a stressful situation. As for comfort, the shoulder strap and handle are well padded and are reasonably comfortable. For those who travel by air a great deal and have to lug around a laptop, the Checkthrough Messenger Bag by Skooba Design is definitely worth considering.
Product Information
Price:
$129.95
Manufacturer:
Skooba Design
Pros:

Can go through airport security w/o removing your laptop
High quality materials and construction
Water-repellent coating
Well padded
Durable
Professional appearance
Lightweight

Cons: