We use affiliate links. If you buy something through the links on this page, we may earn a commission at no cost to you. Learn more.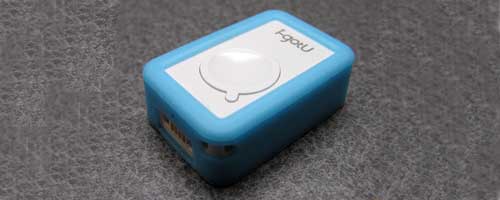 I recently reviewed the ATP GPS PhotoFinder mini photo geotagging module. I liked the concept, but found some issues with usability. Today I have a similar product for you. It's the i-gotU USB GPS Travel Logger GT-120 from Mobile Action. It's smaller and even easier to use than the PhotoFinder. Let's take a look.
If you are not familiar with this type of geotagging product, it interfaces with any camera or mobile phone, so that the images that you snap can be tagged with the GPS longitude and latitude coordinates where they were taken. The i-gotU goes a step farther in that it will allow you to upload your trips to a special free online server, create nifty little animated movies of your travels and share them with anyone.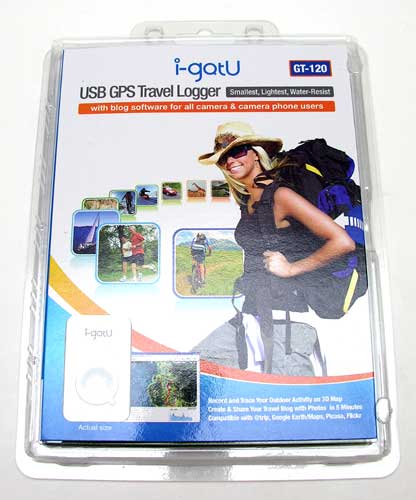 Hardware Specifications
Dimension: 44.5 x 28.5 x 13 mm
Weight: 20g
Built-in SiRF StarIII 65nm low-power chipset
Built-in GPS patch antenna.
Built-in flash memory. 65000 waypoints for 30 days( when the logging interval is 15 seconds and use it 8 hours per day)
Built-in 230mAh Lithium-ion battery.
Operation time: Up to 30 hours ( when the logging interval is 15 seconds)
2 LED for tracking and battery/charger status indication.
Average acquisition time for cold start: < 35 seconds, hot start: < 1 seconds.
USB 1.1 interface for PC connection
Operation temperature: -10 to + 50 degrees centigrade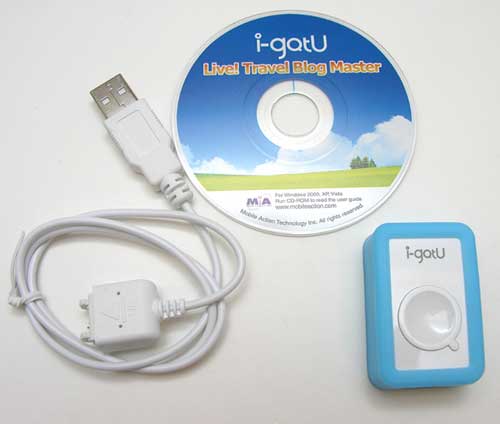 Package Contents
i-gotU module
USB cable
Mini CD with software and manual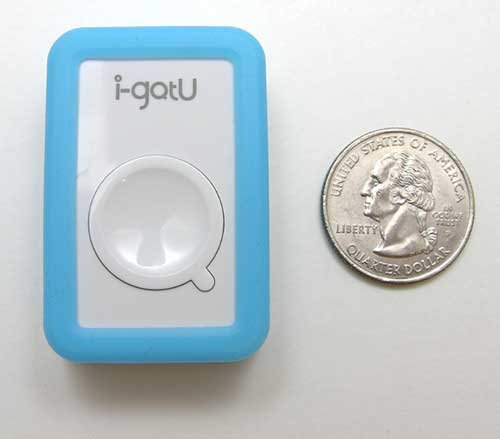 The i-gotU module is a very small White plastic rectangle, with one button. The Blue silicone skin is removable. There are two LEDs (not visible in this photo) located on either side of the power button. One is Blue and one is Red. When the module is powered on, the Blue LED will blink every 15 or so seconds. If there is a GPS signal, the Red LED will also blink.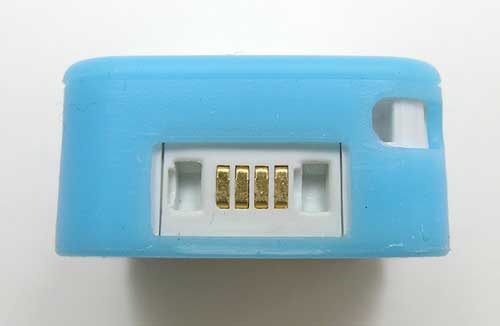 One end has the proprietary USB connector and a lanyard attachment eyelet. Surprisingly, no lanyard or keychain was included in the package.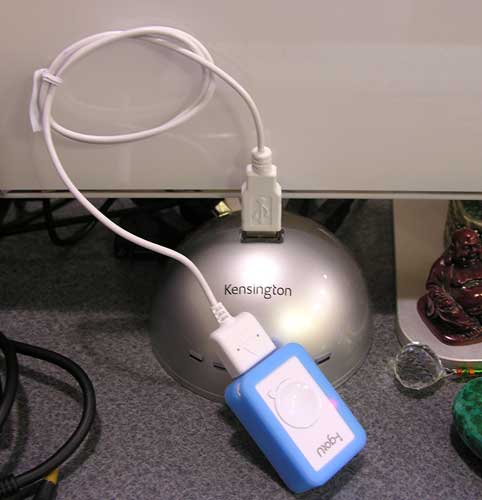 Before you use the i-gotU, you must first charge it using the included USB cable. The initial charge requires 4hrs and subsequent charges will require 2hrs.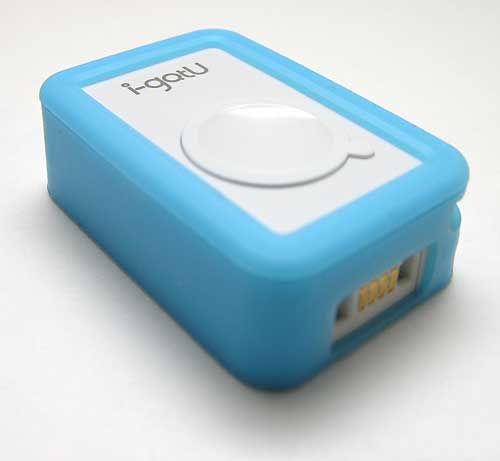 Operating this device is about as simple as it can be. Just hold down the only button for a couple of seconds till you see the Blue LED blink. Then go outside to allow it to get a GPS lock. You will know when you have a signal, when you see the Red LED blinking along with the Blue one. Most of the time, this only requires a minute or so. Now all you have to do is carry the i-gotU along with you, while snapping pictures with a camera that has the correct time set. I used my cellphone during the review. Since mobile phones typically set the time via the carrier, I didn't need to worry about that aspect.
When you're finished for the day, load up the included software on a Windows PC and launch it.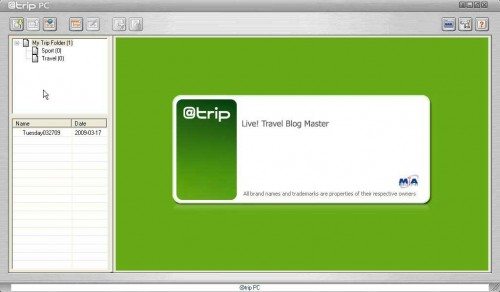 The @Trip software has an easy user friendly interface. Clicking the Import GPS Track button in the upper Left corner will guide you through the steps of retrieving info off the i-gotU module. Click on screenshots for full size images.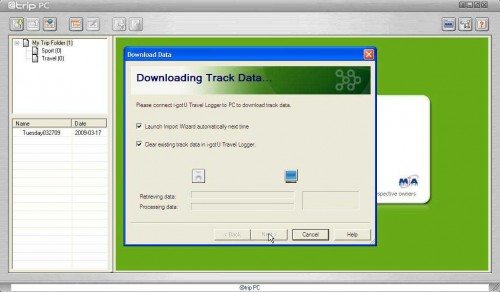 You will be prompted to connect the i-gotU to your PC with the included USB cable. Once you do, it will automatically start downloading the info.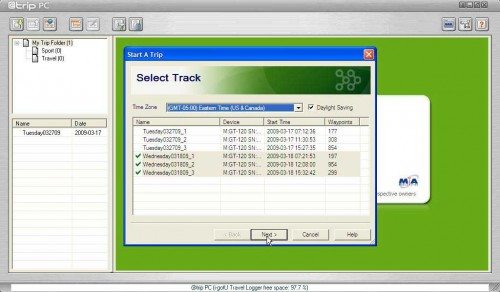 You will then be presented with a list of trips. In the screenshot above, I have 3 separate trips for that day as I had powered the i-gotU on and off at the start and end of each trip. The software will automatically select multiple trips for that day. If you want to combine them all together, click Next, otherwise, you can uncheck the trips you don't want to include.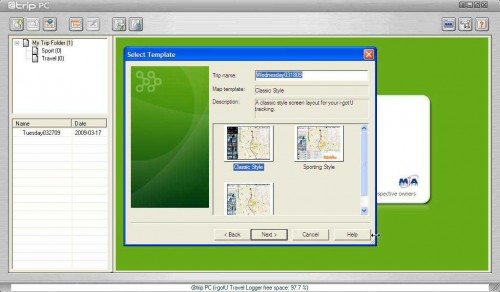 You then have the option of three different trip styles. More about that in a bit.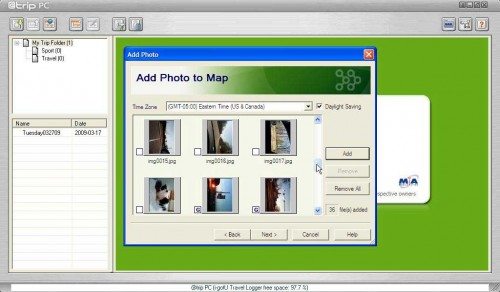 The next step is to import the images that you took while the i-gotU was powered on. The images that were taken during the same time that the module powered was on and receiving a GPS signal, will have a G next to them.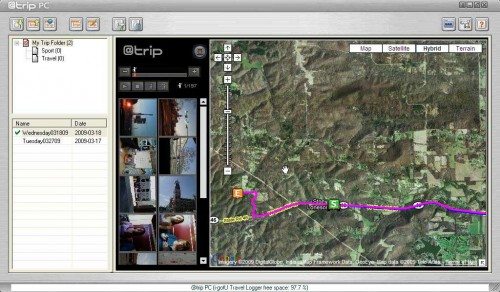 After the images are imported, your trip will be shown using Google Maps, complete with start and end points. Depending on the style that you selected, imported images will show up on the sidebar. If you combined multiple trips into one, each leg of the trip will be a different color.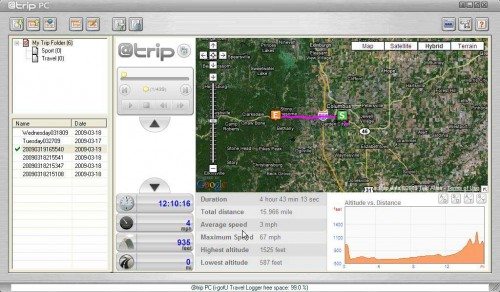 If you picked the sport style, you will see some some cool info such as distance traveled during the trip, max speed, altitude, etc. All three styles allow you to 'play' the trip and if you want to share it with your friends, you can upload it to the @Trip website for free.
It's pretty fun to watch the animated trips. Here are two examples. The images aren't that great since I snapped them really quickly with my phone. But it gives you an idea of what you could do with this device and your camera.
http://www.a-trip.com/tracks/view/16297 – Sport style trip
http://www.a-trip.com/tracks/view/16202 – Classic style trip
There are two things is one thing that I found missing with this product. It does not have the ability for imported images to automatically map to the last known coordinates for those times when the module did not have a GPS signal. For example, if you are driving to a museum and have the i-gotU on your car's dash, it will record your trip and the images that you snapped along the way. But, if you take the i-gotU inside a building where it can't get a signal and you continue to snap pix, the trip won't include those photos. It would be great if the software would automatically allow you to map images to the last known location. That said, the software will allow you to manually map an image to a specific waypoint. But, it's not very convenient or straightforward as to which waypoint you should pick.
The other issue is that the software does not add the longitude and latitude coordinates to the image EXIF data. It does add that data to the imported images that make up the trip, so you can view your trip through the web interface and then copy the images back out. But that's a pretty annoying way to do it. There really needs to be an option to geotag your original images. **Update 04/11/08 This product does add longitude and latitude info to images.
I found this module and software to be much easier to use than the ATP PhotoFinder mini. You don't have to worry about missing the time zone setting as you only need to set once the first time you import data from the i-gotU module. There's even a daylight savings time switch. It's also a lot faster at exporting data than the PhotoFinder.
I didn't have problems with it keeping a GPS signal even while driving over 60MPH. The images that I took matched up very well with the locations where I snapped them, even if I was driving at the time.
The i-gotU is a fun and relatively inexpensive little gadget to play with if your camera does not already have geotagging features. You can find this USB version and a Bluetooth version at eXpansys. And FYI.. if you want to skip the whole separate module thing and you already own a Symbian, Windows Mobile or a phone that supports Java, you can download the free @Trip software for your phone. It will upload your images to the @Trip website.
How many of you out there use a geotagging phone or camera for your photos?
Product Information
Price:
$72.99
Manufacturer:
Mobile Action
Pros:

Very easy to use
Geotags images with GPS coordinates
Create fun animated trips that you can share with friends

Cons:

USB 1.1
Lanyard not included
Proprietary USB charge / sync cable