We use affiliate links. If you buy something through the links on this page, we may earn a commission at no cost to you. Learn more.

I've always enjoyed playing card games like Solitaire on my PDAs and phones, but I never really became interested in the game of BlackJack until now. James Lee of Seahorse Software asked if I might like to try his BlackJack Run game. I accepted, didn't think that I would find a game of BlackJack all that fun. I was wrong 🙂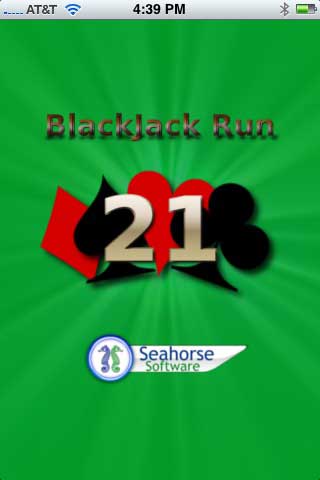 One thing that I liked right away with this game was the fact that I didn't have to wait too long for the game to load before I could start playing. I don't know about you, but I get really impatient when I have to stare at a splash screen for more than 10 seconds.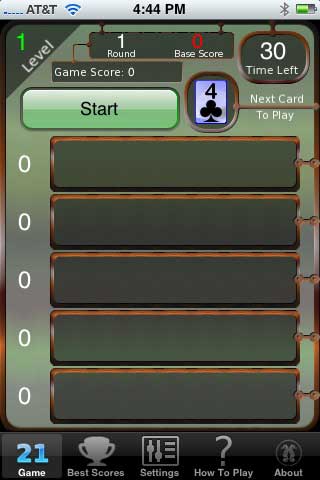 After the splash screen disappears, you will see the game board. I'll admit that at first glance I was a little intimidated. A quick read of the How To Play info, was all I needed though. Basically, you're playing five games of BlackJack all at one time and you have 30 seconds to finish each round. Face cards each count for 10, Aces are either 1 or 11 and numbered cards are equal to their number. The idea is that each row needs to add up to 21. Sound easy? Ummmm… it's not 😉 and it is. 🙂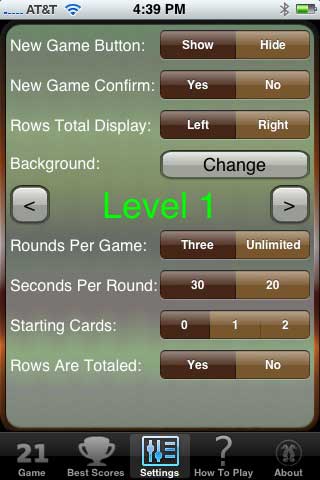 Before I get to the game play details, let's check the settings screen. I like that there's no scrolling involved and that everything is finger friendly.
Ok, back to playing the game…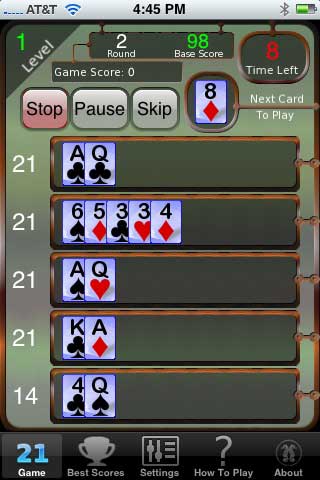 You have 30 seconds (or 20 if you're wanting a challenge) to make each row count up to 21 points. Time begins as soon as you tap the Start button.  The next card to play is displayed along with the time left for the round. All you do is tap the row you want the card to be placed in and you'll then see the total listed for each row. You can skip one card per round and you can also pause the game. When you can make any more moves and you still have time left, you want to press the Stop button.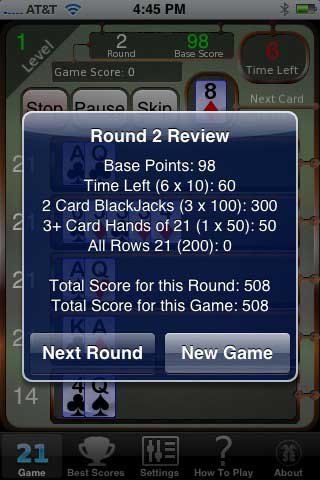 At the end of each round, a screen with the point tally will be shown. Bonus points are awarded for the number of BlackJacks (rows that total 21 points).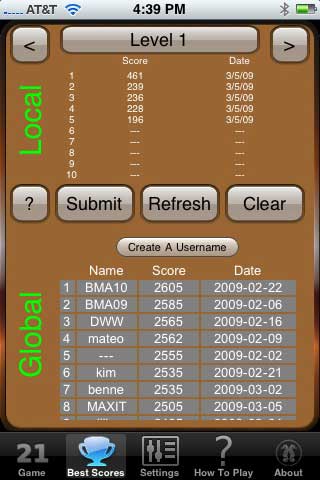 There's a Best Scores page where you can see how well you've done and also see a list of global best scores. You can create a user name and maybe you'll see your own name on the global score board if you practice long enough 😉 So far I've not even made it to 1000 points.
I really have enjoyed playing this game. It's fast paced and addictive. It might even help your brain since you have to do quick arithmetic 🙂 I'll definitely keep playing this one for sure.
Product Information
Price:
$4.99
Manufacturer:
Seahorse Software
Pros:

Addictive and fun
Easy to learn
Fast paced

Cons: