We use affiliate links. If you buy something through the links on this page, we may earn a commission at no cost to you. Learn more.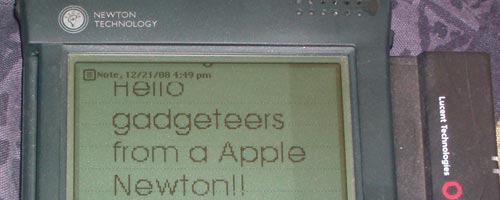 The Apple Newton MessagePad hasn't been in production since 1998, but there are people that still use this touchpad device as their main PDA. I was curious to find out why this product continues to be popular, so I sat down with Marisa Giancarla, a self-proclaimed Newton fan.
Marisa is a retired software engineer from the IT department of Macromedia, who is located in Redwood City, California.
When did you first discover the Newton?
I first discovered the Newton when it was first announced back in 1993. I loved the idea of something that could use a pen for input and neaten-up my drawings. I did not buy one of the first units but waited until the 110 came out to purchase one…
How many models have you owned over the years?
I have owned a 110, 130, 2100 and eMate.
What types of things do you use your Newton for during a typical day?
I am retired so I don't have a day job to use the Newton at anymore. In a typical day I use it for checking email, making sketches and taking notes.
Is there still an active community of Newton users?
Yes, the Newton community is quite active, with the NewtonTalk email list seeing around 10 posts a day. The community still produces software such as ATA Flash card, WiFi and BlueTooth drivers.
Tell me about your website PocketFiction.com and your project to create an eBook reader for the Newton.
My website is primarily for Pulp Fiction ebooks, but I do have sections for the Newton and General Magic PDAs as book reading targets. I am working on creating an ebook reader for the Newton to be able to read the 700+ ebooks on my website, but the fact that connectivity software is so spotty it is quite a project.
What programming language do you use?
I am using the native NewtonScript to do the project. It is quite a nice OOP environment for developing and testing software. It is hard to believe it is as old an environment and it features most of the modern properties of current IDEs. It uses a VM processor with byte-code interpretation, much like the new Google G1 phone and maybe the iPhone (showing my ignorance of the iPhone here).
What are you thoughts on the iPhone and iPod Touch? Do you think they are the Newton of the 21st century?
I have not seen the iPhone SDK so I don't know how it compares development-wise to the Newton, but the lack of pen and ink support and handwriting recognition still haven't been reached on the iPhone. There is a natural draw to try and compare the two, both being handheld computing devices from the same company, but they are still quite different. I would love to see a tablet device from Apple, then at least the hardware features would be comparable.
What keeps you coming back to the Newton as your main PDA after trying other devices and what phone do you use?
I keep coming back to the Newton due to its screen-size which makes it good for taking notes, and how well integrated the pen is to the whole OS. I use a Google G1 phone, but it was a close call to an iPhone 3G. In the end it was a matter of diversity which I expect the Google phones will have as they can come from any phone company instead of being locked-in to one from Apple…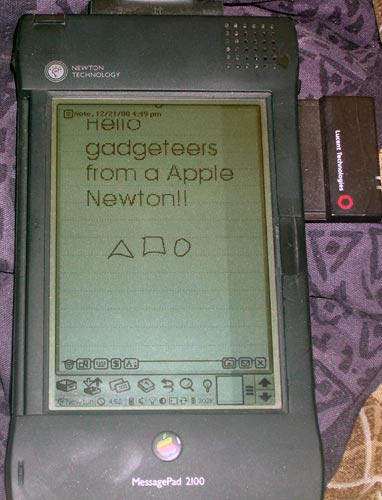 What are some of your favorite newton apps?
The software I use most is Mail V (email plugin), NewtsCape (web browser), PaperBoy (NNTP news client), and Solito DX (solitaire game).
What kinds of modifications have people been able to do with their Newtons?
There have been projects to replace the backlight, overclock the system, add a 2nd serial port, a headphone jack (for streaming MP3 music) and fixes for some of the hardware issues that various models of the Newton are prone to.
Have you done any hardware modifications to your Newton?
I am thinking of doing the backlight upgrade to a white model, but I would hate to be away from my Newton while it was getting done. I may just buy one with it preinstalled and swap my data from the two units.
Do you think you'll be using a Newton for another 10 years? And if not, what would your dream device be?
It all depends on how well the patch to fix the 2010 issue works. The Newton runs out of bits to store the date in 2010, and there is a user created patch to get around that but I don't know if anyone has fully tested it.
My ideal device would be something like an iPhone or G1 but with a screen the size of the Newton 2100 or slightly larger. It is a testament to the design of the Newton that 10 years later it is still a useful device…
Well, there you have it, the Apple Newton Messagepad continues to thrive for some people – at least for another year. Do we have any other Newton hold-outs here on The Gadgeteer? If so, please speak up and share your stories.